Ad blocker interference detected!
Wikia is a free-to-use site that makes money from advertising. We have a modified experience for viewers using ad blockers

Wikia is not accessible if you've made further modifications. Remove the custom ad blocker rule(s) and the page will load as expected.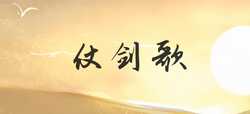 Song title
"仗剑歌"
Traditional Chinese: 仗劍歌
Pinyin: Zhàng Jiàn Gē
English: Song of the Sword
Uploaded July 30, 2015, with 240,000+ (BB) & 100+ views
Singer(s)
YANHE
Producer(s)
Zhu Er Ni Ka (compose, arrange, mixing)
Shangguan Yi Yu (lyrics)
Bingshan (tuning)
N Ge (illustrator)
废柴の琉璃酱 (video editor)
She Sha Dian (animation)
Links
YouTube Broadcast
bilibili Broadcast
5SING Broadcast
Background
Edit
"Zhàng Jiàn Gē" is an original YANHE song. It is about a warrior who refused to fight for the emperor. He participated in many wars, and by the time he grew into an elder, he realized that the things he did were meaningless.
This song has exceeded 100,000 views on bilibili.
Chinese (中文歌词)
Pinyin (拼音)
浅酌低唱 天下谁掌
Qian zhuo di chang tianxia shui zhang
皆为江山 霸主名状
Jie wei jiangshan bazhu mingzhuang
前世今生 恩怨难偿
Qianshi jinsheng enyuan nan chang
倚马仗剑 厮杀疯狂
Yi ma zhang jian sisha fengkuang


瞧见人间 烟火万丈
Qiaojian renjian yanhuo wanzhang
只为豪侠 剑嗜天荒
Zhi wei haoxia jian shi tian huang
英雄不屑 高堂封赏
Yingxiong buxie gaotang fengshang
抚平除恶 江湖我闯
Fu ping chu e jianghu wo chuang


风吹荷儿 梅隐香
Feng chui he er mei yin xiang
烟霞蝶舞尽争芬芳
Yanxia die wu jin zheng fenfang
离歌唱响曲尽魂殇
Li ge chang xiang qu jin hun shang
几番思量如梦一场
Ji fan siliang ru meng yi chang


九溪弥烟 天地苍茫
Jiu xi mi yan tiandi cangmang
鹤归孤山 黯然神伤
He gui gu shan anran shenshang
平湖断月 狂涛骇浪
Pinghu duan yue kuangtao hai lang
玉虹贯日 热血一腔
Yu hong guan ri rexue yi qiang


这一路烽烟望
Zhe yilu fengyan wang
观四海千重浪
Guan sihai qian zhong lang
留下尸骨残香
Liu xia shigu canxiang
随云行路青天明朗
Sui yun xinglu qingtian minglang
当年戚戚吞象
Dangnian qi qi tun xiang
送快意恩仇葬
Song kuaiyi en chou zang
且把笔墨放于一旁
Qie ba bimo fang yu yipang
再与君醉饮三千场
Zai yu jun zui yin sanqian chang


凭听我 把歌唱
Ping ting wo ba gechang
几多沧桑入眼茫茫
Ji duo cangsang ruyan mangmang
死生契阔 难相忘
Sisheng qie kuo nan xiang wang
剑藏寒光一展疏狂
Jian cang hanguang yi zhan shukuang


凭听我 把歌唱
Ping ting wo ba gechang
几多沧桑入眼茫茫
Ji duo cangsang ruyan mangmang
侠义人间年年无忘
Xiayi renjian nian nian wu wang
仗剑携尘所向何方
Zhang jian xie chen suo xiang hefang