Ad blocker interference detected!
Wikia is a free-to-use site that makes money from advertising. We have a modified experience for viewers using ad blockers

Wikia is not accessible if you've made further modifications. Remove the custom ad blocker rule(s) and the page will load as expected.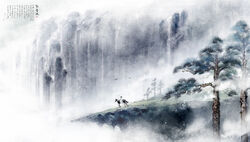 Song title
"仙居谣"
Traditional Chinese: 仙居謠
Pinyin: Xiān Jū Yáo
Uploaded June 23, 2015, with 55,000+ views
Singer(s)
Luo Tianyi
Producer(s)
逸恋仙居原创音乐团队: Su Xiaoshan, Jiutian, Ming yu, Xie ran (lyrics)
papaw Paopao (music, arrangment, chorus arrange)
Liu Shui Hua (original illustration)
Han Yu (video)
Links
bilibili Broadcast
Background
Edit
This song is an original Chinese VOCALOID song featuring Luo Tianyi. It is the authors' first VOCALOID work. This song is created for the original music team, "逸恋仙居原创音乐团队", and their supporters.
Succeeding versions
Edit
逸恋仙居原创音乐团队's Formal Version

| | |
| --- | --- |
| Featuring | Ying Jiu, Ya Qing, Qian Mo, Msz Lan, ZZ, Tuo Tuo |
| Author(s) | Su Xiaoshan, Jiutian, Ming yu, Xie ran (lyrics), papaw Paopao (music, arrangement, mix) |
| Category | Succeeding Version |
Chinese (中文歌词)
Pinyin (拼音)
云笙响 箜篌绕梁
yun sheng xiang konghou rao liang
我织琴丝曼舞一段华裳
wo zhi qin si man wu yiduan hua shang
玉琼浆 清风送香
yu qiongjiang qingfeng song xiang
醉了仙尘里多情的流光
zuile xian chen li duoqing de liuguang
墨几行 画舫雕梁
mo ji hang huafang diao liang
谁吟风流倾了十里花香
shei yin fengliu qingle shili huaxiang
温酒凉 曲水流觞
wen jiu liang qu shui liushang
把盏又兑了几许的疏狂
bazhan you duile jixu de shukuang
雨霖铃休 屋檐下等马蹄
yu lin ling xiu wuyan xia deng mati
相知相遇又相期
xiangzhi xiangyu you xiang qi
人潮里
renchao li
清平乐事 都是梧桐菩提
qingping leshi dou shi wutong puti
莫负情长莫负意
mo fu qing chang mo fu yi
眷知己
juan zhiji
剔眉笑道旧事凄凉休话
ti mei xiao dao jiushi qiliang xiu hua
春衫走马几度缘逢陌上花
chun shan zouma ji du yuan feng mo shang hua
杯酒深深如是故人心啊
bei jiu shen shen rushi guren xin a
随我闭眼听阶前雨轻轻下
sui wo bi yan ting jie qian yu qing qing xia
沧生踏歌婉转一世牵挂
cang sheng tage wanzhuan yishi qiangua
风华染 墨晕开谁的那卷画
fenghua ran mo yun kai shei de na juan hua
醉卧流年笑看人 世纷杂
zui wo liunian xiao kan renshi fenza
山高水长也与你走遍天涯
shangao shui chang ye yu ni zou bian tianya


檀板响 羌笛悠长
tanban xiang qiangdi youchang
谁执黑白棋子又卧西厢
shei zhi heibai qizi you wo xi xiang
笛声扬 锦瑟未央
di shengyang jin se weiyang
赋了仙居里风华的无双
fule xian ju li fenghua de wushuang
撩新茶 泼旧月光
liao xincha po jiu yueguang
紫檀袅袅过往萦回宫商
zitan niaoniao guowang yinghui gong shang
梦思量 酒暖心烫
meng siliang jiu nuan xin tang
不枉携手逍遥轻狂一场
bu wang xieshou xiaoyao qingkuang yi chang
绮罗香逸 谁搁笔画轻题
qi luoxiangyi shui gebi hua qing ti
浮华一生一梦里
fuhua yisheng yi meng li
碎涟漪
sui lianyi
满庭芳栖 谁酥手绘芙蕖
man ting fang qi shui su shouhui fuqu
一念缘生缘何聚
yinian yuan sheng yuanhe ju
梦未熄
meng wei xi
故事几番落笔几番勾画
gushi ji fan luobi ji fan gouhua
雾隐林深寥落了哪树繁花
wu yin lin shen liaoluole na shu fanhua
谁一首歌谱绘一生长啊
shei yi shou gepu hui yi shengzhang a
多少风华入了这故里人家
duoshao fenghua rule zhe guli renjia
循着时间的歌轻和着它
xunzhe shijian de ge qing hezhe ta
终究命理桃花银字笙无暇
zhongjiu mingli taohua yin zi sheng wuxia
那席卷年轮深处的流砂
na xijuan nian lun shen chu de liusha
又婉转了哪般如霜的月华
you wanzhuanle na ban ru shuang de yue hua
说好时光不与秋千老
shuo hao shiguang bu yu qiuqian lao
花开花落不记年少
hua kaihua luo bu ji nianshao
天涯知己这般刚刚好
tianya zhiji zhe ban ganggang hao
谪仙九重逸恋音瑶
zhe xian jiuchong yi lian yin yao
负尽风流提笔江山如画
fu jin fengliu ti bi jiangshan ru hua
一杯酒醉了多少倦客老马
yibei jiu zuile duoshao juan ke lao ma
芒鞋竹仗淡看几度天涯
mang xie zhu zhang dan kan ji du tianya
弃尘世怨与恩题清风晚霞
qi chenshi yuan yu en ti qingfeng wanxia=
说书人叹天下旧事如潮
shuoshu ren tan tianxia jiushi ru chao
听书人悲欢不过一壶新茶
ting shu ren bei huan buguo yi hu xincha
传说之后笑把霜尘卸下
chuanshuo zhihou xiao ba shuang chen xie xia
驻马处皆故里深巷买杏花
zhu ma chu jie guli shen xiang mai xing hua
External links
Edit
| | |
| --- | --- |
| | Downloads |