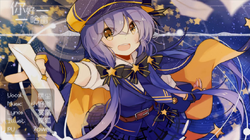 Song title
"你好哈雷"
Pinyin: Nǐ Hǎo Hāléi
Official English: Hello Halley
Uploaded August 12, 2016, with 19,000+ (BB) & 1,000+ (YT) views
Singer(s)
Stardust
Producer(s)
Xiaoye Dao (compose, arrange)
Ming Huang (lyrics)
Feng Hu (illustrator)
7owel (video editor)
Links
YouTube Broadcast
bilibili Broadcast
Background
Edit
"Hello Halley" is an original song that was sung by Luo Tianyi in 2013. In 2016, a remastering featuring Stardust was uploaded and gained more popularity than the Tianyi version.
In the song, Stardust is a 'space mailman' delivering a letter to someone/something named Halley. She expresses regret that she cannot bring them/it along with her, and becomes nostalgic about the past. Before leaving, she asks Halley to remember her the next time they meet again.
Preceding versions
Edit
Tianyi's Version

Featuring
Luo Tianyi
Author(s)
Xiaoye Dao (compose, arrange), Ming Huang (lyrics), Ping'an Ye de Meng (video editor)
Category
VOCALOID cover, Preceding version

Description

The original Luo Tianyi version that was uploaded in 2013 with a different instrumental.
Chinese (中文歌词)
Pinyin (拼音)
要寄往哪里呢
yao ji wang nali ne
再问问看 是否都记得
zai wen wen kan shifou dou jide
我不能停留太久
wo buneng tingliu tai jiu
该抓紧些 又光顾哭了
gai zhuajin xie you guanggu kule
欣赏过宇宙尽头 迷恋过多少景色
xinshangguo yuzhou jintou milianguo duoshao jingse
只有你愿意与我分享快乐
zhiyou ni yuanyi yu wo fenxiang kuaile


我该走了再见了 这封信会送到的
wo gai zoule zaijianle zhe feng xin hui song dao de
抱歉不能带上你
baoqian buneng dai shang ni
因为我只是一名星空邮递者
yinwei wo zhishi yi ming xingkong youdi zhe


要寄往哪里呢
yao ji wang nali ne
改了又改 都帮你好了
gaile you gai dou bang ni haole
下次见面的时候
xia ci jianmian de shihou
也许太久 请你要记得
yexu tai jiu qing ni yao jide
还望望那片银河 未必数繁星颗颗
hai wang wang na pian yinhe weibi shu fanxing ke ke
更不问回复如何写了些什么
geng bu wen huifu ruhe xiele xie shenme


我该走了再见了 这封信会送到的
wo gai zoule zaijianle zhe feng xin hui song dao de
抱歉不能带上你
baoqian buneng dai shang ni
因为我只是一名星空邮递者
yinwei wo zhishi yi ming xingkong youdi zhe


我该走了再见了 这封信会送到的
wo gai zoule zaijianle zhe feng xin hui song dao de
抱歉不能带上你
baoqian buneng dai shang ni
因为我只是一名星空邮递者
yinwei wo zhishi yi ming xingkong youdi zhe
External links
Edit
| | |
| --- | --- |
| | Articles |