Ad blocker interference detected!
Wikia is a free-to-use site that makes money from advertising. We have a modified experience for viewers using ad blockers

Wikia is not accessible if you've made further modifications. Remove the custom ad blocker rule(s) and the page will load as expected.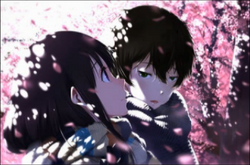 Song title
"你能否听见"
Traditional Chinese: 你能否聽見
Pinyin: Nǐ Néng Fǒu Tīngjiàn
English: Can You Hear
Uploaded June 26, 2015, with 140,000+ views
Singer(s)
Luo Tianyi
Producer(s)
Qincai Zhurou Da Huntun (music)
Xiaohai (lyrics)
Links
bilibili Broadcast
Background
Edit
This song is an original Chinese VOCALOID song featuring Luo Tianyi. It is the producer's second VOCALOID work. This song is about how a girl wants the person that once was her lover to hear the words she wanted to say to him.
This song has exceeded 100,000 views.
Chinese (中文歌词)
Pinyin (拼音)
假如现在再说一遍
jiaru xianzai zaishuo yibian
不知道你是否还听得见
buzhidao ni shifou hai ting de jian
坐在你的课桌边
zuo zai ni de ke zhuo bian
回忆着那时的画面
huiyizhe na shi de huamian
常能看到你的笑脸
chang neng kan dao ni de xiaolian
可我却不能在你身边
ke wo que buneng zai ni shenbian
在同一片天空下许愿
zai tong yipian tiankong xia xuyuan
是不是就能让你听见
shi bushi jiu neng rang ni tingjian
拥挤却又空白的房间
yongji que you kongbai de fangjian
弹奏着那首以前
tan zouzhe na shou yiqian
你的曲乐 六根弦
ni de qu le liugen xian
划破指尖 睁开眼
hua po zhi jian zheng kai yan
希望你能出现
xiwang ni neng chuxian
是否已经不能实现
shifou yijing buneng shixian
两个人走在操场旁边
liang geren zou zai caochang pangbian
脸红心跳 把手一起牵
lianhong xintiao bashou yiqi qian
不说话却不会尴尬
bu shuohua que bu hui ganga
你一定已抛弃这留恋
ni yiding yi paoqi zhe liulian
可我到现在却始终不能
ke wo dao xianzai que shizhong buneng
忘却那些爱恋
wangque naxie ailian


假如现在再说一遍
jiaru xianzai zaishuo yibian
不知道你是否还听得见
bu zhidao ni shifou hai ting de jian
坐在你的课桌边
zuo zai ni de ke zhuo bian
回忆着那时的画面
huiyizhe na shi de huamian
常能看到你的笑脸
chang neng kan dao ni de xiaolian
可我却不能在你身边
ke wo que buneng zai ni shenbian
在同一片天空下许愿
zai tong yipian tiankong xia xuyuan
是不是就能让你听见
shi bushi jiu neng rang ni tingjian
拥挤却又空白的房间
yongji que you kongbai de fangjian
弹奏着那首以前
tan zouzhe na shou yiqian
你的曲乐 六根弦
ni de qu le liugen xian
划破指尖 睁开眼
hua po zhi jian zheng kai yan
希望你能出现
xiwang ni neng chuxian
是否已经不能实现
shifou yijing buneng shixian
两个人走在操场旁边
liang geren zou zai caochang pangbian
脸红心跳 把手一起牵
lianhong xintiao bashou yiqi qian
不说话却不会尴尬
bu shuohua que bu hui ganga
你一定已抛弃这留恋
ni yiding yi paoqi zhe liulian
可我到现在却始终不能
ke wo dao xianzai que shizhong buneng
忘却那些爱恋
wangque naxie ailian


假如现在再说一遍
jiaru xianzai zaishuo yibian
不知道你是否还听得见
bu zhi dao ni shifou hai ting de jian
坐在你的课桌边
zuo zai ni de ke zhuo bian
回忆着那时的画面
huiyizhe na shi de huamian
常能看到你的笑脸
chang neng kan dao ni de xiaolian
可我却不能在你身边
ke wo que buneng zai ni shenbian
在同一片天空下许愿
zai tong yipian tiankong xia xuyuan
是不是就能让你听见
shi bushi jiu neng rang ni tingjian