Ad blocker interference detected!
Wikia is a free-to-use site that makes money from advertising. We have a modified experience for viewers using ad blockers

Wikia is not accessible if you've made further modifications. Remove the custom ad blocker rule(s) and the page will load as expected.
!

Warning:

This song contains questionable lyrics and themes; it may be inappropriate for younger audiences.

The Vocaloid Wiki does not have a policy on lyrical content or theme; however, it attempts to follow the Wikia TOU.
For further discussion see Thread:68883. Questionable songs are automatically sorted into this category.

!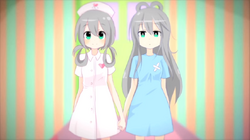 Song title
"依存症"
Pinyin: Yīcúnzhèng
Official English: Dependence Syndrome
Uploaded August 5, 2015, with 332,000+ (BB) / 19,000+ (YT) views
Singer(s)
Luo Tianyi
Producer(s)
Atunemic (compose, arrange, tuning, lyrics, video editor)
Haoyue (lyrics)
Lili Lulu (illustrator)
Wang Chao (mastering)
Links
YouTube Broadcast
bilibili Broadcast
Background
Edit
"Dependence Syndrome" is an original Luo Tianyi song. It is the first song featured in the Love Theory: Prologue album.
The song has reached over 100,000 views on bilibili.
Chinese (中文歌词)
Pinyin (拼音)
写了一首小情歌
xiele yi shou xiao qingge
想唱给你听
xiang chang gei ni ting
声音轻轻 不想吵醒
shengyin qing qing buxiang chao xing
你梦中的旅行
ni meng zhong de lüxing
做了一只小风铃
zuole yi zhi xiao fengling
挂在你窗棂
gua zai ni chuangling
铃铃叮叮 清澈透明
ling ling ding ding qingche touming
映着你的梦境
yingzhe ni de mengjing


总想去偷看着你
zong xiang qu tou kanzhe ni
在毫不经意
zai hao bujingyi
你的声音 一动一举
ni de shengyin yidong yiju
牵控我的呼吸
qian kong wo de huxi
每一次和你别离
mei yici he ni bieli
都倍感孤寂
dou bei gan guji
如果思念 是一种病
ruguo sinian shi yi zhong bing
是否我已晚期
shifou wo yi wanqi


黄昏的天边
huanghun de tianbian
想你已经一整天
xiang ni yijing yi zheng tian
梦绕魂牵
meng rao hun qian
念着你名字入眠
nian zhe ni mingzi rumian
遥远的夏天
yaoyuan de xiatian
不敢说的字眼
bu gan shuo de ziyan
我那么
wo name
恋你 想念你
lian ni xiangnian ni
想许下我的永远
xiang xu xia wo de yongyuan


我对你依赖成迷
wo dui ni yilai cheng mi
想不清哪些原理和原因
xiang bu qing naxie yuanli he yuanyin
你在纠缠我的思绪
ni zai jiuchan wo de sixu
让我的天 我的地 都是你身影
rang wo de tian wo di di dou shi ni shenying
我对你依赖成迷
wo dui ni yilai cheng mi
就算失去我也不想离去
jiusuan shiqu wo ye buxiang li qu
因为我会委屈
yinwei wo hui weiqu
没有你
meiyou ni


我对你依赖成迷
wo dui ni yilai cheng mi
却只有默默隐藏着自己
que zhiyou momo yincangzhe ziji
看着你渐渐地离去
kanzhe ni jianjian de li qu
到了最后 也没有 问候的勇气
daole zuihou ye meiyou wenhou de yongqi
我对你依赖成迷 喜欢你自信开朗与风趣
wo dui ni yilai cheng mi xihuan ni zixin kailang yu fengqu
你像一个病菌
ni xiang yige bingjun
让我难过 也不能治愈
rang wo nanguo ye buneng zhiyu


你跟我坐在一起
ni gen wo zuo zai yiqi
却沉默无语
que chenmo wuyu
不敢看着 你的眼睛
bu gan kanzhe ni de yanjing
怕戳破了情绪
pa chuo pole qingxu
你对我那些关心
ni dui wo naxie guanxin
却让我担心
que rang wo danxin
你太完美 我太悲剧
ni tai wanmei wo tai beiju
不能配得上你
buneng pei de shang ni


傍晚的天边
bangwan de tianbian
想你已经一整夜
xiang ni yijing yi zheng ye
梦绕魂牵
meng rao hun qian
念着你名字入眠
nian zhe ni mingzi rumian
遥远的夏天
yaoyuan de xiatian
不敢说的思念
bu gan shuo de sinian
我那么 爱你 想爱你 想亲吻你的侧脸
wo name ai ni xiang ai ni xiang qinwen ni de ce lian


我对你依赖成迷
wo dui ni yilai cheng mi
想不清哪些原理和原因
xiang bu qing naxie yuanli he yuanyin
你在纠缠我的思绪
ni zai jiu chan wo de sixu
让我的天 我的地 都是你身影
rang wo de tian wo de di dou shi ni shenying
我对你依赖成迷
wo dui ni yilai cheng mi
就算失去我也不想离去
jiusuan shiqu wo ye buxiang li qu
因为我会委屈 没有你
yinwei wo hui weiqu meiyou ni


我对你依赖成迷
wo dui ni yilai cheng mi
却只有默默隐藏着自己
que zhiyou momo yincangzhe ziji
看着你渐渐地离去
kanzhe ni jianjian de li qu
到了最后 也没有 问候的勇气
daole zuihou ye meiyou wenhou de yongqi
我对你依赖成迷
wo dui ni yilai cheng mi
喜欢你自信开朗与风趣
xihuan ni zixin kailang yu fengqu
你像一个病菌
ni xiang yige bingjun
让我难过 也不能治愈
rang wo nanguo ye buneng zhiyu


我对你依赖成迷
wo dui ni yilai cheng mi
想不清哪些原理和原因
xiang bu qing naxie yuanli he yuanyin
当你对我不闻不理
dang ni dui wo bu wen bu li
我就沮丧 像被风 吹过的森林
wo jiu jusang xiang bei feng chuiguo de senlin
我对你依赖成迷
wo dui ni yilai cheng mi
为了你我把自己都放低
weile ni wo ba ziji dou fang di
因为我好想去 拥抱你
yinwei wo hao xiang qu yongbao ni


我对你依赖成迷
wo dui ni yilai cheng mi
希望你看到了我的心意
xiwang ni kan daole wo de xinyi
我们之间有着默契
women zhi jian youzhe moqi
是完美的 那一个 化学的反应
shi wanmei de na yige huaxue de fanying
我对你依赖成迷
wo dui ni yilai cheng mi
就像围着你转动的卫星
jiu xiang weizhe ni zhuandong de weixing
你给我的微笑
ni gei wo de weixiao
让我依存症无法痊愈
rang wo yicun zheng wufa quanyu
Derivatives
Edit
Acoustic cover

| | |
| --- | --- |
| Featuring | Luo Tianyi |
| Author(s) | Utae (rearranger), Hachysu (mixing), Bingshan (tuning), Bookcage (illustrator), Eloi (video editor) |
| Category | VOCALOID cover, Rearrange |
External links
Edit
| | |
| --- | --- |
| | Articles |