Ad blocker interference detected!
Wikia is a free-to-use site that makes money from advertising. We have a modified experience for viewers using ad blockers

Wikia is not accessible if you've made further modifications. Remove the custom ad blocker rule(s) and the page will load as expected.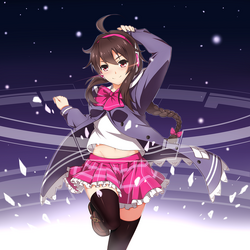 Song title
"偶像梦工厂"
Traditional Chinese: 偶像夢工廠
Pinyin: Ǒuxiàng Mèng Gōngchǎng
English: Idol Dream Factory
Uploaded July 22, 2015, with 41,000+ views
Singer(s)
Yuezheng Ling
Producer(s)
Yu Jianliu (compose, arrange, lyrics)
ello-chan (illustrator)
Mou Mou Hanzi (video editor)
Links
YouTube Broadcast (reprint)
bilibili Broadcast

Background
Edit
"Ǒuxiàng Mèng Gōngchǎng" is an original song featuring Yuezheng Ling. At the beginning of the song, Ling expresses the effort she puts into her music, and that despite all that, she still doesn't know what type of music is her favorite even though music is her motivation. She sings about how she enjoys performing and singing for everyone, insisting that her outfit and hair must be absolutely perfect, and relishes the joy of being a young idol.
Chinese (中文歌词)
Pinyin (拼音)
鋼琴聲 撥動心弦自由自在
Gangqin sheng bo dong xinxian ziyou zizai
歌唱讓我可愛 聲音腦海中徘徊
Gechang rang wo ke'ai shengyin naohai zhong paihuai
沒有技巧我不知道
Meiyou jiqiao wo bu zhidao
什麼樣的歌才是我的歌謠
Shenme yang de ge cai shi wo de geyao
不斷練習著氣息 掌握怎麼樣呼吸
Buduan lianxizhe qixi zhangwo zenme yang huxi
用歌聲鼓勵自己
Yong gesheng guli ziji
化妝要很有技巧 服裝搭配特別重要
Huazhuang yao hen you jiqiao fuzhuang dapei tebie chong yao
髮型必須很時髦 獨特氣質不能少
Faxing bixu hen shimao dute qizhi buneng shao


站在舞臺中央接受你目光投射
Zhan zai wutai zhongyang jieshou ni muguang toushe
高低不同音符組成絢麗的顏色
Gaodi butong yinfu zucheng xuanli de yanse
舞步伴隨歌聲纏繞著你我 創造動聽音色
Wubu bansui gesheng chanraozhe ni wo chuangzao dongting yinse
萬眾矚目之下的我心跳加速了
Wanzhong zhumu zhi xia de wo xintiao jiasule
跟隨著身體的節奏盡情地高歌
Gensuizhe shenti de jiezou jinqing di gaoge
和你暢遊在音樂長河
He ni changyou zai yinyue changhe


中國風的旋律要唱起來
Zhongguo feng de xuanlü yao chang qilai
爵士樂節奏讓我身體不停搖擺
Jueshiyue jiezou rang wo shenti bu ting yaobai
布魯斯的音階像遇到西部牛仔
Bulusi de yinjie xiang yu dao xibu niuzai
所有風格我都愛
Suoyou fengge wo dou ai


旋律搖擺節奏搖擺
Xuanlü yaobai jiezou yaobai
五線譜的音符快動起來
Wuxianpu de yinfu kuai dong qilai
發聲練習急不來 儀態訓練一起來
Fasheng lianxi ji bu lai yitai xunlian yi qilai
音樂之路不懈怠
Yinyue zhi lu bu xiedai
一二三四的節拍 前後左右都轉起來
Yi'ersansi de jiepai qianhou zuoyou dou zhuan qilai
舞步是我的最愛 少女生活多精彩
Wubu shi wo de zui'ai shaonü shenghuo duo jingcai


站在舞臺中央接受你目光投射
Zhan zai wutai zhongyang jieshou ni muguang toushe
高低不同音符組成絢麗的顏色
Gaodi butong yinfu zucheng xuanli de yanse
舞步伴隨歌聲纏繞著你我
Wubu bansui gesheng chanraozhe ni wo
創造動聽音色
Chuangzao dongting yinse
萬眾矚目之下的我心跳加速了
Wanzhong zhumu zhi xia de wo xintiao jiasule
跟隨著身體的節奏盡情地高歌
Gensuizhe shenti de jiezou jinqing di gaoge
和你暢遊在音樂長河
He ni changyou zai yinyue changhe


乘著風夜空下你我是最佳組合
Chengzhe feng yekong xia ni wo shi zui jia zuhe
快慢不同節奏可以讓傷口癒合
Kuaiman butong jiezou keyi rang shangkou yuhe
旋律伴隨星光照亮了你我 還有迷人花火
Xuanlü bansui xingguang zhao liangle ni wo hai you miren huahuo
手牽著手聆聽星星為我們唱歌
Shou qian zhuoshou lingting xingxing wei women changge
承載思念的心跳聲傳達給你了
Chengzai sinian de xintiao sheng chuanda gei nile
我們暢遊在 漫漫銀河
Women changyou zai manman yinhe