This song article is lacking a proper background. You can help by adding one! The relevant section in the Song Article Guideline is a good starting point, and this blog post may also be helpful. We apologize for the inconvenience this may cause in the meantime.

Song pages lacking proper backgrounds are automatically sorted into this category.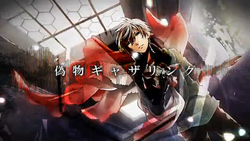 Song title
"偽物ギャザリング"
Romaji: Nisemono Gyazaringu
English: Fake Gathering
Uploaded May 31, 2013, with 21,000+ (NND) / 17,000+ (YT) views
Singer(s)
IA
Producer(s)
Diarays (music)
狂zip (illustration)
Emumero (movie)
Links
Niconico Broadcast • YouTube Broadcast

Background
Edit
"Fake Gathering" is an original song by Diarays featuring IA.
This song is featured in Diarays' album, Shadow Play.
Japanese (日本語歌詞)
Romaji (ローマ字)
探してチューナー
sagashite chuunaa
多分そこに置いてった
tabun soko ni oitetta
壊れた馬鹿
kowareta baka
最初っから信じてないよ
saishokkara shinjitenai yo


おっとここで商談
otto koko de shoudan
君にも一利あるかもね
kimi ni mo ichiri aru kamo ne
確かな量産
tashika na ryousan
不確かなフェイクも失笑
futashika na feiku mo shisshou


こんなちゃちなガラス鉄砲じゃ
kon'na chachi na garasu teppou ja
あの子の瞳も気付かないんでしょう
ano ko no hitomi mo kizukanai ndeshou


ほら哭いて抱いて抱いてロンリー
hora naite daite daite ronrii
昇華されたら
shouka saretara
いつか死んだ時にでも本物をあげる
itsuka shinda toki ni demo honmono o ageru
三千回の負けを味わうより
sansenkai no make o ajiwau yori
確かな理解を加えて
tashika na rikai o kuwaete


紹介しようダーリン
shoukai shiyou daarin
頭から流そう
atama kara nagasou
知ってんでしょう後悔
shitte ndeshou koukai
現代で一番の
gendai de ichiban no


ぐるっと回って見渡してみたよ
gurutto mawatte mi watashi temita yo
君を "理解してくれる" 人はいなさそうだ
kimi o "rikai shite kureru" hito wa inasasou da


こんなちゃちなボロドレスなら
kon'na chachi na borodoresu nara
白馬の王子も見捨てるんでしょう
hakuba no ouji mo misuteru ndeshou


ねぇ哭いて咲いて咲いてロンリー
nee naite saite saite ronrii
始めようか
hajimeyou ka
今日も微笑みながら偽物をあげる
kyou mo hohoeminagara nisemono o ageru
三千回の訳を疑うより
sansenkai no wake o utagau yori
確かな答えを添えたらいいよ
tashika na kotae o soetara ii yo


等身大の行進で
toushindai no koushin de
開けた闇へようこそ
aketa yami e youkoso


ほら哭いて抱いて抱いてロンリー
hora naite daite daite ronrii
溶かされたら
tokasaretara
いつか死んだ時にでも本物をあげる
itsuka shinda toki ni demo honmono o ageru
三千階の屋上で君を呼んで
sansenkai no okujou de kimi o yonde
確かな重力を手放したんだ
tashika na juuryoku o tebanashita nda


哭いて咲いて咲いてロンリー
naite saite saite ronrii
そして気付く
soshite kizuku
この痛みも全部本物だってこと
kono itami mo zenbu honmono datte koto
三千回は生きてごらん
sansenkai wa ikite goran
その愛だって作りモノでは無いんだよ
sono ai datte tsukuri mono dewa nai nda yo
External links
Edit
| | |
| --- | --- |
| | Articles |
| | |
| --- | --- |
| | Lyrics |