Ad blocker interference detected!
Wikia is a free-to-use site that makes money from advertising. We have a modified experience for viewers using ad blockers

Wikia is not accessible if you've made further modifications. Remove the custom ad blocker rule(s) and the page will load as expected.
!

Warning:

This song contains questionable lyrics and themes; it may be inappropriate for younger audiences.

The Vocaloid Wiki does not have a policy on lyrical content or theme; however, it attempts to follow the Wikia TOU.
For further discussion see Thread:68883. Questionable songs are automatically sorted into this category.

!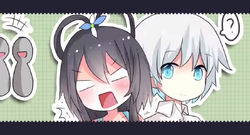 Song title
"兄/妹控即是正☆义!"
Traditional Chinese: 兄/妹控即是正☆義!
Pinyin: Xiōng/Mèikòng Jíshì Zhèng☆Yì!
English:

Bro

/

Sis

con is Jus☆tice!
Uploaded February 2, 2014, with 298,000+ (BB) and 401,000+ (YT) views
Singer(s)
Luo Tianyi
YANHE (backup vocals)
Producer(s)
YGY (music, lyrics)
Bai Mu Kui (illust)
NekoLoco (video editor)
Links
YouTube Broadcast
bilibili Broadcast
Background
Edit
"Xiōng/Mèi Kòng Jí Shìzhèng ☆Yì!" is an original Luo Tianyi song that tells the story of a young girl who fell in love with her older brother (YANHE). While the singers listed are both Luo Tianyi and YANHE, YANHE's vocals are used mainly as just backup.
This song has exceeded 100,000 views on YouTube and on bilibili.
Chinese (中文歌词)
Pinyin (拼音)
為什麼我有個笨蛋歐尼醬
weisheme wo you ge bendan ou ni jiang
告訴他我的生日轉眼就會忘
gaosu ta wo de shengri zhuanyan jiu hui wang
買給我的裙子總是有點長
mai gei wo de qunzi zong shi youdian zhang
只會摸著我的頭 說一句 (wo oh~)
zhi hui mozhe wo de tou shuo yiju (wo oh~)
竟被陌生人說很有夫妻相
jing bei mosheng ren shuo hen you fuqi xiang
明明我們除了姓 什麼都不像
mingming women chule xing shenme dou bu xiang
整日宅在家裡 鍵盤都磨光
zheng ri zhai zai jiali jianpan dou mo guang
我才不承認自己有這樣的歐尼醬!
wo cai buchengren ziji you zheyang de ou ni jiang!
Kami sama 快救救我吧
Kami sama kuai jiu jiu wo ba
為何我最近變得奇怪了啊
weihe wo zuijin bian de qiguaile a
明明只是個hentai大傻瓜
mingming zhishi ge hentai da shagua
到底有哪一點好嗎
daodi you na yidian hao ma
一定是錯覺吧 別想太多啦
yiding shi cuojue ba bie xiang tai duo la
可為何我的心跳不聽話
ke wei he wo de xintiao bu tinghua
視線相交就會飆上100碼
shixian xiangjiao jiu hui biao shang bai ma
到底怎麼辦才好嘛!
daodi zenme ban cai hao ma!


為什麼我有個笨蛋歐尼醬
weisheme wo you ge bendan ou ni jiang
告訴他我的生日轉眼就會忘
gaosu ta wo de shengri zhuanyan jiu hui wang
買給我的裙子總是有點長
mai gei wo de qunzi zong shi youdian zhang
只會摸著我的頭 說一句 (wo oh~)
zhi hui mozhe wo de tou shuo yiju (wo oh~)
竟被陌生人說很有夫妻相
jing bei mosheng ren shuo hen you fuqi xiang
明明我們除了姓 什麼都不像
mingming women chule xing shenme dou bu xiang
整日宅在家裡 鍵盤都磨光
zheng ri zhai zai jiali jianpan dou mo guang
我才不承認自己有這樣的歐尼醬!
wo cai buchengren ziji you zheyang de ou ni jiang!
Kami sama 快救救我吧
Kami sama kuai jiu jiu wo ba
為何我最近變得奇怪了啊
weihe wo zuijin bian de qiguaile a
明明只是個hentai大傻瓜
mingming zhishi ge hentai da shagua
哪一點好嗎
na yidian hao ma
錯覺吧 別想太多啦
cuojue ba bie xiang tai duo la
可為何我的心跳不聽話
ke wei he wo de xintiao bu tinghua
視線相交就會飆上100碼
shixian xiangjiao jiu hui biao shang bai ma
到底怎麼辦才好嘛!
daodi zenme ban cai hao ma!
放棄抵抗吧 接受事實吧
fangqi dikang ba jieshou shishi ba
原來自己才是個傻瓜
yuanlai ziji cai shige shagua
終於承認自己真實的想法
zhongyu chengren ziji zhenshi de xiangfa
因為妹(兄)控即是正義啊
yinwei mei (xiong) kong ji shi zhengyi a
External links
Edit
| | |
| --- | --- |
| | Articles |