Ad blocker interference detected!
Wikia is a free-to-use site that makes money from advertising. We have a modified experience for viewers using ad blockers

Wikia is not accessible if you've made further modifications. Remove the custom ad blocker rule(s) and the page will load as expected.
This song article is lacking a proper background. You can help by adding one! The relevant section in the Song Article Guideline is a good starting point, and this blog post may also be helpful. We apologize for the inconvenience this may cause in the meantime.

Song pages lacking proper backgrounds are automatically sorted into this category.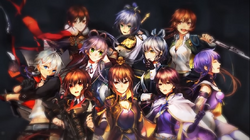 Song title
"光流终焉"
Traditional Chinese: 光流終焉
Pinyin: Guāng Liú Zhōng Yān
Uploaded March 19, 2016, with 130,000+ views
Singer(s)
Yuezheng Ling
Producer(s)
Tang Tang (compose, arrange)
Wu En (lyrics, mixing)
Xiang Nan (mixing)
Dong Dian-P (tuning)
Pora, A She Zhang (illustrators)
Dawang (video editor)
Links
YouTube Broadcast (reprint)
bilibili Broadcast
5SING Broadcast

Background
Edit
"Guāng Liú Zhōng Yān" is an original Yuezheng Ling. It is the fifth song in the Song of Time series.
This song has exceeded 100,000 views on bilibili.
Preceding versions
Edit
Renyi Daren's Version

| | |
| --- | --- |
| Featuring | Renyi Daren |
| Author(s) | Tang Tang (compose, arrange), Wu En (lyrics, mixing), Xiang Nan (mixing), Miao ☆ Jiang (audio), REI, A She Zhang (illustrators), Dawang (video editor) |
| Category | Preceding version, Human cover |
Chinese (中文歌词)
Pinyin (拼音)
光與暗的交匯之月
guang yu an de jiaohui zhi yue
詩人甦醒於逆流河水的傾瀉
shiren suxing yu niliu heshui de
縱橫明滅 化作十位聖徒的災劫
zongheng mingmie hua zuo shi wei shengtu de zai jie


天與地歸一的宮闕
tian yu de gui yi de gongjue
權杖失落於閃耀黑暗的泥穴
quan zhang shiluo yu shanyao hei'an de ni xue
幻境在絕望處撕裂
huanjing zai juewang chu si lie


魂魄卑怯 骨骼淌著血
hunpo beiqie guge tangzhe xue
舞動在灼熱之雨夜
wudong zai zhuore zhi yuye
殺意盛宴 續寫愚者與智者的交接
shayi shengyan xu xie yuzhe yu zhizhe de jiaojie


生死不屑 光翼化的蝶
shengsi buxie guang yi hua de die
明媚於孤島之彼岸
mingmei yu gudao zhi bi'an
冰冷醒覺 嘲笑虛妄的和平與讚美的詩篇
bingleng xing jue chaoxiao xuwang de heping yu zanmei de shipian


沉醉於角斗的齊瓦列
chenzui yu juedou de qi wa lie
迷途於力量的甘比捏
mitu yu liliang de gan bi nie
碰撞處建起腥紅泡沫
pengzhuang chu jian qi xing hong paomo
劊子手伯爵 沼澤清除一切
guizishou bojue zhaoze qingchu yiqie


光與暗的交匯之月
guang yu an de jiaohui zhi yue
詩人詠唱於寧靜安逸的聖殿
shi ren yongchang yu ningjing anyi de sheng dian
縱橫明滅
zongheng mingmie
化作時光流沙的終焉
hua zuo shiguang liusha de zhongyan
External links
Edit
| | |
| --- | --- |
| | Articles |