Ad blocker interference detected!
Wikia is a free-to-use site that makes money from advertising. We have a modified experience for viewers using ad blockers

Wikia is not accessible if you've made further modifications. Remove the custom ad blocker rule(s) and the page will load as expected.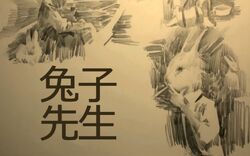 Song title
"兔子先生"
Pinyin: Tùzǐ Xiānshēng
English: Mr. Rabbit
Uploaded September 7, 2015, with 410,000+ views
Singer(s)
Luo Tianyi
Producer(s)
Nameless Club: Xiao Hua A Xiao Hua (music, lyrics, arrangement)
Zhao Hua Qing (illustration)
Ke Lin (tuning, mix)
Links
YouTube Broadcast (reprint)
bilibili Broadcast

Background
Edit
This song is an original Chinese VOCALOID song featuring Luo Tianyi. It is related to the song "燕子 (Yànzi)".
According to the author, this song is wrote for those who are traveling far away from home, also commemorating the childhoods of those of the past.
This song has exceeded 100,000 views on bilibili.
Succeeding versions
Edit
Xiao Hua A Xiao Hua's Cover

| | |
| --- | --- |
| Featuring | Xiao Hua A Xiao Hua |
| Author(s) | Xiao Hua A Xiao Hua (cover, music, lyrics, arrangement), Zhao Hua Qing (illustration), Ke Lin (tuning, mix) |
| Category | Self cover, Human cover |
Ke Lin's Cover

| | |
| --- | --- |
| Featuring | Ke Lin |
| Author(s) | Xiao Hua A Xiao Hua (music, lyrics, arrangement), Zhao Hua Qing (illustration), Ke Lin (cover, tuning, mix) |
| Category | Self cover, Human cover |
Chinese (中文歌词)
Pinyin (拼音)
小孩子问妈妈 兔子的家在哪里呀
xiaohaizi wen mama tuzi de jia zai nali ya
妈妈笑着回答 月亮是兔子先生的故乡
mama xiaozhe huida yueliang shi tuzi xiansheng de guxiang
小孩子问妈妈 兔子先生咋不回家
xiaohaizi wen mama tuzi xiansheng za bu hui jia
妈妈笑着回答 流浪是兔子先生的特长
mama xiaozhe huida liulang shi tuzi xiansheng de techang
小孩子嘟着嘴 说兔子先生怎么不听话
xiaohaizi duzhe zui shuo tuzi xiansheng zenme bu tinghua
兔子公公兔子婆婆
tuzi gonggong tuzi popo
会想念他会担心他
hui xiangnian ta hui danxin ta


小孩小孩轻声说啊兔子先生请你快回家
xiaohai xiaohai qingsheng shuo a tuzi xiansheng qing ni kuai hui jia
最爱你的爸爸妈妈
zui ai ni de baba mama
在那远空盼望你啊
zai na yuan kong panwang ni a
兔子先生笑着说啊小孩小孩我也会想家
tuzi xiansheng xiaozhe shuo a xiaohai xiaohai wo ye hui xiang jia
但渺小的我流浪的步伐
dan miaoxiao de wo liulang de bufa
还没法停下
hai mei fa ting xia


小孩小孩哭着说啊兔子先生我不要回家
xiaohai xiaohai kuzhe shuo a tuzi xiansheng wo buyao hui jia
家里有个唠叨妈妈
jia li you ge lao dao mama
时常挨骂屁股开花
shichang ai ma pigu kaihua
兔子先生笑着说啊小孩小孩请你快回家
tuzi xiansheng xiaozhe shuo a xiaohai xiaohai qing ni kuai hui jia
有人会牵挂让人羡慕啊
youren hui qiangua rang ren xianmu a
别惹我哭啦
bie re wo ku la


兔子先生说兔子先生说小孩小孩快回家
tuzi xiansheng shuo tuzi xiansheng shuo xiaohai xiao hai kuai hui jia
就算快长大就算去天涯
jiusuan kuai zhang da jiusuan qu tianya
家是永远的牵挂
jia shi yongyuan de qiangua
兔子先生轻着说啊小孩小孩请你快回家
tuzi xiansheng qingzhe shuo a xiao hai xiao hai qing ni kuai hui jia
无论在屋外
wulun zai wuwai
还是天涯
haishi tianya
Derivatives
Edit
Grey's Cover

| | |
| --- | --- |
| Featuring | Grey |
| Author(s) | Grey |
| Category | Human cover |
External links
Edit
| | |
| --- | --- |
| | Articles |
| | |
| --- | --- |
| | Downloads |