六兆年と一夜物語 (Roku-chou Nen to Ichiya Monogatari)
Comments

9
The following song article is still a work in progress. For information on how to help, see the song article guideline. We apologize for the inconvenience this may cause in the meantime.

What is being worked on?

Add info regarding the novels.

Work-in-progress song pages are automatically sorted into this category.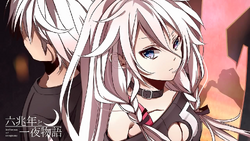 Song title
"六兆年と一夜物語"
Romaji: Roku-chou Nen to Ichiya Monogatari
Official English: A Tale of Six Trillion Years and a Night
Uploaded Apr 11, 2012, with 4,918,000+ (NND) / 3,252,000+ (YT) views
Singer(s)
IA
Producer(s)
kemu (music, lyrics)
hatsuko (illust)
ke-sanβ (video)
Links
Niconico Broadcast • YouTube Broadcast (official)

Background
Edit
This song was uploaded on April 11, 2012, and has reached over 3,000,000 views.
The song tells of "a fairytale that no one knows" about a demon boy with no name, abused by his mother, and who only wanted to be human. He wants to die, and he can't see any dreams in his future. One day, a girl came to the prison where he was held. Although talking was forbidden, she asked him what his name was, and said that they would leave together. They do, and despite the fact that they know nothing about each other, they are happy, and it is just the two of them.
This song is featured in the album PANDORA VOXX, the EXIT TUNES compilation album Vocaloconnection, TEAM Entertainment's IA THE WORLD ~風~ (Kaze), avex trax's Yoen Waso Emaki, and the compilation album VOCALOID 超BEST -impacts-.
Japanese (日本語歌詞)
Romaji (ローマ字)
名も無い時代の集落の
na mo nai jidai no shuuraku no
名も無い幼い少年の
na mo nai osanai shounen no
誰も知らない おとぎばなし
daremo shiranai otogibanashi


産まれついた時から 
umaretsuita toki kara
忌み子鬼の子として
imiko oni no ko toshite
その身に余る 罰を受けた
sono mi ni amaru batsu o uketa


悲しい事は 何も無いけど
kanashii koto wa nanimo nai kedo
夕焼け小焼け手を引かれてさ
yuuyake koyake te o hikarete sa


知らない知らない僕は何も知らない
shiranai shiranai boku wa nanimo shiranai
叱られた後のやさしさも
shikarareta ato no yasashisa mo
雨上がりの手の温もりも
ameagari no te no nukumori mo
でも本当は本当は本当は本当に寒いんだ
demo hontou wa hontou wa hontou wa hontou ni samuinda


死なない死なない僕は何で死なない?
shinanai shinanai boku wa nande shinanai?
夢のひとつも見れないくせに
yume no hitotsu mo mirenai kuse ni
誰も知らない おとぎばなしは
daremo shiranai otogibanashi wa
夕焼けの中に吸い込まれて消えてった
yuuyake no naka ni suikomarete kietetta


吐き出す様な暴力と 
hakidasu you na bouryoku to
蔑んだ目の毎日に
sagesunda me no mainichi ni
君はいつしか そこに立ってた
kimi wa itsu shika soko ni tatteta


話しかけちゃだめなのに
hanashi kakecha dame nano ni
「君の名前が知りたいな」
"kimi no namae ga shiritai na"
ごめんね名前も舌も無いんだ
gomen ne namae mo shita mo nainda


僕の居場所は 何処にも無いのに
boku no ibasho wa doko ni mo nai no ni
「一緒に帰ろう」 手を引かれてさ
"issho ni kaerou" te o hikarete sa


知らない知らない僕は何も知らない
shiranai shiranai boku wa nanimo shiranai
君はもう子供じゃないことも
kimi wa mou kodomo janai koto mo
慣れない他人(ひと)の手の温もりは
narenai hito no te no nukumori wa
ただ本当に本当に本当に本当のことなんだ
tada hontou ni hontou ni hontou ni hontou no koto nanda


やめないやめない君は何でやめない?
yamenai yamenai kimi wa nande yamenai?
見つかれば殺されちゃうくせに
mitsukareba korosarechau kuse ni
雨上がりに 忌み子がふたり
ameagari ni imiko ga futari
夕焼けの中に吸い込まれて消えてった
yuuyake no naka ni suikomarete kietetta


日が暮れて夜が明けて 
hi ga kurete yo ga akete
遊び疲れて捕まって
asobitsukarete tsukamatte
こんな世界僕と君以外 
konna sekai boku to kimi igai
皆いなくなればいいのにな
minna inaku nareba ii no ni na
皆いなくなれば いいのにな
minna inaku nareba ii no ni na


知らない知らない声が聞こえてさ 
shiranai shiranai koe ga kikoete sa
僕と君以外の全人類
boku to kimi igai no zen-jinrui
抗う間もなく手を引かれてさ
aragau ma mo naku te o hikarete sa
夕焼けの中に吸い込まれて消えてった
yuuyake no naka ni suikomarete kietetta


知らない知らない僕は何も知らない 
shiranai shiranai boku wa nanimo shiranai
これからのことも君の名も
kore kara no koto mo kimi no na mo
今は今はこれでいいんだと
ima wa ima wa kore de iin dato
ただ本当に本当に本当に本当に思うんだ
tada hontou ni hontou ni hontou ni hontou ni omounda


知らない知らない あの耳鳴りは
shiranai shiranai ano miminari wa
夕焼けの中に吸い込まれて消えてった
yuuyake no naka ni suikomarete kietetta
Derivatives
Edit
Len's Cover

Featuring
Kagamine Len, Kagamine Rin (chorus)
Author(s)
Hyurno (cover)
Category
VOCALOID cover

Description

Hyurno's cover using Rin and Len Append Power
Yukari's Cover

| | |
| --- | --- |
| Featuring | Yuzuki Yukari |
| Author(s) | starblood12 (cover) |
| Category | VOCALOID cover |
GUMI's Cover

| | |
| --- | --- |
| Featuring | GUMI Power |
| Author(s) | Cursemagnet (cover) |
| Category | VOCALOID cover |
Ritsu's Cover

| | |
| --- | --- |
| Featuring | Namine Ritsu |
| Author(s) | cillia (cover), Hinano (UST) |
| Category | UTAU cover |
Meiji's cover

| | |
| --- | --- |
| Featuring | Gahata Meiji (Hunter) |
| Author(s) | Kuka Huna (cover), Kima (illustration) |
| Category | UTAU cover |
kradness's Cover

| | |
| --- | --- |
| Featuring | kradness |
| Author(s) | kradness |
| Category | Human cover |
mafumafu's Cover

| | |
| --- | --- |
| Featuring | mafumafu |
| Author(s) | mafumafu |
| Category | Human cover |
JubyPhonic's English Cover

| | |
| --- | --- |
| Featuring | JubyPhonic |
| Author(s) | JubyPhonic |
| Category | Human cover |
9 Person's Chorus + 1

| | |
| --- | --- |
| Featuring | Various Utaites, IA |
| Author(s) | Hichima |
| Category | Nico Nico Chorus |
Asibuto Penta's Dance Cover
ARSMAGNA's Dance Cover

| | |
| --- | --- |
| Featuring | IA |
| Author(s) | ARSMAGNA |
| Category | Dance cover |
Yufu's Piano Version

| | |
| --- | --- |
| Featuring | Sekka Yufu |
| Author(s) | cillia (kyaami) |
| Category | Arrangement; UTAU Cover |
Japanese Traditional Instrument Version

| | |
| --- | --- |
| Featuring | Suzuhana Yuuko |
| Author(s) | Suzuhana Yuuko & the Wagakki Band |
| Category | Arrangement; Human cover |
Other media appearances
Edit
Publications
Edit
Other media appearances
Edit
This song was featured in the following concerts:
IA First Live Concert in JAPAN -PARTY A GO-GO-
External links
Edit
| | |
| --- | --- |
| | Official |
| | |
| --- | --- |
| | Articles |
| | |
| --- | --- |
| | Downloads |