Ad blocker interference detected!
Wikia is a free-to-use site that makes money from advertising. We have a modified experience for viewers using ad blockers

Wikia is not accessible if you've made further modifications. Remove the custom ad blocker rule(s) and the page will load as expected.
This song article is lacking a proper background. You can help by adding one! The relevant section in the Song Article Guideline is a good starting point, and this blog post may also be helpful. We apologize for the inconvenience this may cause in the meantime.

Song pages lacking proper backgrounds are automatically sorted into this category.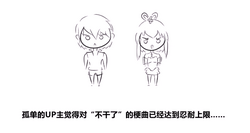 Song title
"再做梗曲信不信我废了你!"
Traditional Chinese: 再做梗曲信不信我廢了你!
Pinyin: Zài Zuò Gěng Qū Xìn Bùxìn Wǒ Fèile Nǐ!
Uploaded October 14, 2013, with 110,000+ views
Singer(s)
Luo Tianyi, YANHE
Producer(s)
Na Lan Xun Feng
Links
bilibili Broadcast
Background
Edit
"Zài Zuò Gěng Qū Xìn Bùxìn Wǒ Fèile Nǐ!" is an original duet song between Luo Tianyi and YANHE.
This song has exceeded 100,000 views on bilibili.
Chinese (中文歌词)
Pinyin (拼音)
站上舞台 下一秒 那帷幕被掀开
zhan shang wutai xia yi miao na weimu bei xian kai
(全都看着我) 视线不许离开
(quandou kanzhe wo) shixian buxu likai
我等待 你的喝彩 跟我跳起来
wo dengdai ni de hecai gen wo tiao qilai


你嘲笑我 你藐视我
ni chaoxiao wo ni miaoshi wo
就是你这辈子 最大的错
jiushi ni zhe beizi zuida de cuo
(我 是亮点 发着光 闪瞎你狗眼)
(wo shi liangdian fazhe guang shan xia ni gou yan)
自恋成狂 孤芳自赏
zi lian cheng kuang gufangzishang
我是这世界上 唯一信仰
wo shi zhe shijie shang weiyi xinyang
(你 根本没资格 评论我对错)
(ni genben mei zige pinglun wo dui cuo)
从不把人放进眼中
cong bu ba ren fang jin yanzhong
一个人唱着寂寞的歌
yige ren changzhe jimo de ge
到头来还是没人喜欢我
daotoulai haishi mei ren xihuan wo
(我知道你们在看什么)
(wo zhidao nimen zai kan shenme)


整天循环那些梗曲
zheng tian xunhuan naxie geng qu
动不动就在叫着放弃了
dongbudong jiu zai jiaozhe fangqile
我去你丫的这算什么
wo qu ni ya de zhe suan shenme
(到底还让不让我唱歌)
(daodi hai rang bu rang wo changge)


这只能说
zhe zhi neng shuo
是我的错
shi wo de cuo
原因是我不懂迎合
yuanyin shi wo bu dong yinghe


于是我就
yushi wo jiu
花两分钟
hua liang fenzhong
给自己写了这样一首歌
ji ziji xiele zheyang yi shou ge


污染你的耳朵
wuran ni de erduo
再不放过我
zaibu fangguo wo
我就只能说
wo jiu zhi neng shuo
我去 尼玛这是何等的卧槽啊
wo qu ni ma zhe shi hedeng de wo cao a


滚粗啊 去死吧 别再继续啦
gun cu a qu si ba bie zai jixu la


你无视我 你忽略我
ni wushi wo ni hulüe wo
小心我诅咒你 蛋疼菊紧
xiaoxin wo zuzhou ni dan teng ju jin
(我 也可以 扔肥皂 等待你拾取)
(wo ye keyi reng feizao dengdai ni shiqu)
那么就请 不要犹豫
name jiu qing buyao youyu
点一下这里的 收藏硬币
dian yixia zheli de shoucang yingbi
(然后我会继续 唱更多良曲)
(ranhou wo hui jixu chang geng duo liang qu)


小伙伴们 小光头们
xiao huobanmen xiao guangtoumen
今天的牢骚就 发到这里
jintian de laosao jiu fa dao zheli
最后祝你 身体健康 再见
zuihou zhu ni shenti jiankang zaijian