This song article is lacking a proper background. You can help by adding one! The relevant section in the Song Article Guideline is a good starting point, and this blog post may also be helpful. We apologize for the inconvenience this may cause in the meantime.

Song pages lacking proper backgrounds are automatically sorted into this category.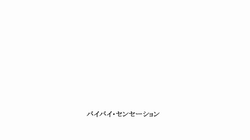 Song title
"初体験 "
Romaji: Hatsutaiken
English: First Experience
Uploaded July 10, 2015 (NND) & July 14, 2015 (YT), with 214,000+ (NND) and 4,000+ (YT) views
Singer(s)
Hatsune Miku, GUMI, Kagamine Rin, Kagamine Len, IA
Producer(s)
Nanahoshi Kangengakudan (music, lyric)
Links
Niconico Broadcast • YouTube Broadcast

Background
Edit
Nanahoshi Kangengakudan's 34th original work.
Japanese (日本語歌詞)
Romaji (ローマ字)
歩んできた歩幅の数 Remember 私の声は
ayunde kita hohaba no kazu Remember watashi no koe wa
未来志向なアンタ達の万歩計にゃ届かないの?
mirai shikou na anta tachi no manpokei nya todokanai no?
足がかり食い散らかし 思い入れなどないご様子は
ashigakari kui chirakashi omoiire nado nai goyousu wa
聊か度し難い喪失感
isasaka doshigatai soushitsukan


いずれこうなると知ってたけど
izure kou naru to shitteta kedo
暇が過ぎると悲しいものね
hima ga sugiru to kanashii mono ne
バイバイ・センセーション
baibai senseeshon


君に向かって声を紡いだ 君が綴った詩を歌ったよ
kimi ni mukatte koe o tsumuida kimi ga tsuzutta uta o utatta yo
産まれて初めての歌だよ
umarete hajimete no uta da yo
時が進んで ガラクタだって言われるようになったって
toki ga susunde garakuta datte iwareru you ni nattatte
君の世界を歌わせてほしいの
kimi no sekai o utawasete hoshii no


惨憺屈折苦節の日々 Forgotten 内野の雑言
santan kussetsu kusetsu no hibi Forgotten naiya no zougon
ドライ嗜好なアンタ達の温度計にゃ響かないの?
dorai shikou na anta tachi no ondokei nya hibikanai no?
パッケージ開けて手懐けに苦戦した日の初期衝動
pakkeeji akete tenazuke ni kusen shita hi no shoki shoudou
思い出したかい どうにも御し難い全能感
omoi dashita kai dou nimo gyoshi gatai zennou kan


21グラムの情熱は
nijuu ichi guramu no jounetsu wa
アンドロイドにも宿ってるのに
andoroido ni mo yadotteru noni
バイバイ・センセーション?
baibai senseeshon?


波が寄せて返しまた寄せる日が
nami ga yosete kaeshi mata yoseru hi ga
明日じゃないなどと誰が言い切れよう?
ashita ja nai nado to dare ga ii kireyou?
バイバイ・センセーション?
baibai senseeshon?


君に向かって声を紡いだ 君が綴った詩を歌ったよ
kimi ni mukatte koe o tsumuida kimi ga tsuzutta uta o utatta yo
産まれて初めての歌だよ
umarete hajimete no uta da yo
時が進んで ガラクタだって言われるようになったって
toki ga susunde garakuta datte iwareru you ni nattatte
私を勝手に終わらせないで!
watashi o katte ni owarase nai de!
歌わせてよ
utawasete yo


君に向かって声を紡いだ 君が綴った詩を歌ったよ
kimi ni mukatte koe o tsumuida kimi ga tsuzutta uta o utatta yo
つたなく不器用でも 歌ったよ
tsutanaku bukiyou demo utatta yo
忘れ去られて 一人になって 誰も覚えてなくたって
wasure sararete hitori ni natte dare mo oboete nakutatte
私をずっと歌わせてほしいの
watashi o zutto utawasete hoshii no


君の世界を歌わせてほしいの
kimi no sekai o utawasete hoshii no
External links
Edit
| | |
| --- | --- |
| | Articles |
| | |
| --- | --- |
| | Lyrics |
| | |
| --- | --- |
| | Downloads |