This song article is lacking a proper background. You can help by adding one! The relevant section in the Song Article Guideline is a good starting point, and this blog post may also be helpful. We apologize for the inconvenience this may cause in the meantime.

Song pages lacking proper backgrounds are automatically sorted into this category.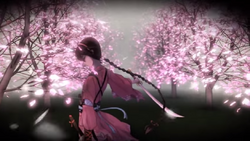 Song title
"利刃繁花"
Pinyin: Lìrèn Fánhuā
Uploaded September 4, 2015, with 50,000+ views
Singer(s)
Yuezheng Ling
Luo Tianyi, YANHE (harmonies)
Producer(s)
Wing (compose, arrange, mixing, mastering, video editor)
Ray (guitar)
Chen Bing Jiao (lyrics)
ST.art (harmony mastering)
Qu Peng Tiao (mixing, mastering)
Qingfeng Zhi Lian (tuning)
Si Mu Xi Yu (illustrator)
Zi Lin Xiao Yin Shetuan (publishing)
Links
YouTube Broadcast (reprint)
bilibili Broadcast

Background
Edit
"Lìrèn Fánhuā" is an original song featuring Yuezheng Ling.
Succeeding versions
Edit
SAYA's cover

| | |
| --- | --- |
| Featuring | SAYA |
| Author(s) | SAYA (vocalist), Wing (compose, arrange, mixing, video editor), Ray (guitar), Chen Bing Jiao (lyrics) |
| Category | Human cover, succeeding version |
Chinese (中文歌词)
Pinyin (拼音)
残阳余烬 纳入刀鞘
canyang yujin naru dao qiao
那长街 匿于眼角
na zhang jie ni yu yanjiao
旧梦难偿 此生潦草
jiumeng nan chang cisheng laocao
任火光 焚噬过往
ren huoguang fen shi guowang


善恶是非 侠义忠良
shan e shifei xiayi zhongliang
似烙痕 刻骨怎忘
shi lao hen kegu zen wang
俗世喧嚣 翻涌如浪
sushi xuanxiao fanyong ru lang
起落间 斩断惆怅
qiluo jian zhan duan chouchang


血溅繁花 爱恨挣扎
xue jian fanhua ai hen zhengzha
谁沉沦这劫杀
shui chenlun zhe jie sha
尽处天涯 宿命依附正邪两端
jin chu tianya suming yifu zhengxie liang duan
留新月一弯
liu xin yue yi wan
枯叶飒沓 虚实纠缠
ku ye sa da xushi jiuchan
谁灭却这纷乱
shui mie que zhe fenluan
转瞬刹那 尘埃缄默声色喑哑
zhuanshun chana chen'ai jianmo shengse yinya
已无人作答
yi wu ren zuoda


迷局何堪 莫问何叹
mi ju he kan mo wen he tan
谁逆腥风而战
shui ni xing feng er zhan
十方征伐 奸佞亡骸三途隔岸
shi fang zhengfa jianning wanghai san tu ge an
以狂笑送挽
yi kuangxiao song wan
烈焰长燃 天地短暂
lieyan zhang ran tiandi duanzan
谁化修罗涅槃
shui hua xiuluo niepan
奔赴几番 归时路畔血樱斑斓
benfu ji fan gui shi lu pan xue ying banlan
卷流沙飞散
juan liusha feisan


悲欢炎凉 擦肩仓惶
bei huan yanliang ca jian cang huang
在岁月 寂然相望
zai suiyue jiran xiang wang
无念无扰 无惧无伤
wu nian wu rao wu ju wu shang
无牵挂 亦无思量
wu qiangua yi wu siliang


血溅繁花 爱恨挣扎
xue jian fanhua ai hen zhengzha
谁沉沦这劫杀
shui chenlun zhe jie sha
尽处天涯 宿命依附正邪两端
jin chu tianya suming yifu zhengxie liang duan
留新月一弯
liu xin yue yi wan
枯叶飒沓 虚实纠缠
ku ye sa da xushi jiuchan
谁灭却这纷乱
shui mie que zhe fenluan
转瞬刹那 尘埃缄默声色喑哑
zhuanshun chana chen'ai jianmo shengse yinya
已无人作答
yi wu ren zuoda


迷局何堪 莫问何叹
mi ju he kan mo wen he tan
谁逆腥风而战
shui ni xing feng er zhan
十方征伐 奸佞亡骸三途隔岸
shi fang zhengfa jianning wanghai san tu ge an
以狂笑送挽
yi kuangxiao song wan
烈焰长燃 天地短暂
lieyan zhang ran tiandi duanzan
谁化修罗涅槃
shui hua xiuluo niepan
奔赴几番 归时路畔血樱斑斓
benfu ji fan gui shi lu pan xue ying banlan
卷流沙飞散
juan liusha feisan


刀锋冷 泪灼烫
daofeng leng lei zhuo tang
故时花 开四季阴阳 荒坟葬多少
gu shi hua kai siji yinyang huang fen zang duoshao
魑魅魍魉
chimeiwangliang


独酌一晌 独醉一场
duzhuo yi shang du zui yi chang
不负 少年狂
bu fu shaonian kuang
无言远眺 暮色如霜满目沧桑
wu yan yuan tiao muse ru shuang manmu cangsang
待轮回绝响
dai lunhui juexiang
External links
Edit
| | |
| --- | --- |
| | Articles |