Ad blocker interference detected!
Wikia is a free-to-use site that makes money from advertising. We have a modified experience for viewers using ad blockers

Wikia is not accessible if you've made further modifications. Remove the custom ad blocker rule(s) and the page will load as expected.
This song article is lacking a proper background. You can help by adding one! The relevant section in the Song Article Guideline is a good starting point, and this blog post may also be helpful. We apologize for the inconvenience this may cause in the meantime.

Song pages lacking proper backgrounds are automatically sorted into this category.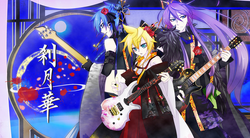 Song title
"刹月華"
Romaji: Setsugetsuka
English: Fleeting Moon Flower
Uploaded January 18, 2010, with 746,000+ views
Singer(s)
VanaN'Ice
Camui Gackpo, KAITO, Kagamine Len
Producer(s)
natsuP (music, lyrics)
haku (guitar, bass, drums, mix)
HaruAki (illustration, movie)
猫之神 (encode)
Links
Niconico Broadcast • YouTube Broadcast (with English subtitles)

Background
Edit
"Setsugetsuka" is an original song by SCL Project, featuring VanaN'Ice. It is based off the poems from "The Tales of Ise".
This song has entered the Hall of Fame. It is featured in the albums EXIT TUNES PRESENTS Supernova, LAST COLOR and VanaN'Ice.
| | | | | | |
| --- | --- | --- | --- | --- | --- |
| Singer | Gackpo | KAITO | Len | Gackpo and KAITO | All |
Japanese (日本語歌詞)
Romaji (ローマ字)

しのぶの乱れ 限り知られず

shinobu no midare kagiri shirarezu

雪月花の時

setsugetsuka no toki

君を憶う

kimi o omou




捕われた 視線が外せない

torawareta shisen ga hazusenai

妖艶な姿で 扇子片手に

youen na sugata de sensu katate ni




篭の中の鳥は

kago no naka no tori wa

いついつ出会う?

itsu itsu deau?




人を寝沈め 満月の夜に

hito o neshizume mangetsu no yoru ni



「逢えなくて
"aenakute
 たいくつな長雨の夜は 物思いにあふれ」
 taikutsu na nagaame no yoru wa monoomoi ni afure"
「涙の河は
"namida no kawa wa
 袖ばかりぬれて 会う方法もありません」
 sode bakari nurete au houhou mo arimasen"



おもひつゝぬればや

omoitsutsu nureba ya

人のみえつらん

hito no mietsuran

If I did not exist that fight had not happened.

ゆめとしりせばさめざらましを

yume to shiri seba samezaramashi o

I should not have met you that night.




君やこし 我やゆきけむ

kimi ya koshi ware yukikemu

おもほえず

omooezu

夢かうつつか 寝てか覚めてか

yume ka utsutsu ka nete ka samete ka




行きはよいよい 帰りはこわい

iki wa yoi yoi kaeri wa kowai

通りゃんせ 通りゃんせ

tooryanse tooryanse




もう戻れぬ 咲き乱れて

mou modorenu sakimidarete



「浅いからこそ
"asai kara koso
 袖は濡れるのでしょう 涙の河で」
 sode wa nureru no deshou namida no kawa de"
「身まで流れたと
"mi made nagareta to
 もし聞いたら あなたを 頼りにしましょう」
 moshi kiitara anata o tayori ni shimashou"



たれゆゑに 乱れ

tare yue ni midare

染めにし我ならなく

some ni shi ware naranaku

I not know what is the correct answer.




かきくらす 心の闇にまどひにき

kakikurasu kokoro no yami ni madoiniki

I will end it by my hands.




あなたの心に 辿りつく道が欲しい

anata no kokoro ni tadoritsuku michi ga hoshii

誰にも知られぬように 心の奥まで

dare ni mo shirarenu you ni kokoro no oku made

見られるように

mirareru you ni



二人が結ばれぬ 運命なら
futari ga musubarenu sadame nara
紅の水へ沈みたい
kurenai no mizu e shizumitai


この世界に居ても 貴方が居ないのなら
kono sekai ni ite mo anata ga inai nara
意味がない
imi ga nai



雪月花の刻 あなたと結ばれ

setsugetsuka no toki anata to musubare

In the place where violet and blue intersect.




永遠に続く 契りを交わす

eien ni tsuzuku chigiri o kawasu

A yellow thing was dyed in red.




わするなよほどは 雲ゐになりぬとも

wasuruna yo hodo wa kumo ni narinu to mo

So this was the best answer for us.




そらゆく月の めぐりあふまで

sorayuku tsuki no meguriau made

I want to meet you again.
External links
Edit
| | |
| --- | --- |
| | Official |
| | |
| --- | --- |
| | Articles |
| | |
| --- | --- |
| | Lyrics |