Ad blocker interference detected!
Wikia is a free-to-use site that makes money from advertising. We have a modified experience for viewers using ad blockers

Wikia is not accessible if you've made further modifications. Remove the custom ad blocker rule(s) and the page will load as expected.
This song article is lacking a proper background. You can help by adding one! The relevant section in the Song Article Guideline is a good starting point, and this blog post may also be helpful. We apologize for the inconvenience this may cause in the meantime.

Song pages lacking proper backgrounds are automatically sorted into this category.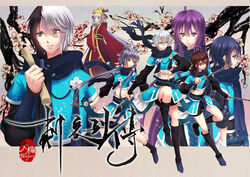 Song title
"刺客列传
Traditional Chinese: 刺客列傳
Pinyin: Cìkè Lièzhuàn
English: Assassins
Uploaded March 8, 2016, with 150,000+ views
Singer(s)
YANHE
Producer(s)
litterzy (compose, arrange, guitar)
Da Zuiba Lang (lyrics)
Tuzi Jei (bass)
Yu Mian Xiao Yanran, Mo Yun Sui Bu Yao (guzheng)
Zha Yu Chu Qing (pipa)
EZ-VEN (erhu)
Shui Yuer (flute)
Jiang Wu Luan Wan (tuning)
CuTTleFiSh (mixing)
Ran Yun (illustrator)
Xiao Mu Moku (video editor)
Yunfu Shen Yin (subtitles)
Links
YouTube Broadcast (reprint)
bilibili Broadcast

Background
Edit
"Cìkè Lièzhuàn" is an original song featuring YANHE. It is the sequel to 刀剑春秋 (Dāojiàn Chūnqiū). Other VOCALOID characters that cameo as the assassins in the PV are: Luo Tianyi, Yuezheng Ling, Yuezheng Longya, Mo Qingxian, and Zhiyu Moke. Zhanyin Lorra is cast as the antagonist.
This song has exceeded 100,000 views on bilibili.
Chinese (中文歌词)
Pinyin (拼音)
幽幽之清角再无泠泠松风寒
youyou zhi qing jiao zai wu lingling song fenghan
硝烟之激荡早随淡淡浮云散
xiaoyan zhi jidang zao sui dandan fuyun san
今朝之花月朦胧教人仰面向天叹
jinzhao zhi hua yue menglong jiao ren yangmian xiang tian tan
鱼肠上几分秋霜与铜斑
yu chang shang ji fen qiushuang yu tong ban
莫笑名垂只因一死 一死又有何难
mo xiao ming chui zhi yin yisi yisi you you he nan
偷生忍辱了却恩义 一生方再无憾
tousheng ren ru liao que en yi yisheng fang zai wu han
才为知遇披忠肝
cai wei zhiyu pi zhong gan


谁吞下火炭谁换衣衫待一朝能近君侯畔
shei tun xia huotan shei huan yishan dai yi zhao neng jin jun hou pan
只为奋起此生勇敢挥出这剑光一闪
zhi wei fenqi cisheng yonggan hui chu zhe jian guangyi shan
谁别去燕丹谁谱羽徵歌一场怒发冲顶冠
shei bie qu yan dan shei pu yu zheng ge yi chang nu fa chongding guan
故人西去孑然只影向迢迢绿水青山 再不还
guren xi qu jieran zhi ying xiang tiaotiao lu shui qingshan zaibu hai


涛涛之江水不改冽冽昔日寒
tao tao zhi jiangshui bu gai lie lie xiri han
悲歌之慷慨不随萧萧北风散
beige zhi kangkai busui xiaoxiao bei feng san
千秋之彪炳功过不以成败去相判
qianqiu zhi biaobing gongguo bu yi chengbai qu xiang pan
愿长留汗青侠骨共芳瓣
yuan zhang liu hanqing xiagu gong fang ban
割下头颅托诸英雄 传浩气壮铁胆
ge xia tou lu tuo zhu yingxiong chuan haoqi zhuang tie dan
壮士何妨一剑相伴 乘明月赴函关
zhuangshi hefang yi jian xiangban cheng mingyue fu han guan
决眦之间沉冤断
jue zi zhi jian chenyuan duan


谁刀兵千万谁掌戈干笑一介白丁有何患
shei daobing qian wan shei zhang ge ganxiao yijie baiding you he huan
匹夫一怒血溅三尺染红这斜阳向晚
pifu yi nu xue jian san chi ran hong zhe xieyang xiang wan
谁为改河山谁闯龙潭掷一颗慧星侵河汉
shei wei gai heshan shei chuang longtan zhi yi ke hui xing qin hehan
回声铿锵百世流转化悠悠广陵清散 任人弹
huisheng kengqiang baishi liuzhuan hua youyou guangling qing san ren ren dan


割下头颅托诸英雄 传浩气壮铁胆
ge xia tou lu tuo zhu yingxiong chuan haoqi zhuang tie dan
壮士何妨一剑相伴 乘明月赴函关
zhuangshi hefang yi jian xiangban cheng mingyue fu han guan
决眦之间沉冤断
jue zi zhi jian chenyuan duan


谁吞下火炭谁换衣衫待一朝能近君侯畔
shei tun xia huotan shei huan yishan dai yi zhao neng jin jun hou pan
只为奋起此生勇敢挥出这剑光一闪
zhi wei fenqi cisheng yonggan hui chu zhe jian guangyi shan
谁别去燕丹谁谱羽徵歌一场怒发冲顶冠
shei bie qu yan dan shei pu yu zheng ge yi chang nu fa chongding guan
故人西去孑然只影向迢迢绿水青山 再不还
guren xi qu jieran zhi ying xiang tiaotiao lu shui qingshan zaibu hai


谁刀兵千万谁掌戈干笑一介白丁有何患
shei daobing qian wan shei zhang ge ganxiao yijie baiding you he huan
匹夫一怒血溅三尺染红这斜阳向晚
pifu yi nu xue jian san chi ran hong zhe xieyang xiang wan
谁为改河山谁闯龙潭掷一颗慧星侵河汉
shei wei gai heshan shei chuang longtan zhi yi ke hui xing qin hehan
回声铿锵百世流转化悠悠广陵清散 任人弹
huisheng kengqiang baishi liuzhuan hua youyou guangling qing san ren ren dan
External links
Edit
| | |
| --- | --- |
| | Articles |