Ad blocker interference detected!
Wikia is a free-to-use site that makes money from advertising. We have a modified experience for viewers using ad blockers

Wikia is not accessible if you've made further modifications. Remove the custom ad blocker rule(s) and the page will load as expected.
This song article is lacking a proper background. You can help by adding one! The relevant section in the Song Article Guideline is a good starting point, and this blog post may also be helpful. We apologize for the inconvenience this may cause in the meantime.

Song pages lacking proper backgrounds are automatically sorted into this category.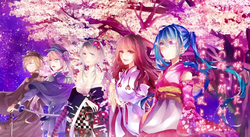 Song title
"十六夜月花"
Romaji: Izayoi Gekka
Uploaded October 4, 2014, with 2,200+ (NND), 500+ (PP) views
Singer(s)
Hatsune Miku, GUMI, kokone, anon, kanon
Producer(s)
171 Eru (arrangement, lyrics, tuning)
Shigure Tsuki (music)
haruru (movie)
lemon (illust)
Saori (illust)
Links
Niconico Broadcast
piapro Broadcast
Background
Edit
"Izayoi Gekka" is an original song by 171 Eru featuring Hatsune Miku, GUMI, kokone, anon and kanon.
Japanese (日本語歌詞)
Romaji (ローマ字)
あぁ 乱れ咲く花よ
aa midaresaku hana yo
その輝き闇を射る
sono kagayaki yami o iru
あぁ 散らば舞う風と共に
aa chirabamau kaze totomoni


そっと隠した手の中には
sotto kakushita te no naka ni wa
夢うずき ハラリ舞う
yume uzuki harari mau
秘めた想い掴んで
himeta omoi tsukande


風にざわめく 花びらの 叫びに
kaze ni zawameku hanabira no sakebi ni
目を覚まし 耳澄まし 研ぎ澄まし
me o samashi mimi sumashi togisumashi
深さ増して行く時
fukasa mashite iku toki
いつからか 気付かず
itsukara ka kizuka zu
今に至ったこの心
ima ni itatta kono kokoro
悔やんでは 涙した痕
kuyande wa namidashi ta ato


待ち侘びた夜に光る花よ
machiwabi ta yoru ni hikaru hana yo
我らにも輝け
warera ni mo kagayake


あぁ 乱れ咲いた花よ
aa midare saita hana yo
その輝き闇を射る
sono kagayaki yami o iru
あぁ 散らば舞う風と共に
aa chirabamau kaze totomoni
我と共に
waga totomoni
External links
Edit
| | |
| --- | --- |
| | Lyrics |