Ad blocker interference detected!
Wikia is a free-to-use site that makes money from advertising. We have a modified experience for viewers using ad blockers

Wikia is not accessible if you've made further modifications. Remove the custom ad blocker rule(s) and the page will load as expected.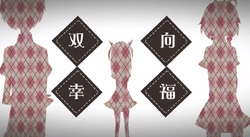 Song title
"双向幸福"
Traditional Chinese: 雙向幸福
Pinyin: Shuāngxiàng Xìngfú
English: Bidirectional Happiness
Uploaded December 27, 2013, with 260,000+ views
Singer(s)
Luo Tianyi and YANHE (as Yuezheng Ling)
Producer(s)
JUSF (compose, tuning, arrange)
Sya (Illust, PV)
Links
YouTube Broadcast (reprint)
bilibili Broadcast

Background
Edit
"Shuāngxiàng Xìngfú" is the fourth song of the Bidirectional Series and it features Luo Tianyi and Yuezheng Ling, whose voice is provided by Chinese VOCALOID3, YANHE.
An alternative ending where Ling knew her actions in declaring war on Tianyi may eventually hurt YANHE. As a result, she stops Tianyi from murdering him and informs her that it was all her fault and she leaves, allowing Tianyi and YANHE to be together.
After Ling received her own voicebank in 2015, her vocals were used to sing the song in the album, Shuāngxiàng·Lúnhuí yǔ Xìngfú (双向·轮回与幸福).
This song has exceeded 100,000 views on bilibili.
Succeeding versions
Edit
Tianyi and Ling's Version

Featuring
Luo Tianyi and Yuezheng Ling
Author(s)
JUSF and Sya
Category
VOCALOID cover; Remastered; Succeeding version

Description

Available in the Shuāngxiàng·Lúnhuí yǔ Xìngfú (双向·轮回与幸福) album.
Chinese (中文歌词)
Pinyin (拼音)
我在无助的时候
wo zai wu zhu de shihou
遇见了那个他
yujianle nage ta
温暖柔和的微笑
wennuan rouhe de weixiao
让心意萌芽
rang xinyi mengya
我依然清晰记得
wo yiran qingxi jide
他曾说过的话
ta ceng shuoguo dehua
誓言混合着他身上薄荷芬芳
shiyan hunhezhu ta shenshang bohe fenfang
他曾说很喜欢我
ta ceng shuo hen xihuan wo
我们在一起吧
women zai yiqi ba
他曾说会带着我
ta ceng shuo hui daizhe wo
去旅行 到天涯
qu lüxing dao tianya
现在我终于明白 这承诺的虚假
xianzai wo zhongyu mingbai zhe chengnuo de xujia
一切一切只不过是为试探她
yiqie yiqie zhi buguo shi wei shitan ta
疯狂的宣战
fengkuang de xuanzhan
将愤恨误解深埋
jiang fenhen wujie shen mai
残酷的宣战
canku de xuanzhan
让无辜的人受难
rang wugu de ren shounan
你给她温暖
ni gei ta wennuan
她定是不会冲你呐喊
ta ding shi bu hui chong ni nahan
只能够将猜忌压抑成绝望的黑暗
zhi nenggou jiang caiji yayi cheng juewang de hei'an


我本就并非一个
wo ben jiu bingfei yige
值得他爱的人
zhide ta ai de ren
被拥抱住的瞬间
bei yongbao zhu de shunjian
有幸福 有不安
you xingfu you bu'an
但这一瞬的怔忪
dan zhe yishun de zheng song
给了我从来没一刻体会过的那种
geile wo conglai mei yike tihuiguo di na zhong
爱的温暖
ai de wennuan
他牵起我的手
ta qian qi wo de shou
说永远不放开
shuo yongyuan bu fang kai
他点点我的额头
ta diandian wo de etou
说我像小女孩
shuo wo xiang xiao nühai
但为何现在他却
dan weihe xianzai ta que
这样地对我
zheyang di dui wo
果然他终究不会喜欢我
guoran ta zhongjiu bu hui xihuan wo
卑劣的自己
beilie de ziji
如何配得到他的心
ruhe pei dedao ta de xin
肮脏的自己
ang zang de ziji
不应奢求能被提及
bu ying sheqiu neng bei ti ji
愿他能开心
yuan ta neng kaixin
与他珍爱的人在一起
yu ta zhen'ai de ren zai yiqi
失去他之后
shiqu ta zhihou
我到底该去向哪里
wo daodi gai quxiang nali
抑制不住疼痛的心
yizhi bu zhu tengtong de xin
该怎样寻求平静
gai zenyang xunqiu pingjing
一切终结的时候
yiqie zhongjie de shihou
脑海中不禁忆起过往曾经
naohai zhong bujin yi qi guowang cengjing


我似乎看见 即将喷涌出的鲜血
wo sihu kanjian jijiang penyong chu de xianxie
我似乎看见 被夺去所爱你的脸
wo sihu kanjian bei duo qu suo ai ni de lian
为何内心却 不愿让你承受这一切
weihe neixin que bu yuan rang ni chengshou zhe yiqie
曾被你温暖的我 紧紧握住了拳
ceng bei ni wennuan de wo jin jin wo zhule quan
感谢你的爱 让我体会到了温暖
ganxie ni de ai rang wo tihui daole wennuan
感谢你的爱 让我记得曾存在
ganxie ni de ai rang wo jide ceng cunzai
感谢你的爱 也感谢被你爱的女孩
ganxie ni de ai ye ganxie bei ni ai de nühai
让这份祝福传达到 你们身边
rang zhe fen zhufu chuanda dao nimen shenbian
就此告别
jiuci gaobie
就此再见
jiuci zaijian
再见
zaijian
再见
zaijian
再见
zaijian
再见
zaijian