Ad blocker interference detected!
Wikia is a free-to-use site that makes money from advertising. We have a modified experience for viewers using ad blockers

Wikia is not accessible if you've made further modifications. Remove the custom ad blocker rule(s) and the page will load as expected.
!

Warning:

This song contains questionable lyrics and themes; it may be inappropriate for younger audiences.

The Vocaloid Wiki does not have a policy on lyrical content or theme; however, it attempts to follow the Wikia TOU.
For further discussion see Thread:68883. Questionable songs are automatically sorted into this category.

!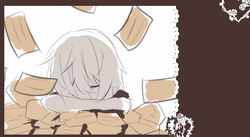 Song title
"双向跨越"
Traditional Chinese: 雙向跨越
Pinyin: Shuāngxiàng Kuàyuè
English: Bidirectional Cross
Uploaded December 4, 2013, with 230,000+ views
Singer(s)
Luo Tianyi and YANHE
Producer(s)
Sya (compose, lyrics, illust, PV)
JUSF (lyrics, arrange, tuning)
Links
YouTube Broadcast (reprint)
bilibili Broadcast

Background
Edit
"Shuāngxiàng Kuàyuè" is the second song of the Bidirectional Series, a collab series between JUSF and Sya. It is also the rearranged version of the first song, 双向思念 (Shuāngxiàng Sīniàn) as the story is essentially the same, but with a different ending. Here, in the end, YANHE spoke about how much he loved Tianyi when she tried to stab him and they lived together happily. The "cross" in the title references how they finally cross or overcome their own boundaries and followed their heart.
A remastered version of the song is featured in the album, Shuāngxiàng·Lúnhuí yǔ Xìngfú (双向·轮回与幸福).
This song has exceeded 100,000 views on bilibili.
Succeeding versions
Edit
Remastered version

Featuring
Luo Tianyi and YANHE
Author(s)
JUSF and Sya
Category
Remastered; Succeeding version

Description

Available in the Shuāngxiàng·Lúnhuí yǔ Xìngfú (双向·轮回与幸福) album.
Chinese (中文歌词)
Pinyin (拼音)
这是我被封藏的思念
zhe shi wo bei feng cang de sinian
思念那双明亮却无神的眼
sinian na shuang mingliang que wu shen de yan
难以忘却
nanyi wangque
这是我最清晰的思念
zhe shi wo zui qingxi de sinian
思念初见中静默的一切
sinian chu jian zhong jingmo de yiqie
渴求再相见
keqiu zai xiang jian


眼神交汇一瞬间
yanshen jiaohui yi shunjian
心被红线所连接
xin bei hongxian suo lianjie
我是如此得平凡和胆怯
wo shi ruci de pingfan he danqie
想要触碰到指尖
xiang yao chu peng dao zhi jian
最终却默默越走越远
zuizhong que momo yue zou yue yuan


为何我喜欢的你
weihe wo xihuan de ni
每次见到我躲闪不及
mei ci jian dao wo duoshan buji
是我自作多情配不上你一言一行
shi wo zizuo duoqing pei bu shang ni yi yan yixing


让我独自承担懊悔到天明
rang wo duzi chengdan aohui dao tianming
思念写入永远寄不出的信
sinian xie ru yongyuan ji bu chu de xin
没有正面表达的勇气
meiyou zhengmian biaoda de yongqi
决定最后尝试旁敲侧击
jueding zuihou changshi pangqiaoceji
来试探你
lai shitan ni


看着他与别人在一起
kanzhe ta yu bieren zai yiqi
心中响起疯狂的声音
xinzhong xiangqi fengkuang de shengyin
就此刻 如何将愤恨
jiu cike ruhe jiang fenhen
压抑
yayi


那些被眼泪浸湿的信
naxie bei yanlei jin shi de xin
融进爱与恨交叠纠缠的心
rong jin ai yu hen jiao die jiuchan de xin
低头嘲笑卑劣的自己
ditou chaoxiao beilie de ziji
竟然想用这种方式占有你
jingran xiang yong zhe zhong fangshi zhanyou ni
突然之间的靠近
turan zhi jian de kaojin


不顾一切拥你入怀里
bugu yiqie yong ni ru huai li
不畏惧你手中冰冷的利器
bu weiju ni shouzhong bingleng de liqi
大声说出我对你的心意
dasheng shuo chu wo dui ni de xinyi
无尽思念跨越了距离
wujin sinian kuayuele juli
绽放出你温热柔暖的呼吸
zhanfang chu ni wen re rou nuan de huxi
请别再逃离
qing bie zai taoli


突然被他拥进了怀里
turan bei ta yong jinle huai li
惊诧之中丢下了冰冷利器
jingcha zhi zhong diu xiale bingleng liqi
听见他道出对我的心意
tingjian ta dao chu dui wo de xinyi
无尽思念跨越了距离
wujin sinian kuayuele juli
绽放出他坚定不移的神情
zhanfang chu ta jianding bu yi de shenqing
不愿再逃离
bu yuan zai taoli