Ad blocker interference detected!
Wikia is a free-to-use site that makes money from advertising. We have a modified experience for viewers using ad blockers

Wikia is not accessible if you've made further modifications. Remove the custom ad blocker rule(s) and the page will load as expected.
This song article is lacking a proper background. You can help by adding one! The relevant section in the Song Article Guideline is a good starting point, and this blog post may also be helpful. We apologize for the inconvenience this may cause in the meantime.

Song pages lacking proper backgrounds are automatically sorted into this category.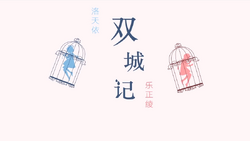 Song title
"双城记"
Traditional Chinese: 雙城記
Pinyin: Shuāng Chéng Jì
English: Tale of Two Cities
Uploaded December 4, 2015, with 150,000+ views
Singer(s)
Luo Tianyi, Yuezheng Ling
Producer(s)
Tuno Tong Yin (compose, arrange, lyrics, video editor)
Trebor_TTTTT (guitar)
Zhong Zi Xing Yin (video editor)
Indis_Yu (illustrator)
Links
YouTube Broadcast (reprint)
bilibili Broadcast

Background
Edit
"Shuāng Chéng Jì" is an original song sung by Luo Tianyi and Yuezheng Ling that was featured in the album, Travel for Lights.
This song has exceeded 100,000 views on bilibili.
Singer + Color
Tianyi
Both
Ling
Chinese (中文歌词)
Pinyin (拼音)

街角的人群聚散着离去

jiejiao de renqun ju sanzhe li qu

路边的橱窗静默的呼吸

lu bian de chuchuang jingmo de huxi

午后的风吹走某一天的回忆

wuhou de feng chui zou mou yitian de huiyi

回到了没有你的房间里

hui daole meiyou ni de fangjian li

播着无关你消息的tv

bozhe wuguan ni xiaoxi de tv

热气流散的咖啡 有你最喜欢的香味

reqi liusan de kafei you ni zui xihuan de xiangwei




假如说

一个人远去

jiaru shuo

yige ren yuan qu

带走了音讯

留一个人在空城回忆

dai zoule yinxun

liu yige ren zai kongcheng huiyi

那些残存的温度 是不是你在过的证明

naxie cancun de wendu shi bushi ni zaiguo de zhengming

如果把云层的轨迹

ruguo ba yunceng de guiji

当作是通往

你现在所在的标记

dang zuo shi tong wang

ni xianzai suozai de biaoji

我仰望着脸 能否和你有同一种默契

wo yangwangzhe lian neng fou he ni you tongyi zhong moqi



在两座城恋爱 打开最甜蜜的距离
zai liang zuo cheng lian'ai dakai zui tianmi de juli
用亲笔写下的手记 为你献上这份心情
yong qinbi xie xia de shouji wei ni xianshang zhe fen xinqing
在两座城恋爱 此刻我依然相信
zai liang zuo cheng lian'ai cike wo yiran xiangxin
在某一天某一刻
zai mou yitian mou yike
可以如此微笑着和你再一次相遇
keyi ruci weixiaozhe he ni zai yici xiangyu



照片中你不自然的表情

zhaopian zhong ni bu ziran de biaoqing

会心的微笑在嘴角泛起

hui xin de weixiao zai zuijiao fan qi

而又不知为何难以发出声音

er you buzhi weihe nanyi fachu shengyin

习惯了本不熟悉的简讯

xiguanle ben bu shuxi de jianxun

习惯了与你交错的呼吸

xiguanle yu ni jiaocuo de huxi

习惯了在晨光里 回忆你夜里的话语

xiguanle zai chenguang li huiyi ni yeli de huayu




如果能

看见一个人

ruguo neng

kanjian yige ren

眼里的风景

犹如某日看过的电影

yan li de fengjing

youru mou ri kanguo de dianying

和闪烁的画面 对白在记忆中渐渐褪去

he shanshuo de huamian duibai zai jiyi zhong jianjian tuiqu

多么想

让意识远去

duome xiang

rang yishi yuan qu

再和你靠近

即使自己离开身体

zai he ni kaojin

jishi ziji likai shenti

悄悄窥探你的心 是否依然在梦境

qiaoqiao kuitan ni de xin shifou yiran zai mengjing



在两座城恋爱 双眼相视的距离
zai liang zuo cheng lian'ai shuangyan xiang shi de juli
微笑下隐藏的痛楚 却又如此的甜蜜
weixiao xia yincang de tongku que you ruci de tianmi
在两座城恋爱 此刻我依然相信
zai liang zuo cheng lian'ai cike wo yiran xiangxin
这每一分每一秒
zhe mei yi fen mei yi miao
都有和你一起度过的唯一的意义
dou you he ni yiqi duguo de weiyi de yiyi



现实边缘的梦境 模糊的身影

xianshi bianyuan de mengjing mohu de shenying

如今我终于能够看清

rujin wo zhongyu nenggou kan qing

是你

这一切都是因为你

shi ni

zhe yiqie dou shi yinwei ni

在彼端

呼唤的你

zai bi duan

huhuan de ni



在两座城恋爱 打开最甜蜜的距离
zai liang zuo cheng lian'ai dakai zui tianmi de juli
用亲笔写下的手记 为你献上这份心情
yong qinbi xie xia de shouji wei ni xianshang zhe fen xinqing
在两座城恋爱 此刻我依然相信
zai liang zuo cheng lian'ai cike wo yiran xiangxin
在某一天某一刻
zai mou yitian mou yike
可以如此微笑着和你再一次相遇
keyi ruci weixiaozhe he ni zai yici xiangyu
External links
Edit
| | |
| --- | --- |
| | Lyrics |