This song article is lacking a proper background. You can help by adding one! The relevant section in the Song Article Guideline is a good starting point, and this blog post may also be helpful. We apologize for the inconvenience this may cause in the meantime.

Song pages lacking proper backgrounds are automatically sorted into this category.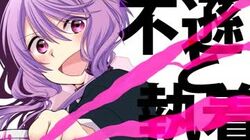 Song title
"双極性トランキライザー"
Romaji: Soukyoku-sei Torankiraizaa
English: Bipolar Tranquilizer
Uploaded November 24, 2014, with 150,000+ views
Singer(s)
Yuzuki Yukari
Producer(s)
nami (Oyakata-P) (music, lyrics)
Yami (illust)
phuny (movie)
Links
Niconico Broadcast
Background
Edit
"
Let's run with those wheels

Hello, I'm nami/Oyakata-P. This is about what we call 'to create'.

"
 

— Author note (translated)
"Bipolar Tranquilizer" is nami's most popular work.
This song was performed at the AH-Software Vocaloid concert "Songs Love" in Germany.
Japanese (日本語歌詞)
Romaji (ローマ字)
くだらない世界塗り潰して
kudaranai sekai nuri tsubushite
つまらない未来踏み潰して行こう
tsumaranai mirai fumi tsubushite ikou
止まらない衝動
tomara nai shoudou
双極性のトランキライザー
soukyoku sei no toran kirai zaa


表情を忘れた少年兵が放つオピニオン
hyoujou o wasureta shounen hei ga hanatsu opinion
無数の散弾は意図せぬ頭蓋を突き破る
musuu no sandan wa ito se nu tougai o tsukiya buru


手元のデバイスから
temoto no debaisu kara
無限に湧き出るアジテーション
mugen ni wakideru ajiteeshon
暴言の連なりが脳内を土足で踏み荒らしていく
bougen no tsuranari ga nou nai o dosoku de fumiarashite iku


僕ハドコニイルノ...?
boku wa dokoni iru no...?
僕ヲ嫌ワナイデヨ...?
boku o iya wanaide yo...?
僕ヲ壊シタイノ...?
boku o kowa shitai no...?
振り払って泣き叫んで
furiharatte nakisaken de
葛藤の狭間を駆け抜けよう
kattou no hazama o kake nukeyou


ありふれたルール蹴り飛ばして
arifureta ruru keri tobashite
行けるところまで突っ走っていこう
ikeru tokoro made tsuppashitte ikou
不遜と執着 独尊のクリエイター
fuson to shuuchaku dokuzon no kurieitaa


流した涙は拭わないで
nagashita namida wa nuguwa naide
魂の絵の具ぶちまけていこう
tamashii no enogu buchi makete ikou
傲慢と慟哭 相反を胸に抱くイノヴェイター
gouman to doukoku souhan o mune ni idaku inoveitaa


膨張するカウント 高く手を突き上げる群衆
bouchou suru kaunto takaku te o tsuki ageru gunshuu
己が正義を疑いすらしないマジョリティ
onore ga seigi o utagai sura shinai majoriti


増殖する少女 稀代のカリスマが動けば
zoushoku suru shoujo kitai no karisuma ga ugoke ba
テンプレートは検閲も受けずに登りつめていく
tenpureeto wa kenetsu mo uke zu ni noboritsumete iku


狭ク暗イ部屋デ
sema ku kurai heya de
零レ落チル涙
kobore ochiru namida
僕に意味はあるの...?
boku ni imi wa aru no...?
内なる孤独と孤高の
uchi naru kodoku to kokou no
両輪で駆け抜けよう
ryourin de kakenukeyou


眠たい小言は聞き流して
nemutai kogoto wa kikinagashite
ふざけた愚弄は斬り飛ばしていこう
fuzake ta gurou wa kiritobashite ikou
傲岸と哀哭 独創の落涙アクター
gougan to aikoku dokusou no rakurui akutaa


怒号と嗚咽にまみれても
dogou to oetsu ni mamire te mo
無言に心をえぐられても
mugon ni kokoro o egurare te mo
曲げずに描こう 双極のトランキライザー
mage zu ni egakou soukyoku no torankiraizaa


似合わない笑顔貼り付けて
niawa nai egao haritsukete
無意味な相槌繰り返して
muimi na aiduchi kurikaeshite
潰れそうだよ
tsubure souda yo


一歩でも前に進みたいよ
ichi wo demo mae ni susumi tai yo
このまま待つのは耐えられないよ
kono mama matsu no wa taerare nai yo
お願い止めないで
onegai tome nai de
双極のトランキライザー
soukyoku no torankiraizaa
もっと歌わせて欲しい
motto uta wasete hoshii


くだらない世界塗り潰して
kudaranai sekai nuritsubushite
つまらない未来踏み潰して行こう
tsumaranai mirai fumitsubushite ikou
狂騒と創造
kyousou to souzou
泣き虫のラスタライザー
nakimushi no rasutaraizaa


くだらない世界踏みしめて
kudaranai sekai fumishimete
前は見えずとも飛び込んでいこう
mae wa mie zu to mo tobikonde ikou
覚悟と渇望 双極のトランキライザー
kakugo to katsubou soukyoku no torankiraizaa
流れた涙がまた光る
nagare ta namida ga mata hikaru
Other media appearances
Edit
Publications
Edit
Novelized version will be published on May 15, 2015, with different illustrator.
Milestone image posted on Twitter by
Yami
.
The novelized version of the song.
External links
Edit
| | |
| --- | --- |
| | Official |
| | |
| --- | --- |
| | Articles |
| | |
| --- | --- |
| | Lyrics |
| | |
| --- | --- |
| | Downloads |
Ad blocker interference detected!
Wikia is a free-to-use site that makes money from advertising. We have a modified experience for viewers using ad blockers

Wikia is not accessible if you've made further modifications. Remove the custom ad blocker rule(s) and the page will load as expected.