Ad blocker interference detected!
Wikia is a free-to-use site that makes money from advertising. We have a modified experience for viewers using ad blockers

Wikia is not accessible if you've made further modifications. Remove the custom ad blocker rule(s) and the page will load as expected.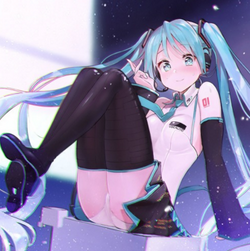 Song title
"君へのささめき"
Romaji: Kimi e Sasameki
Uploaded October 19, 2015, with 21,600+ views
Singer(s)
Hatsune Miku
Producer(s)
Messier (music, lyrics)
TIGO (guitar)
Nor (special thanks)
Links
SoundCloud Broadcast
Background
Edit
"Kimi e Sasameki" is an original Hatsune Miku song. It was entered in the HATSUNE MIKU EXPO SONG CONTEST.
Japanese (日本語歌詞)
Romaji (ローマ字)
あなたをつつむ
anata o tsutsumu
夜空の星のように
yozora no hoshi no youni
一緒にいられるよう歌ってあげる
issho ni irareru you utatte ageru


落ち込まないで
ochikoma naide
君の夢で出会えるから
kimi no yume de deaereru kara
この胸のトキメキは
kono mune no tokimeki wa
君へのささめき
kimi e no sasameki
氷より
kouri yori


きらめく瞳の中
kirameku hitomi no naka
光が届くのは
hikari ga todoku no wa
この世の果てでしょう
kono yo no hate deshou


船のように
fune no youni
流れるまま行けば
nagareru mama yukeba
会えるのかな
aeru no kana
本当の私を
hontou no watashi o


伝えたら
tsukaetara
見えなくてもきっと気づくでしょう
mienakute mo kitto kizuku deshou


壊れていく心
kowarete iku kokoro
震えるこの声
furueru kono koe
君への最後のメロディー
kimi e no saikono merodii


あなたをつつむ
anata o tsutsumu
夜空の星のように
yozora no hoshi no youni
一緒にいられるよう歌ってあげる
issho ni irareru you utatte ageru


落ち込まないで
ochikoma naide
君の夢で出会えるから
kimi no yume de deaeru kara
この胸のトキメキは
kono mune no tokimeki wa
君へのささめき
kimi e no sasameki


近づけたら
chikazuketara
聞けなくてもきっと気づくでしょう
kikenakute mo kitto kizuku deshou


切れていく息と
kirete iku iki to
濁っていくこのひとみ
nigotte iku kono hitomi
君への最後のメロディー
kimi e no saikono merodii


あなたをつつむ
anata o tsutsumu
夜空の星のように
yozora no hoshi no youni
一緒にいられるよう歌ってあげる
issho ni irareru you utatte ageru


落ち込まないで
ochikoma naide
君の夢で出会えるから
kimi no yume de deaeru kara
この胸のトキメキは
kono mune no tokimeki wa
君へのささめき
kimi e no sasameki


あなたを回る
anata o mawaru
きらめく月のように
kirameku tsuki no youni
一緒にいられるよう歌ってあげる
issho ni irareru you utatte ageru


落ち込まないで
ochikoma naide
君の夢で出会えるから
kimi no yume deaeru kara
この胸のトキメキは
kono mune no tokimeki wa
君へのささめき
kimi e no sasameki