Ad blocker interference detected!
Wikia is a free-to-use site that makes money from advertising. We have a modified experience for viewers using ad blockers

Wikia is not accessible if you've made further modifications. Remove the custom ad blocker rule(s) and the page will load as expected.
This song article is lacking a proper background. You can help by adding one! The relevant section in the Song Article Guideline is a good starting point, and this blog post may also be helpful. We apologize for the inconvenience this may cause in the meantime.

Song pages lacking proper backgrounds are automatically sorted into this category.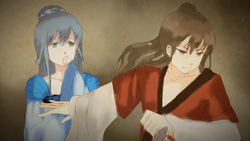 Song title
"君临天下"
Traditional Chinese: 君臨天下
Pinyin: Jūnlín Tiānxià
Uploaded October 1, 2015, with 390,000+ views
Singer(s)
Luo Tianyi
Wang Chao (narration)
Producer(s)
Wang Chao (compose, arrange, tuning, mixing, guitar)
Chen Zhi (lyrics)
Kreisee (illustrator, video editor)
Links
YouTube Broadcast (reprint)
bilibili Broadcast

Background
Edit
"Jūnlín Tiānxià" is an original song featuring Luo Tianyi and Wang Chao.
This song has exceeded 100,000 views on bilibili.
Succeeding versions
Edit
Wang Chao's Version

| | |
| --- | --- |
| Featuring | Wang Chao |
| Author(s) | Wang Chao, Chen Zhi, Kreisee |
| Category | Human cover, succeeding version |
Chinese (中文歌词)
Pinyin (拼音)
十年 像是一场噩梦
shí nián xiàng shì yīchǎng èmèng
我一直等待着醒来的那一天
wǒ yīzhí děngdàizhuó xǐng lái dì nà yītiān
我归来时 城若阻我
wǒ guīlái shí chéng ruò zǔ wǒ
我便拆了那城
wǒ biàn chāile nà chéng
官若拦我 我便宰了那官
guān ruò lán wǒ wǒ biàn zǎile nà guān


山海铁蹄下 翻手覆雨没黄沙
shanhai tieti xia fan shou fu yu huang sha
白衣卿相 谢了风流花
baiyi qing xiang xiele fengliu hua
烈火葬国都 故里青山两相顾
lie huozang guodu guli qingshan liang xianggu
十年大梦 爱恨破浮屠
shi nian da meng ai hen po futu
弦上箭裂悲风 旌旗书吾名
xian shang jian lie bei feng jingqi shu wu ming


彼时以墨作尘此时烽火战鼓震星辰
bi shi yi mo zuo chen ci shi fenghuo zhangu zhen xingchen
三尺青锋弑了多少不归人
san chi qing feng shile duo shao bu gui ren
亡鸦不渡寒塘惧我绛衣共雪尘
wang ya budu han tang ju wo jiang yi gong xue chen
换来声名加身君临天下城
huan lai shengming jia shen junlin tianxia cheng


弃我昔时笔 千军着我战时衿
qi wo xi shi bi qian junzhe wo zhan shi jin
江山社稷 兴亡因我起
jiangshan sheji xingwang yin wo qi
杀色浮寒瓮 一纸折扇多少恨
sha se fu han weng yi zhi zheshan duoshao hen
犹枕南柯 良人似初分
you zhen nan ke liang ren shi chu fen
漠上雁送归鸿 腥风掀征程
mo shang yan song gui hong xing feng xian zhengcheng


彼时以墨作尘此时烽火战鼓震星辰
bi shi yi mo zuo chen ci shi fenghuo zhangu zhen xingchen
三尺青锋弑了多少不归人
san chi qing feng shile duo shao bu gui ren
亡鸦不渡寒塘惧我绛衣共雪尘
wang ya budu han tang ju wo jiang yi gong xue chen
换得声名加身君临天下城
huan de shengming jia shen junlin tianxia cheng


彼时以墨作尘此时烽火战鼓震星辰
bi shi yi mo zuo chen ci shi fenghuo zhangu zhen xingchen
三尺青锋弑了多少不归人
san chi qing feng shile duo shao bu gui ren
亡鸦不渡寒塘惧我绛衣共雪尘
wang ya budu han tang ju wo jiang yi gong xue chen
换得声名加身君临天下城
huan de shengming jia shen junlin tianxia cheng


彼时以墨作尘此时烽火战鼓震星辰
bi shi yi mo zuo chen ci shi fenghuo zhangu zhen xingchen
三尺青锋弑了多少不归人
san chi qing feng shile duo shao bu gui ren
亡鸦不渡寒塘惧我绛衣共雪尘
wang ya budu han tang ju wo jiang yi gong xue chen
换得声名加身君临天下城
huan de shengming jia shen junlin tianxia cheng
Derivatives
Edit
Ling's Cover
External links
Edit
| | |
| --- | --- |
| | Articles |