Ad blocker interference detected!
Wikia is a free-to-use site that makes money from advertising. We have a modified experience for viewers using ad blockers

Wikia is not accessible if you've made further modifications. Remove the custom ad blocker rule(s) and the page will load as expected.
This song article is lacking a proper background. You can help by adding one! The relevant section in the Song Article Guideline is a good starting point, and this blog post may also be helpful. We apologize for the inconvenience this may cause in the meantime.

Song pages lacking proper backgrounds are automatically sorted into this category.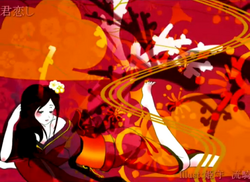 Song title
"君恋し"
Romaji: Kimi Koishi
English: I Love You
Uploaded January 08, 2010 (NND) and March 19, 2014 (YT), with 155,000+ (NND) and 1,700+ (YT) views
Singer(s)
Megurine Luka
Producer(s)
EasyPop (music, lyrics)
Hiroko (lyrics)
姫守流騎 (illust)
Links
Niconico Broadcast • YouTube Broadcast (official)

Background
Edit
"Kimi Koishi" is an original song by EasyPop featuring Megurine Luka.
This song is featured in the albums Heartful Sequence (ハートフルシーケンス), Very easy ( ベリーイージー), and Yoen Waso Emaki (妖艶和奏絵巻).
It has entered the Hall of Fame.
Japanese (日本語歌詞)
Romaji (ローマ字)
薄紅色に染まる 帰り道に君思う
usukurenaiiro ni somaru kaerimichi ni kimi omou
歩き馴れた川原には 切なさ運ぶ春の風
aruki nareta kawara ni wa setsunasa hakobu haru no kaze


離れて過ぎる日々の中 思い出に立ち止まり
hanarete sugiru hibi no naka omoide ni tachidomari
春の夜空見上げれば 同じ星見て何思う
haru no yozora miagereba onaji hoshi mitenani omou


花もやうやう池のほとり
hana mo yauyau ike no hotori
歌こそ なほおかしきものなれ
uta koso naho okashiki mono nare
春の夜の闇はあやなし
haru no yoru no yami wa ayanashi
夢にや見ゆらん 君恋し
yume ni ya mi yuran kimi koishi


優しい色に誘われ
yasashii iro ni sasoware
涙のことぞしのばるる
namida no koto zo shinobaruru
あたたかなときめき 今
atataka na tokimeki ima
君の笑顔と花霞
kimi no egao to hana kasumi


歩きだす雑踏に 慣れたふりして過ごしても
arukidasu zattou ni nareta furi shite sugoshite mo
心の隙間埋めるように 幼き記憶よみがえる
kokoro no sukima umeru you ni osanaki kioku yomigaeru


月満ちぬ 風も吹きぬべし
tsuki michinu kaze mo fukinubeshi
はるたついつしか、花咲かなむ
haru tatsu itsushika, hana sakikanamu
しのぶれど 色にでにけり
shinoburedo iro ni de nikeri
小川を結びて 君恋し
kogawa wo musubite kimi koishi


丘に花が咲きました
oka ni hana ga sakimashita
舞い上がるてふてふ見て
maiagaru tefutefu mite
便りはおぼろ月夜に
tayori wa oborozukiyo ni
この切なさと流れ雲
kono setsunasa to nagare kumo


花もやうやう池のほとり
hana mo yauyau ike no hotori
歌こそ なほおかしきものなれ
uta koso naho okashiki mono nare
春の夜の闇はあやなし
haru no yoru no yami wa ayanashi
夢にや見ゆらん 君恋し
yume ni ya mi yuran kimi koishi


優しい色に誘われ 涙のことぞしのばるる
yasashii iro ni sasoware namida no koto zo shinobaruru
あたたかなときめき 今
atataka na tokimeki ima
君の笑顔と花霞
kimi no egao to hana kasumi


丘に花が咲きました
oka ni hana ga sakimashita
舞い上がるてふてふ見て
maiagaru tefutefu mite
便りはおぼろ月夜に
tayori wa oborozukiyo ni
この切なさと流れ雲
kono setsunasa to nagare kumo
External links
Edit
| | |
| --- | --- |
| | Official |
| | |
| --- | --- |
| | Articles |
| | |
| --- | --- |
| | Lyrics |
| | |
| --- | --- |
| | Downloads |