Ad blocker interference detected!
Wikia is a free-to-use site that makes money from advertising. We have a modified experience for viewers using ad blockers

Wikia is not accessible if you've made further modifications. Remove the custom ad blocker rule(s) and the page will load as expected.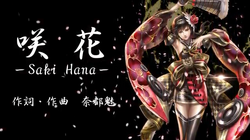 Song title
"咲花 -Saki Hana-"
Romaji: Saki Hana
English: Blooming Flowers
Uploaded July 27, 2015, with 54,000+ views
Singer(s)
Sachiko
Producer(s)
NatsumiP (music, lyrics)
Midori Fuu (illust)
Links
Niconico Broadcast
Background
Edit
NatsumiP's first work with Sachiko and one of most notable songs.
This song is one of Sachiko's first original works, being uploaded an hour after her release.
Japanese (日本語歌詞)
Romaji (ローマ字)
万感の想い込めて 
bankan no omoi kome te
声が枯れるまで叫べよ
koe ga kareru made sakebeyo
君の花はまだ咲いたばかりだから
kimi no hana wa mada saita bakari da kara


喜びも痛みも 遠い記憶に変わる
yorokobi mo itami mo tooi kioku ni kawaru
残された未練に 流される感情
nokosare ta miren ni nagasareru kanjou
過ぎ去った今でも 浅い眠りの中で
sugisatta ima demo asai nemuri no naka de
閉ざされた瞼に 溢れた感情
tozasareta mabuta ni afureta kanjou


何時まで待っても分からず
itsu made matte mo wakara zu
何時まで経っても変わらず
itsu made tatte mo kawara zu
こんな闇でいつまでも 眠っているなら
konna yami de itsu made mo nemutte iru nara


万感の想い込めて 自分の在処を叫べよ
bankan no omoi kome te jibun no arika o sakebeyo
抗って飛び出して 月の光飛び込んで
aragatte tobidashite tsuki no hikari tobikon de
言葉にならなくて もう声が枯れるまで叫べよ
kotoba ni nara nakute mou koe ga kareru made sakebeyo
君の花はまだ枯れてはいないから
kimi no hana wa mada kare te wa inai kara


哀しみも憎しみも 遠い記憶に還る
kanashimi mo nikushimi mo tooi kioku ni kaeru
残された自分に 澱ませる感情
nokosare ta jibun ni yodomaseru kanjou
過ぎ去った今なら 甘い眠り目覚めて
sugisatta ima nara amai nemuri mezame te
開かれた瞳に 溢れた感情
hirakare ta hitomi ni afure ta kanjou


何処まで行っても分からず
doko made itte mo wakara zu
其処まで行っても変わらず
soko made itte mo kawara zu
こんな路でいつまでも 迷っているなら
konna michi de itsu made mo mayotte iru nara


万感の想い込めて 自分の在処を叫ぶよ
bankan no omoi kome te jibun no arika o sakebu yo
抗って飛び出して もっともっと遠くまで
aragatte tobidashite motto motto tooku made
言葉にならなくて もうこの身砕けるまで叫ぶよ
kotoba ni nara nakute mou ko no mi kudakeru made sakebu yo
僕の花はまだ散ってはいないから
boku no hana wa mada chitte wa inai kara


万感の想い込めて 自分の在処を叫べよ
bankan no omoi kome te jibun no arika o sakebeyo
抗って飛び出して 未来の光飛び込んで
aragatte tobidashi te mirai no hikari tobikon de
言葉にならなくて もう声が枯れるまで叫べよ
kotoba ni nara nakute mou koe ga kareru made sakebeyo
君の花はまだ咲いたばかりだから
kimi no hana wa mada saita bakari dakara


万感の想い込めて 僕らの在処を叫ぶよ
bankan no omoi kome te bokura no arika o sakebu yo
抗って飛び出して 月の光飛び込んで
aragatte tobidashite tsuki no hikari tobikon de
言葉にならなくて もうこの身砕けるまで叫ぶよ
kotoba ni nara nakute mou kono mi kudakeru made sakebu yo
僕らの花はまだ咲いたばかりだから
bokura no hana wa mada saita bakari dakara
Derivatives
Edit
KANIPAN's cover

| | |
| --- | --- |
| Featuring | KANIPAN |
| Author(s) | |
| Category | Human cover |
External links
Edit
| | |
| --- | --- |
| | Downloads |
| | |
| --- | --- |
| | Articles |
| | |
| --- | --- |
| | Lyrics |