Ad blocker interference detected!
Wikia is a free-to-use site that makes money from advertising. We have a modified experience for viewers using ad blockers

Wikia is not accessible if you've made further modifications. Remove the custom ad blocker rule(s) and the page will load as expected.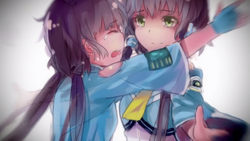 Song title
"唱給雅音宮羽"
Simplified Chinese: 唱给雅音宫羽
Pinyin: Chàng gěi Yǎyīn Gōngyǔ
English: Singing for Yayin Gongyu
Uploaded August 12, 2012, with 310,000+ views
Singer(s)
Luo Tianyi
Producer(s)
Yukinsnow (composer, arrange)
薇采之依 (lyrics)
Jerrkiy (arrange)
Commando1945 (tuning)
Axiom.Latis (mixing)
Circus, 黑炎-M82A1, 崩坏7, 盐 (illust)
Links
YouTube Broadcast (reprint)
bilibili Broadcast

Background
Edit
"Chàng gěi Yǎyīn Gōngyǔ" is an original Luo Tianyi song. It is a goodbye tribute to Yayin Gongyu, the original version of Tianyi before she was redesigned and renamed.
It is followed by a sequel, "Chàng gěi Yǎyīn Gōngyǔ Ⅱ".
This song has exceeded 100,000 views on bilibili.
Chinese (中文歌詞)
Pinyin (拼音)
夢 依稀拂過淡青的霓裳
meng yixi fuguo danqing de nishang
天邊有誰翻飛徴羽宮商
tianbian you shei fan fei zheng yu gong shang
聽 山查花蕾搖曳誰的笛章
ting shan cha hualei yaoye shei de di zhang
有誰能讓我和著笛聲 去輕聲唱
you shei neng rang wo hezhe di sheng qu qingsheng chang


唱 我拾起的夢想 在天空中回蕩
chang wo shi qi de mengxiang zai tiankong zhong huidang
就像那夢壹樣 揮不散的迷茫
jiu xiang na meng yi yang hui bu san de mimang
繪 記憶中的衣裝 好像妳在身旁
hui jiyi zhong de yizhuang haoxiang nai zai shen pang
可惜而妳如今 在何方
kexi er nai rujin zai hefang


看 山查花瓣撥弄漣漪輕淌
kan shan cha huaban bonong lianyi qing tang
漣漪後浮現妳的笑靥 嘴角輕揚
lianyi hou fuxian nai de xiaoye zuijiao qingyang


唱 妳給我的夢想 在心底裏徜徉
chang nai gei wo de mengxiang zai xindi li changyang
就像那花壹樣   總是笑著綻放
jiu xiang na hua yi yang zong shi xiaozhe zhanfang
妳 是我最真 模樣 從來不曾遺忘
nai shi wo zui zhen muyang conglai bu ceng yiwang
就像那花壹樣 不遺忘
jiu xiang na hua yi yang bu yiwang


花落盡 時候 漫山都紅透
hua luo jin shihou man shan du hong tou
壹粒 壹粒 串起那希望
yi li yi li chuan qi na xiwang
依著妳 肩膀 聽笛聲悠揚
yizhe nai jianbang ting di sheng youyang
在妳的耳邊 輕輕去哼唱
zai nai de er bian qing qing qu heng chang


唱 妳和我的夢想 在手指尖綻 放
chang nai he wo de mengxiang zai shouzhi jian zhanfang
就像那風壹樣 永遠不會彷徨
jiu xiang na feng yi yang yongyuan bu hui fanghuang
嘗 糖葫蘆的冰涼 聽風兒輕輕蕩
chang tanghulu de bingliang ting feng er qing qing dang
裝作不經意間 輕撫妳臉龐
zhuang zuo bujingyi jian qing fu nai lianpang


妳 眸子紅得透亮 別再透出悲傷
nai mouzi hong de touliang bie zai tou chu beishang
我會 壹直 陪在妳身旁
wo hui yi zhi pei zai nai shen pang
就 算被世界遺忘 我也會 陪在妳的身旁 妳身旁
jiusuan bei shijie yiwang wo ye hui pei zai nai de shen pang nai shen pang