Ad blocker interference detected!
Wikia is a free-to-use site that makes money from advertising. We have a modified experience for viewers using ad blockers

Wikia is not accessible if you've made further modifications. Remove the custom ad blocker rule(s) and the page will load as expected.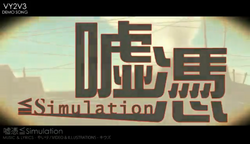 Song title
"嘘憑≦Simulation"
Romaji: Usotsuki≦Simulation
Uploaded October 18, 2012,, with 35,700+ (NND) & 6,600 (YT) views
Singer(s)
VY2
Producer(s)
Yairi (music, lyrics)
Kiuzu (illustration, video)
Links
Niconico Broadcast • YouTube Broadcast (uploaded by the author)

Background
Edit
This song is completely sung with the falsetto voice bank of VY2. It is a demo song for VY2V3.
Japanese (日本語歌詞)
Romaji (ローマ字)
嘘でいいさ 何も無いよりはあるほうがいいでしょ?
uso de ii sa nani mo nai yori wa aru hou ga ii desho?
だから言い訳を言って良いのさ
dakara iiwake o itte ii no sa
このまま時が過ぎて行って 誰かに夢を壊されるなら
kono mama toki ga sugite'tte dareka ni yume o kowasareru nara
今自分の手で息の根を止めてやる
ima jibun no te de iki no ne o tomete yaru


そのまま時が過ぎて行って 誰もが僕を忘れる
sono mama toki ga sugite'tte dare mo ga boku o wasureru
今までずっとこれからでさえも
ima made zutto kore kara de sae mo


確かめ合う 本当のことは
tashikameau hontou no koto wa
確かにあるのに
tashika ni aru no ni


足しにもならないと裏で笑い
tashi ni mo naranai to ura de warai
呆れてるのさ
akirete'ru no sa


嘘でいいさ 何も無いよりはあるほうがいいでしょ?
uso de ii sa nani mo nai yori wa aru hou ga ii desho?
だから言い訳を言って良いわけじゃないけど
dakara iiwake o itte ii wake ja nai kedo


嘘がいいや こんなひどい話 回りくどい言い回し
uso ga ii ya konna hidoi hanashi mawarikudoi iimawashi
五月蠅いな 無くなるのさ 今の今まで
urusai na nakunaru no sa ima no ima made


このまま時が過ぎて行って 誰かに夢を壊されるなら
kono mama toki ga sugite'tte dareka ni yume o kowasareru nara
今君の手で息の根を止めてくれ
ima kimi no te de iki no ne o tomete kure


そのまま時が過ぎて行って 君さえ僕を忘れる
sono mama toki ga sugite'tte kimi sae boku o wasureru
隣にいるのどこの誰ですか?
tonari ni iru no doko no dare desu ka?


弱いことが悪いんじゃないの?
yowai koto ga warui'n ja nai no?
呆れてるから
akirete'ru kara


嘘でいいさ 何も無いよりはあるほうがいいでしょ?
uso de ii sa nani mo nai yori wa aru hou ga ii desho?
だから言い訳を言って良いわけじゃないけど
dakara iiwake o itte ii wake ja nai kedo


嘘がいいや こんなひどい話 回りくどい言い回し
uso ga ii ya konna hidoi hanashi mawarikudoi iimawashi
五月蠅いな 無くなるのさ 今の今まで
urusai na nakunaru no sa ima no ima made


弱いことが悪いんじゃないの?
yowai koto ga warui'n ja nai no?
呆れてるから
akirete'ru kara


「嘘吐きだしたい」を飲み込んで今聞き出したい
"uso hakidashitai" o nomikonde ima kikidashitai
だから言い訳は胸の中でサヨナラ
dakara iiwake wa mune no naka de sayonara


嘘もういいや こんなひどい話 回りくどい言い回し
uso mou ii ya konna hidoi hanashi mawarikudoi iimawashi
五月蠅いな 無くなるのさ 今の今まで
urusai na nakunaru no sa ima no ima made
Derivatives
Edit
Shoohey's Cover

| | |
| --- | --- |
| Featuring | Shoohey |
| Author(s) | |
| Category | Human cover |
External links
Edit
| | |
| --- | --- |
| | Articles |
| | |
| --- | --- |
| | Downloads |