Ad blocker interference detected!
Wikia is a free-to-use site that makes money from advertising. We have a modified experience for viewers using ad blockers

Wikia is not accessible if you've made further modifications. Remove the custom ad blocker rule(s) and the page will load as expected.
!

Warning:

This song contains questionable lyrics and themes; it may be inappropriate for younger audiences.

The Vocaloid Wiki does not have a policy on lyrical content or theme; however, it attempts to follow the Wikia TOU.
For further discussion see Thread:68883. Questionable songs are automatically sorted into this category.

!
This song article is lacking a proper background. You can help by adding one! The relevant section in the Song Article Guideline is a good starting point, and this blog post may also be helpful. We apologize for the inconvenience this may cause in the meantime.

Song pages lacking proper backgrounds are automatically sorted into this category.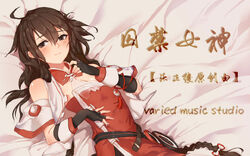 Song title
"囚禁女神"
Pinyin: Qiújìn Nǚshén
Uploaded December 31, 2015, with 45,000+ (BB) / 80+ (YT) views
Singer(s)
Yuezheng Ling
Producer(s)
Tong (arrange, compose)
catin (illustration)
Minin (tuning)
Maomao Chong-P (mix)
废柴の琉璃酱 (PV)
Links
YouTube Broadcast
bilibili Broadcast
Background
Edit
"Qiújìn Nǚshén" is an original Yuezheng Ling song.
Chinese (中文歌词)
Pinyin (拼音)
夜 是如此的漫长
ye shi ruci de manchang
仿佛一条幽寂的小巷
fangfu yitiao youji de xiao xiang
筑起了通天的围墙
zhu qile tongtian de weiqiang
看不见寂寞在月色中滋长
kan bujian jimo zai yue se zhong zizhang
听不见星光在黑暗中歌唱
ting bujian xingguang zai hei'an zhong gechang


朦胧的迷雾
menglong de miwu
遗失了最后的希望
yishile zuihou de xiwang
不安的灵魂
bu'an di linghun
被囚禁在了一座孤岛之上
bei qiujin zaile yizuo gudao zhi shang


看不见束缚一切的力量
kan bujian shufu yiqie de liliang
听不见撕咬肆虐的声响
ting bujian siyao sinüe de shengxiang
我渴望 我渴望 我渴望
wo kewang wo kewang wo kewang
哪怕有一丝丝的温暖
napa you yisi si de wennuan
一点点星光
yi diandian xingguang


夜荡漾
ye dangyang
令人血液沸腾的景象
ling ren xieye feiteng de jingxiang
蚀骨销魂的滋味和幽香
shi gu xiaohun de ziwei he youxiang
只剩下原始的冲动
zhi sheng xia yuanshi de chongdong
肆虐成狂
sinüe cheng kuang


迷离的眼神
mili de yanshen
忘却了最初的愿望
wangquele zuichu de yuanwang
孤单的心跳
gudan de xintiao
在这黑夜中啃噬寂寞之伤
zai zhe heiye zhong ken shi jimo zhi shang


看不见束缚一切的力量
kan bujian shufu yiqie de liliang
听不见撕咬肆虐的声响
ting bujian si yao sinüe de shengxiang
我渴望 我渴望 我渴望
wo kewang wo kewang wo kewang
哪怕有一丝丝的温暖
napa you yisi si de wennuan
一点点星光
yi diandian xingguang


夜荡漾
ye dangyang
令人血液沸腾的景象
ling ren xieye feiteng de jingxiang
蚀骨销魂的滋味和幽香
shi gu xiaohun de ziwei he youxiang
只剩下原始的冲动
zhi sheng xia yuanshi de chongdong
肆虐成狂
sinüe cheng kuang


嘶哑哭喊
si ya ku han
只当成是梦一场
zhi dangcheng shi meng yi chang
炽热欲火
chire yuhuo
抵挡不了粗鲁的品尝
didang buliao culu de pinchang
情不自禁的迷乱
qingbuzijin de mi luan


任凭你脱去我的衣裳
renping ni tuo qu wo de yishang
任凭你肆意的疯狂
renping ni siyi de fengkuang
最终屈服的灵魂
zuizhong qufu de linghun
沉沦在情欲天堂
chenlun zai qingyu tiantang


夜 是如此的漫长
ye shi ruci de manchang
仿佛一条幽寂的小巷
fangfu yitiao youji de xiao xiang
筑起了通天的围墙
zhu qile tongtian de weiqiang
External links
Edit
| | |
| --- | --- |
| | Articles |