Ad blocker interference detected!
Wikia is a free-to-use site that makes money from advertising. We have a modified experience for viewers using ad blockers

Wikia is not accessible if you've made further modifications. Remove the custom ad blocker rule(s) and the page will load as expected.
This song article is lacking a proper background. You can help by adding one! The relevant section in the Song Article Guideline is a good starting point, and this blog post may also be helpful. We apologize for the inconvenience this may cause in the meantime.

Song pages lacking proper backgrounds are automatically sorted into this category.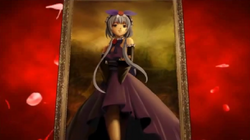 Song title
"四角游戏"
Traditional Chinese: 四角遊戲
Pinyin: Sìjiǎo Yóuxì
English: Dark Room Games
Uploaded January 10, 2013, with 120,000+ views
Singer(s)
Luo Tianyi
Producer(s)
DELA (compose, arrange)
JUSF (compose, arrange, tuning)
Yu Li (lyrics)
Vermouth Yin Hu (illustrator, editor)
Feng Ruo Yu (effects, video editor)
Links
YouTube Broadcast (reprint)
bilibili Broadcast

Background
Edit
"Sìjiǎo Yóuxì" is an original song featuring Luo Tianyi.
This song had exceeded 100,000 views on bilibili.
Chinese (中文歌词)
Pinyin (拼音)
大家一起来做个游戏
dajia yi qilai zuo ge youxi
幼稚无比没有输赢
youzhi wubi meiyou shuying
十二点等待他的降临
shi'er dian dengdai ta de jianglin
选项黑白分明
xuanxiang heibai fenming
来来 大家一起来做个游戏
lailai dajia yi qilai zuo ge youxi
摸着墙体闭上眼睛
mozhe qiang ti bi shang yanjing
伸出双手向前方走去
shen chu shuang shou xiang qianfang zou qu
替换旧的哨兵
tihuan jiu de shaobing


开始吧
kaishi ba


没有人的话 说出来就好啦
meiyou ren dehua shuo chulai jiu hao la
没有人的话 你不要害怕
meiyou ren dehua ni buyao haipa


魔法会将你的骄傲卸下
mofa hui jiang ni de jiao'ao xie xia
恶魔在羊毛上摇起尾巴
emo zai yangmao shang yao qi weiba
所有的所有的痴心妄想
suoyou de suoyou de chixinwangxiang
为了唤醒那些虚假
weile huanxing naxie xujia


突然间散场的热闹戏码
turan jian sanchang de renao xima
飘渺的歌剧魅影揭开面纱
piaomiao de geju meiying jie kai miansha
所有的所有的美丽中伤
suoyou de suoyou di meili zhongshang
就像你在背后做过的一样
jiu xiang ni zai beihou zuoguo de yiyang


他将头发塞满了嘴巴
ta jiang toufa sai manle zuiba
她在角落把眼睛睁大
ta zai jiaoluo ba yanjing zheng da
他沿对角线来回穿梭
ta yan dui jiao xian laihui chuansuo
你该走过去卸下门把
ni gai zou guoqu xie xia men ba


偷偷绑架四个人的空气
toutou bangjia si geren de kongqi
假装失去逻辑能力
jiazhuang shiqu luoji nengli
说服自己这能增进友谊
shuofu ziji zhe neng zengjin youyi
终止信号无人聆听
zhongzhi xinhao wu ren lingting


黑暗房间的四角游戏
hei'an fangjian de sijiao youxi
安静如同没人呼吸
anjing rutong mei ren huxi
可是接力他还在延续
keshi jieli ta hai zai yanxu
传递谁的心意
chuandi shui de xinyi
来来 黑暗房间的四角游戏
lai lai hei'an fangjian de sijiao youxi
我的存在没人注意
wo de cunzai mei ren zhuyi
转身离去那最初契机
zhuanshen li qu na zuichu qiji
早已无人相信
zaoyi wu ren xiangxin


继续吧
jixu ba


没有人的话 假装我就好啦
meiyou ren dehua jiazhuang wo jiu hao la
没有人的话 你不要害怕
meiyou ren dehua ni buyao haipa


魔法会将你的骄傲卸下
mofa hui jiang ni de jiao'ao xie xia
恶魔在羊毛上摇起尾巴
emo zai yangmao shang yao qi weiba
所有的所有的痴心妄想
suoyou de suoyou de chixinwangxiang
为了唤醒那些虚假
weile huanxing naxie xujia


突然间散场的热闹戏码
turan jian sanchang de renao xima
飘渺的歌剧魅影揭开面纱
piaomiao de geju meiying jie kai miansha
所有的所有的美丽中伤
suoyou de suoyou di meili zhongshang
就像你在背后做过的一样
jiu xiang ni zai beihou zuoguo de yiyang


碎裂的梦境在何处发芽
sui lie de mengjing zai he chu faya
坚硬的棱角亦放弃融化
jianying de lengjiao ye fangqi ronghua
所有的所有的骨骼坍塌
suoyou de suoyou de guge tanta
为了唤醒那些虚假
weile huanxing naxie xujia


突然间冰冷的她的脸颊
turan jian bingleng deta delianjia
亲吻上他那一瞬间的惊诧
qinwen shang ta na yi shunjian de jingya
所有的所有的誓言无价
suoyou de suoyou de shiyan wu jia
就像你在背后说过的谎话
jiu xiang ni zai beihou shuoguo de huanghua
External links
Edit
| | |
| --- | --- |
| | Lyrics |