The following song article is still a work in progress. For information on how to help, see the song article guideline. We apologize for the inconvenience this may cause in the meantime.

What is being worked on?

Add Background.

Work-in-progress song pages are automatically sorted into this category.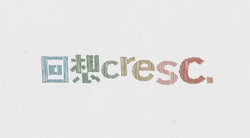 Song title
"回想cresc."
Romaji: Kaisou cresc.
English: Reminiscence cresc.
(cresc. is an abbreviation for crescendo)
Uploaded Jun 09, 2011, with 9,100+ views
Singer(s)
Utatane Piko
Producer(s)
HYBRID SENSE (music, lyrics)
Apeji (lyrics, guitar)
Romilio (illust, video)
Bara Ouji (bass)
aim (encoding)
Links
Niconico Broadcast • YouTube Broadcast (reprint)

Background
Edit
"
I read: "Hierarchy crescendo" and "recalls cresc.".


Song Title: I received comments from listeners like live. Thank you!

"
 

— HYBRID SENSE
Japanese (日本語歌詞)
Romaji (ローマ字)
街の彩り華やぎ 凍える指暖めては あの日の君の涙思い出す
Machi no iro dori hana yagi kogoeru yubi atatamete wa ano hi no kimi no namida omoi dasu
悲しくないよとつぶやき 遮る音嗜めては 変われない日々の流れが溢れ 出す
Kanashiku nai yo to tsubu yaki saegiru ototashi namete wa kawarenai hibi no nagare ga afuredasu


ねぇ どうして こんなにも苦しくなる
Nee doushite konnani mo kurushiku naru
ねぇ どうして 君に会いたくなるかな・・・ 切ないよ
Nee doushite kimi ni aitaku naru kana...setsunai yo


どこまでも続くこの世界で 君に逢えたあの瞬間(とき)は
Doko made mo tsuzuku kono sekai de kimi ni aeta ano toki wa
いつまでも色褪せない出来事で さよならなんて 出来やしないから
Itsumade mo iro asenai dekigoto de sayonara nante deki yashinai kara


すれ違う日々の街角 鼻先掠める香りに 確かな君の温もり描き出す
Sure chigau hibi no machikado hana saki kasumeru kaori ni tashika na kimi no nukumori egakidasu
淋しくないよと強がり 戸惑う視線交しては 変わらない日々の想いが募るだけ
Sabishiku nai yo to tsuyogari tomadou shisen kawashite wa kawaranai hibi no omoi ga tsunoru dake


ねぇ どうして こんなに惑ってしまう
Nee doushite konnani madotte shimau
ねぇ どうして 君が恋しくなるかな・・・ 逢いたいよ
Nee doushite kimi ga koishiku naru kana...aitai yo


果てしなく思えたこの世界で 君に逢えたあの瞬間(とき)が
Hate shinaku omoeta kono sekai de kimi ni aeta ano toki ga
終わり無く続くよな気がしたんだ 今更もう 叶うことはないけれど
Owari naku tsuzuku yo na kigashita n da ima sara mou kanau koto wa nai keredo


届かない遠い世界の淵まで 声も出ずただ願うよ
Todoka nai tooku sekai no fuchi made koe mo dezu tada negau yo
今はそうあの日のような笑顔で 君に微笑んで(笑って)いて欲しい
Ima wa sou ano hi no you na egao de kimi ni waratte i te hoshii
いつかまた巡り逢えたその時には もう逃げないよ 離しはしないから
Itsuka mata meguri aeta sono toki ni wa mou nigenai yo hanashi wa shinai kara
Derivatives
Edit
IA's Cover

| | |
| --- | --- |
| Featuring | IA |
| Author(s) | rin veey (cover, illust) |
| Category | VOCALOID cover |
GUMI's Cover

| | |
| --- | --- |
| Featuring | GUMI |
| Author(s) | gogetassj6AF (cover), rin veey (VSQx) |
| Category | VOCALOID cover |
External links
Edit
| | |
| --- | --- |
| | Official |
| | |
| --- | --- |
| | Articles |
| | |
| --- | --- |
| | Lyrics |
Ad blocker interference detected!
Wikia is a free-to-use site that makes money from advertising. We have a modified experience for viewers using ad blockers

Wikia is not accessible if you've made further modifications. Remove the custom ad blocker rule(s) and the page will load as expected.