Ad blocker interference detected!
Wikia is a free-to-use site that makes money from advertising. We have a modified experience for viewers using ad blockers

Wikia is not accessible if you've made further modifications. Remove the custom ad blocker rule(s) and the page will load as expected.
This song article is lacking a proper background. You can help by adding one! The relevant section in the Song Article Guideline is a good starting point, and this blog post may also be helpful. We apologize for the inconvenience this may cause in the meantime.

Song pages lacking proper backgrounds are automatically sorted into this category.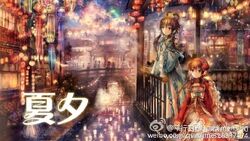 Song title
"夏夕"
Pinyin: Xià Xī
English: Summer Sunset
Uploaded August 22, 2015, with 160,000+ views
Singer(s)
Luo Tianyi
Producer(s)
Melo (compose, arrange)
Mou Luo (lyrics)
おにねこ (illustrator)
Bingzhen Tian Doujiang (video editor)
Links
YouTube Broadcast (reprint)
bilibili Broadcast

Background
Edit
"Xià Xī" is an original Luo Tianyi song that was featured in the album, Quadimension 2.
This song has exceeded 100,000 views on bilibili.
Chinese (中文歌词)
Pinyin (拼音)
月色漸漫水墨色江南
yue se jian man shuimo se jiangnan
今夜又溢滿誰家酒壇
jinye you yi man shui jia jiu tan
花燈百盞糖葫蘆串串
huadeng bai zhan tanghulu chuan chuan
古舊的青石板 捕一路鳴蟬
gujiu de qing shiban bu yilu ming chan
拉著手腕流螢繞小扇
la zhuo shouwan liuying rao xiao shan
共抬頭遙看煙火絢爛
gong taitou yao kan yanhuo xuanlan
青石橋岸摺一隻小船
qing shiqiao an zhe yi zhi xiaochuan
記憶裡的歲月 流淌著慢慢
jiyi li de suiyue liutangzhe man man


星夜遍染雲山
xingye bian ran yunshan
蔓延天河的彼端
manyan tianhe de bi duan
小小紙船 不知輾轉漂泊到第幾灣
xiao xiao zhi chuan buzhi zhanzhuan piaobo dao di ji wan
此夕夢裡鳴蟬
ci xi meng li ming chan
似細訴婉轉
shi xi su wanzhuan
在尋找牽牛相伴
zai xunzhao qianniu xiangban


明月照晚送一隻髮簪
mingyue zhao wan song yi zhi fa zan
寄一心喜歡綴著牡丹
ji yixin xihuan zhuizhe mudan
火樹斑斕映著你眉彎
huo shu banlan yingzhe ni mei wan
不知牡丹花瓣 待何時盛綻
buzhi mudan huaban dai heshi sheng zhan


星夜遍染雲山
xingye bian ran yunshan
蔓延天河的彼端
manyan tianhe de bi duan
煙花漸散 落入掌心未消些許溫暖
yanhua jian sanluo ru zhangxin wei xiao xiexu wennuan
畫卷氤氳瀰漫
huajuan yinyun miman
水墨色江南
shuimo se jiangnan
有一抹笑語嫣然
you yimo xiao yu yanran