Ad blocker interference detected!
Wikia is a free-to-use site that makes money from advertising. We have a modified experience for viewers using ad blockers

Wikia is not accessible if you've made further modifications. Remove the custom ad blocker rule(s) and the page will load as expected.
The following song article is still a work in progress. For information on how to help, see the song article guideline. We apologize for the inconvenience this may cause in the meantime.

What is being worked on?

Add a Background and Derivatives.

Work-in-progress song pages are automatically sorted into this category.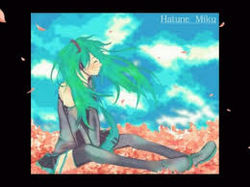 Song title
"夕暮れノスタルジック"
Romaji: Yuugure Nosutarujikku
English: Sunset Nostalgic
Uploaded January 12, 2008, with 42,000+ views
Singer(s)
Hatsune Miku
Producer(s)
guriplus
Links
Niconico Broadcast
Background
Edit
This song was first uploaded on January 12, 2008. A remixed version of this song is featured as DLC in Project DIVA.
Japanese (日本語歌詞)
Romaji (ローマ字)
えと  あのね  もしかしたら
eto ano ne moshika shitara
ふたり ずっと一緒に
futari zutto issho ni
いられたのかもね
irareta no kamone


路地裏でじゃれあう  二匹の子猫
rojiura de jareau nihiki no koneko
あの頃のぬくもりに  今でも
ano koro no nukumori ni ima demo
包まれているよ
tsutsumarete iru yo


薄暗い夕方  人混みの交差点
usugurai yuugata hitogomi no kousaten
君は僕の手を取って
kimi wa boku no te wo totte
笑いながら駆け抜けた
warai nagara kakenuketa


そういえばあの丘に  ビルが建ってた
souieba ano oka ni biru ga tatteta
ふたりいつも寝転んでた  ふかふかの芝生
futari itsumo nekoronde ta fukafukano shibafu


空を見上げつぶやく「僕らずっと一緒だ」と
sora wo miage tsubuyaku "bokura zutto issho da" to
君は僕に寄り添って静かに目を閉じた
kimi wa boku ni yori sotte shizuka ni me wo tojita


なぜ  拭ってやれなかったんだろう
naze nugutte yarenakattan darou
君からこぼれた涙
kimi kara koboreta namida


駅前をゆきかう  スーツの人たち
ekimae wo yukikau suutsu no hitotachi
誰もがその胸に秘めてる  大切な想い
dare mo ga sono mune ni himeteru taisetsu na omoi


薄暗い夕方  人混みの交差点
usugurai yuugata hitogomi no kousaten
切ない気持ち抱きしめ
setsunai kimochi dakishime
前を向いて歩き出す
mae wo muite aruki dasu
Derivatives
Edit
Other media appearances
Edit
External links
Edit
| | |
| --- | --- |
| | Lyrics |