Ad blocker interference detected!
Wikia is a free-to-use site that makes money from advertising. We have a modified experience for viewers using ad blockers

Wikia is not accessible if you've made further modifications. Remove the custom ad blocker rule(s) and the page will load as expected.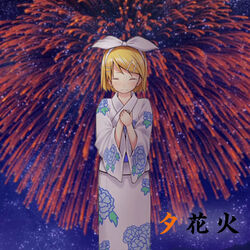 Song title
"夕花火"
Romaji: Yuu Hanabi
English: Evening Fireworks
Uploaded August 31, 2012, with 115,800+ views
Singer(s)
Kagamine Rin
Producer(s)
Junky (music, lyric)
Parmy (video), Kintarou (illust)
Links
Niconico Broadcast
Background
Edit
This song talks about a shy girl struggling to confess her feelings to her childhood friend. The song begins by establishing the setting, describing a quiet summer night, as is implied by the cicadas' singing. As she looks at the sunset, the girl notices her feelings for her friend faintly resurface. However, after the sun sets, these ones return more intensely than before, dragging her to the verge of tears. That night, the girl and the childhood friend she fell for meet to assist at the summer festival, but again she is incapable of expressing her feelings. Later, when they go to watch the fireworks she finally gathers enough courage to confess. Panicked by what she did, the girl tries to flee, only to be stopped by the boy who hugs her tightly at the same time as the final firework explodes, filling the whole sky.
This song has entered the Hall of Fame. It is featured in the album Rink ~Junky×鏡音リン THE BEST~.
Japanese (日本語歌詞)
Romaji (ローマ字)
かすれた 風の中に
kasureta kaze no naka ni
小声話 たゆたう声(メロディ)
kogoe banashi tayutau merodi
轍に沿う 小さな跡
wadachi ni sou chiisana ato
雑多の中 ひぐらしの声
ah zatta no naka higurashi no koe
「バイバイ」
「bai bai」


黄金色の 空が閉じる
kogane iro no sora ga tojiru
また淡く咲く センチメンタル
mata awaku saku senchimentaru


伸びた影も 消えそうなまま
nobita kage mo kiesou na mama
深い 深い 夕空へ
fukai fukai yuuzora e


泣きそうに 強く咲いて
nakisou ni tsuyoku saite
鮮やかなまま か弱く泣いて
azayaka na mama ka yowaku naite
頬赤らめて 恋を抱いて
hoho aka ramete koi wo daite
夕空へ 想いを乗せて
ah yuuzora e omoi wo nosete


あのえっとそのを 飲み込むループ
ano etto sono wo nomikomu ruupu
こんなに弱かったの・・・ もう苦しいよ
konna ni yowakatta no… mou kurushii yo ah..


もう少しで・・・
mou sukoshi de…


声も止んで 空の花の音だけ
koe mo yande sora no hana no oto dake
鼓動が詰まるの 呼吸を殺して
kodou ga tsumaru no kokyuu wo koroshite
君の耳に 寄せた心の声
kimi no mimi ni yoseta kokoro no koe
ずっと ずっと 『

好きでした

』
zutto zutto 『

suki deshita

』


恋の色 淡く咲いて
koi no iro awaku saite
夕花火 時間を止めて
ah yuu hanabi jikan wo tomete
逃げ出したくて そんな時に
nigedashi takute sonna toki ni ahh..


もう離さないで
mou hanasanai de
Derivatives
Edit
Nobunaga's Cover

| | |
| --- | --- |
| Featuring | Nobunaga |
| Author(s) | Nobunaga (vocals), mix (katmax) |
| Category | Human cover |
External links
Edit
| | |
| --- | --- |
| | Articles |
| | |
| --- | --- |
| | Downloads |