Ad blocker interference detected!
Wikia is a free-to-use site that makes money from advertising. We have a modified experience for viewers using ad blockers

Wikia is not accessible if you've made further modifications. Remove the custom ad blocker rule(s) and the page will load as expected.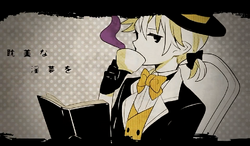 Song title
"夢喰い白黒バク"
Romaji: Yumekui Shirokuro Baku
Official English: Dream-Eating Monochrome Baku
Uploaded July 04, 2011, with 660,000+ views
Singer(s)
Kagamine Len
Producer(s)
Nem (music, lyrics)
madamxx (mix)
Glowlamp (guitar, base)
Tama (illust, video)
Links
Niconico Broadcast • YouTube Broadcast (subbed)

Background
Edit
"
I'm Nemヾ(・ω・)ノ. This is a song using the theme of the mythical dream-eating animal "Baku (バク)"
"
 

— Author's comment
This song deals with the Japanese mythological creature, the Baku. Baku's are known to devour the nightmares/dreams of human beings. In this song the baku is portrayed by Len. Here, he entices an innocent girl who has trouble sleeping by taking away her bad dreams. He also "seals the spell" with a pinky promise and then later a kiss. In the end, "when the full moon rises" he steals her souls and takes her body to his own "Monochrome world".
This song is featured in the albums EXIT TUNES PRESENTS Vocalotwinkle feat. 鏡音リン、鏡音レン, from Neverland ~Best of Nem~, Gliese, and 初音ミク-Project DIVA-F Complete Collection.
This song is the prequel to the song "Nemuri Hime".
Japanese (日本語歌詞)
Romaji (ローマ字)
どこから来たの?
Doko kara kita no?
どんな姿をしているの?
Donna sugata o shite iru no?
誰も知らない
Dare mo shiranai
そうさ僕が夢喰い白黒バク
Sou sa boku ga yumekui Shirokuro Baku


これはお嬢さん
Kore wa ojousan
夜中眠れずにいるのかい?
Yonaka nemurezu ni iru no kai?
それなら僕が
Sore nara boku ga
魔法をかけてあげようか
Mahou o kakete ageyou ka


・・・ほら指切りで約束しよう
...hora yubikiri de yakusoku shiyou


怖いユメをみた? 僕に任せなよ
Kowai yume o mita? Boku ni makasena yo
丸ごと食べてあげよう
Marugoto tabete ageyou
もう心配ない ゆっくりお休み
Mou shinpai nai yukkuri oyasumi
嫌(や)なこと 全部忘れてさ
Ya na koto zenbu wasurete sa


これはお嬢さん
Kore wa ojousan
また頼みごとがあるって?
Mata tanomigoto ga aru tte?
断らないさ
Kotowaranai sa
これこそが僕の幸せ
Kore koso ga boku no shiawase


・・・それならキスで約束しよう
...sore nara kisu de yakusoku shiyou


もっとユメをみたい? 僕に任せなよ
Motto yume o mitai? boku ni makasena yo
全部与えてあげよう
Zenbu ataete ageyou
甘美なストーリー 耽美(たんび)な淫夢(いんむ)を
Kanbi na sutoorii tanbi na inmu o
心ゆくまで召し上がれ
Kokoroyuku made meshiagare


もっと、もっと望めばいい
Motto, motto nozomeba ii
欲望をさらけ出して
Yokubou o sarakedashite
もう二度と 抜け出せない
Mou nido to nukedasenai
底なしのパラダイスだ
Sokonashi no paradaisu da


さあ、月が満ちたなら 役目は終わりさ
Saa, tsuki ga michita nara yakume wa owari sa
お代は・・・分かってるよね?
Odai wa...wakatte'ru yo ne?
その瞳の奥 鮮やかな夢
Sono hitomi no oku azayaka na yume
全部、全部 貰っていこうか
Zenbu, zenbu moratte ikou ka


惨めな顔だね これが現実
Mijime na kao da ne kore ga genjitsu
君が選んだことだろう?
Kimi ga eranda koto darou?
ユメに溺れたら夢は叶わない
Yume ni oboretara yume wa kanawanai
・・・モノクロの世界へようこそ!
...monokuro no sekai e youkoso!
Derivatives
Edit
Soraru's Cover

| | |
| --- | --- |
| Author(s) | Soraru |
| Category | Human cover |
96neko's Cover

| | |
| --- | --- |
| Author(s) | 96neko |
| Category | Human cover |
Other media appearances
Edit
External links
Edit
| | |
| --- | --- |
| | Official |
| | |
| --- | --- |
| | Articles |
| | |
| --- | --- |
| | Downloads |