Ad blocker interference detected!
Wikia is a free-to-use site that makes money from advertising. We have a modified experience for viewers using ad blockers

Wikia is not accessible if you've made further modifications. Remove the custom ad blocker rule(s) and the page will load as expected.
This song article is lacking a proper background. You can help by adding one! The relevant section in the Song Article Guideline is a good starting point, and this blog post may also be helpful. We apologize for the inconvenience this may cause in the meantime.

Song pages lacking proper backgrounds are automatically sorted into this category.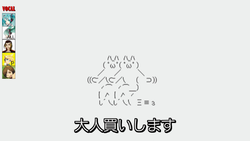 Song title
"大人買いします"
Romaji: Otonagai Shimasu
English: I'll Buy Them All
Uploaded October 3, 2012, with 13,500+ views
Singer(s)
LEON, LOLA, MIRIAM, MEIKO, KAITO, Sweet ANN, Hatsune Miku, Kagamine Rin, Kagamine Len, Prima, Camui Gackpo, Megurine Luka, GUMI, SONiKA, SF-A2 miki, Kaai Yuki, Hiyama Kiyoteru, BIG AL, Tonio, Lily, VY1, Ryuto, Nekomura Iroha, Utatane Piko, VY2, Mew, SeeU, Tone Rion, OLIVER, CUL, Yuzuki Yukari, Bruno, Clara, IA, Aoki Lapis, Luo Tianyi
Producer(s)
Otonagai-P (lyrics)
Satsuki Ga Tenkomori (music)
Links
Niconico Broadcast
Background
Edit
"Otonagai Shimasu" is a parody song by Otonagai-P and Satsuki Ga Tenomori featuring every VOCALOID released between January 2004 and July 2012.
This song is a parody of Satsuki Ga Tenomori's song Okotowari Shimasu.
Japanese (日本語歌詞)
Romaji (ローマ字)


Oh Thank you
大人買いします
otonagai shimasu
大人買いします 断固
otonagai shimasu danko
大人買いします
otonagai shimasu
ご遠慮しません!
goenryo shimasen!


大人買いします
otonagai shimasu
大人買いします
otonagai shimasu
大人買いします
otonagai shimasu


やんなっちゃう日々に
yannacchau hibi ni
重なる様なフラストレーション
kasanaru you na frustration
ボカロスレに何か書き込んでいく
bokaro sure ni nanika kakikonde iku


目押し効果で…
meoshi kouka de?
>>1000取って軽くパニック
>> sen totte karuku panic
ポチられるAmazon
pochirareru Amazon
何かが吹っ切れていく
nanika ga fukkirete iku


MEIKOに KAITOに 初音ミク
MEIKO ni KAITO ni Hatsune Miku
巡音ルカ mikiに VY2
Megurine Luka miki ni VY2
鏡音リンレン  歌愛ユキ
Kagamine Rin Len Kaai Yuki
BIG-AL PRIMA SONIKA TONIO
BIG-AL PRIMA SONIKA TONIO
猫村いろは に ガチャッポイド
Nekomura Iroha ni Gachapoid
歌手音ピコ MIRIAM Sweet ANN
Utatane Piko MIRIAM Sweet ANN
LEON LOLA 氷山キヨテル
LEON LOLA Hiyama Kiyoteru
もうぜんぶまとめて
mou zenbu matomete


大人買いします
otonagai shimasu
大人買いします 断固
otonagai shimasu
大人買いします
otonagai shimasu
VOICEROIDも
VOICEROID mo


大人買いします
otonagai shimasu
大人買いします
otonagai shimasu
大人買いします
otonagai shimasu


大人買いな日々に
otonagai na hibi ni
意味不明なフラストレーション
imi fumei na frustration
オススメのDAW 買い忘れ
osusume no DAW kai wasure
OH! THANK YOU!


バージョンアップ
Version up
相次ぐ ボカロ発売
aitsugu bokaro hatsubai
新企業の参入
shin kigyou no sannyuu
貯金を諦めていく
chokin o akiramete iku


Bruno Claraに VY1
Bruno Clara ni VY1
兎眠りおん Oliver  GUMI がくぽ
Tone Rion Oliver GUMI Gackpo
CUL IA Mew SeeU 蒼姫ラピス
CUL IA Mew SeeU Aoki Lapis
洛天依 結月ゆかり Lily
Luo Tianyi Yuzuki Yukari Lily
MM(Music Maker) SONARに Cubase
MM Sonar ni Cubase
KOMPLETE Waves Melodyne
Komplete Waves Melodyne
一戸建て 新築 土地込み
ikkodate shinchiku tochi komi
もうぜんぶまとめて
mou zenbu matomete


大人買いします
otonagai shimasu
大人買いします 断固
otonagai shimasu danko
大人買いします
otonagai shimasu
余計な物も
yokei na monomo


大人買いします
otonagai shimasu
大人買いします
otonagai shimasu
大人買いします
otonagai shimasu


大人買いします
otonagai shimasu
大人買いします 断固
otonagai shimasu danko
大人買いします
otonagai shimasu
ご遠慮しません!
goenryo shimasen!


大人買いします
otonagai shimasu
大人買いします
otonagai shimasu
大人買いします(´;ω;`)
otonagai shimasu (´;ω;`)
External links
Edit
| | |
| --- | --- |
| | Articles |
| | |
| --- | --- |
| | Lyrics |