Ad blocker interference detected!
Wikia is a free-to-use site that makes money from advertising. We have a modified experience for viewers using ad blockers

Wikia is not accessible if you've made further modifications. Remove the custom ad blocker rule(s) and the page will load as expected.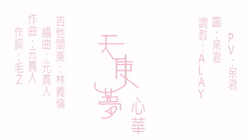 Song title
"天使夢"
Simplified Chinese: 天使梦
Pinyin: Tiānshǐ Mèng
English: Dream of Angels
Uploaded May 24, 2015, with 500+ (NND) / 2,000+ (YT) / 900+ (BB) views
Singer(s)
Xin Hua
Producer(s)
Mao Z (lyrics)
Yuan Zhenren (compose, arrange)
ALAY-P (tuning)
ALLEN (guitar)
Dai Jun (illustrator, video editing)
Links
Niconico Broadcast • YouTube Broadcast
bilibili Broadcast

Background
Edit
"Tiānshǐ Mèng" is an original Xin Hua song. Xin Hua keeps on catching glimpses of an angel while going about her daily life, but every time she dismisses it as a dream or comes up with other reasons, such as saying to herself that it is a nice cosplay. Towards the end of the song, as she keeps dreaming of the angel, she comes to realize that she actually knows them and just as she recalls the memories of events that happened between them, they were separated again.
Chinese (中文歌詞)
Pinyin (拼音)
日復又再一日我呆坐在報告面前
Ri fu you zai yi ri wo dai zuo zai baogao mianqian
打開了電視機我依舊是並不想寫
Dakaile dianshi ji wo yijiu shi bing buxiang xie
突然新聞上出現一個詭異的畫面
Turan xinwen shang chuxian yige guiyi de huamian
有天使出現在那大樓頂上的屋簷
You tianshi chu xianzai na dalou dingshang de wuyan


純白的寬大羽翼看似無比的顯眼
Chunbai de kuanda yuyi kan si wubi de xianyan
少女的青澀臉孔看似大我個幾歲
Shaonü de qing se lian kong kan si da wo ge ji sui
突然她朝向鏡頭對著螢幕看一眼
Turan ta chaoxiang jingtou duizhe yingmu kan yiyan
奇怪了我們是否在哪裡曾經見面
Qiguaile women shifou zai nali cengjing jianmian


或許那只是錯覺 覺得開始有點疲憊
Huoxu na zhishi cuojue juede kaishi youdian pibei
或許我該早點去睡 新聞總是不真切
Huoxu wo gai zaodian qu shui xinwen zong shi bu zhenqie


藍天相連著山巔 山巔上嫩綠草原
Lantian xiang lian zhe shan dian shan dian shang nenlü caoyuan
模糊少男少女的臉 相伴在我的身邊
Mohu shaonan shaonü de lian xiangban zai wo de shenbian
身穿古裝和草鞋 這是哪一個世界
Shen chuan guzhuang he caoxie zhe shi na yige shijie
夢境一再一再輪迴 熟悉亦一知半解
Mengjing yizai yizai lunhui shuxi yi yizhibanjie


日復又再一日重複幻夢後睜開眼
Ri fu you zai yi ri chongfu huanmeng hou zheng kai yan
打開了電視機重複著羽翼一片片
Dakaile dianshi ji chongfuzhe yuyi yipian pian
突然間新聞放大那位天使的畫面
Turan jian xinwen fangda na wei tianshi de huamian
搖曳青黑色髮辮像是翱翔的孤蝶
Yaoye qing heise fa bian xiang shi aoxiang de gudie


古裝的衣領搭配吊帶襪富有創意
Guzhuang de yi ling dapei diaodai wa fuyou chuangyi
袖口寬大華麗麗卻有一點半透明
Xiukou kuanda huali li que you yidian ban touming
算了吧追根究柢我也是個動漫迷
Suanle ba zhui genjiu di wo yeshi ge dongman mi
應該是角色扮演cosplay 找場景
Yinggai shi juese banyan cosplay zhao changjing


現實相連著夢境 夢依舊是少男少女
Xianshi xianglianzhe mengjing meng yijiu shi shaonan shaonü
開始有那麼點在意 撲朔迷離的關係
Kaishi you name dian zaiyi pushuomili de guanxi


星空相連著窗邊 窗邊飛落的意念
Xingkong xianglianzhe chuang bian chuang bian fei luo de yinian
就像一直擁有牽連 記憶停歇後擱淺
Jiu xiang yizhi yongyou qianlian jiyi tingxie hou geqian
看見她面前出現 星空翱翔著孤蝶
Kanjian ta mianqian chuxian xingkong aoxiangzhe gudie
塵封多年秘密崩解 恍然回憶起一切
Chenfeng duonian mimi beng jie huangran huiyi qi yiqie


過去相約再見面 蔓延的卻是離別
Guoqu xiangyue zai jianmian manyan de que shi libie
如今相見月夜午夜 一切盡人事已非
Rujin xiang jian yueye wuye yiqie jinrenshi yi fei
不知該如何面對 輕而易舉的誓言
Buzhi gai ruhe mian dui qing'eryiju de shiyan
夢境少女飛在窗前 偽裝自己沒知覺
Mengjing shaonü fei zai chuang qian weizhuang ziji mei zhijue