Ad blocker interference detected!
Wikia is a free-to-use site that makes money from advertising. We have a modified experience for viewers using ad blockers

Wikia is not accessible if you've made further modifications. Remove the custom ad blocker rule(s) and the page will load as expected.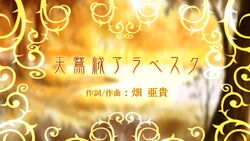 Song title
"天鵞絨アラベスク"
Romaji: Birōdo Arabesuku
English: Velvet Arabesque
Singer(s)
Hatsune Miku
Producer(s)
Hata Aki (Lyrics/Music)
Namiki Koichi (Agreement)
Yasuo (Manipulator)
Links
Background
Edit
"Velvet Arabesque" is a song by Hata Aki featuring Hatsune Miku, commissioned by SEGA for the Project Diva series.
Japanese (日本語歌詞)
Romaji (ローマ字)
どうしていまの風は切ないの?
doushite ima no kaze wa setsunai no?
思い出にして
omoide ni shite
消さないでねアラベスク
kesanaide ne arabesuku


とまればいいな ああこのままで
tomareba ii na aa kono mama de
変わらずに楽しい日々よ
kawarazu ni tanoshii hibi yo
だってだって
datte datte
離れたときは もう聯絡も
hanareta toki wa mou renraku mo
してはくれないみたいだし
shite wa kurenai mitai dashi


やーね わたしってば
yaa ne watashi tteba
悲観しすぎ オカシイ NON-NON
hikan shisugi okashii NON-NON
どうしていまは風が切ないの?
doushite ima wa kaze ga setsunai no?
天鵝絨なでる
biroudo naderu
指で描いたアラベスク
yubi de egaita arabesuku


気づけば見てる ああ鼓動には
kizukeba miteru aa kodou ni wa
不規則な熱さがあるわ
fukisoku na atsusa ga aru wa
じんとじんと
jinto jinto
胸のリズムが まだ届かない
mune no rizumu ga mada todokanai
あのね 瞳で合図した
ano ne hitomi de aizu shita


いーの あなたってば
ii no anata tteba
鈍いところ カワイイ WAN-WAN
nibui tokoro kawaii WAN-WAN
始まるときは終わらせないよと
hajimaru toki wa owarasenai yo to
決めるのになぜ
kimeru noni naze
時は過ぎていくのかな
toki wa sugite iku no ka na


とまれこのままで
tomare kono mama de
鼓動に気づいて
kodou ni kizuite


天鵝絨なでる
biroudo naderu
指で描いたアラベスク
yubi de egaita arabesuku
Other media appearances
Edit
| Featured in the game(s)... | |
| --- | --- |
| Hatsune Miku-Project Diva-Dreamy Theater | YouTube |
| Hatsune Miku -Project DIVA- Dreamy Theater 2nd | YouTube |
External links
Edit
| | |
| --- | --- |
| | Articles |
| | |
| --- | --- |
| | Lyrics |