Ad blocker interference detected!
Wikia is a free-to-use site that makes money from advertising. We have a modified experience for viewers using ad blockers

Wikia is not accessible if you've made further modifications. Remove the custom ad blocker rule(s) and the page will load as expected.
!

Warning:

This song contains explicit lyrics and themes; it may be inappropriate for younger audiences.

The Vocaloid Wiki does not have a policy on lyrical content or theme; however, it attempts to follow the Wikia TOU.
For further discussion see Thread:68883. Explicit songs are automatically sorted into this category.

!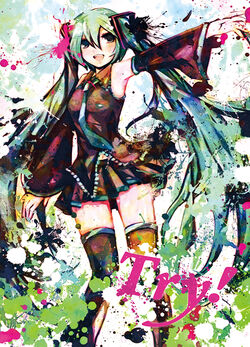 Song title
"太陽"
Romaji: Taiyou
English: Sun
Uploaded October 1, 2009 (Soleil), with 135,000+ views
August 14, 2010 (Miku/Luka ver)
Singer(s)
Hatsune Miku, Megurine Luka
Producer(s)
Machigerita-P (music)
Links
Background
Edit
| | | |
| --- | --- | --- |
| " | As a lone woman, as a mother | " |
This song was originaly written for Hatsuki Yura's Phantasm Parade album. It was later relased on the compilation album Try!.
It tells the story of a sadistic queen that kills innocent people brutally, making joy punishable. She seems to plan raise her child to follow her footsteps.
Preceding versions
Edit
ソレイユ

Romaji/English
Soleil
Featuring
Hatsuki Yura, Konori
Author(s)
Machigerita (music, lyrics), Tawashi (illust, video)
Category
Preceding version

Description

An earlier song that this song was arranged from
Singer + Color
Miku
Luka
Both
Japanese (日本語歌詞)
Romaji (ローマ字)

私に跪きなさい!

watashi ni hizamazukinasai!

「何なりと女王様」

"nannari to joou-sama"

ひれ伏す愚民共に告ぐ!

hirefusu gumindomo ni tsugu!

永久の苦しみを与えよう!

towa no kurushimi o ataeyou!

「おやめください女王様」

"oyame kudasai joou-sama"




愛すら忘れて何時の間にか錆びていた

ai sura wasurete itsu no ma ni ka sabite ita

剣の痛みはまだ体が

覚えているわ

tsurugi no itami wa mada karada ga

oboete iru wa


処刑の鐘が鳴り始め
shokei no kane ga narihajime
私の為に捧ぐ詩
watashi no tame ni sasagu uta
奇妙な調べ流れてく
kimyou na shirabe nagareteku
罪無き者を殺す歌
tsumi naki mono o korosu uta


叫びが聞こえる罪無蝶の舞うお城より参りましょう。
sakebi ga kikoeru tsumi nashi chou no mau oshiro yori mairimashou.



地獄の業火に焼かれて

jigoku no gouka ni yakarete

輪廻の民が静かに囁くが

rinne no tami ga shizuka ni sasayaku ga

さあ灰になれ愚民共よ!

saa hai ni nare gumindomo yo!

永久の苦しみを与えよう!

towa no kurushimi o ataeyou!

「おやめください女王様」

"oyame kudasai joou-sama"




呟く言葉が剣の様突き刺さり

tsubuyaku kotoba ga tsurugi no you ni tsukisasari

愛したこの私が 今何

をしたと言うの?

aishita kono watashi ga ima nani o

shita to iu no?



「時計の針を戻しても、貴女は何もできない」と

"tokei no hari o modoshite mo, anata wa nani mo dekinai" to

聞こえた音は三回の、鴉にも似た鎮魂歌

kikoeta oto wa sankai no, karasu ni mo nita rekuiemu



喜ぶ事も許されず 葬るだけの祭壇に
yorokobu koto mo yurusarezu houmuru dake no saidan ni
太陽という名の下において裁きを下すのだ
soreiyu to iu na no moto ni oite sabaki o kudasu no da


処刑の鐘が鳴り始め
shokei no kane ga narihajime
我が子の為に捧ぐ詩
waga ko no tame ni sasagu uta
悲しい調べ流れてく
kanashii shirabe nagareteku
罪無き者を殺す歌
tsumi naki mono o korosu uta


今も私の心の奥には破顔で眠る我が子の顔
ima mo watashi no kokoro no oku ni wa hagan de nemuru waga ko no kao