Ad blocker interference detected!
Wikia is a free-to-use site that makes money from advertising. We have a modified experience for viewers using ad blockers

Wikia is not accessible if you've made further modifications. Remove the custom ad blocker rule(s) and the page will load as expected.
This song article is lacking a proper background. You can help by adding one! The relevant section in the Song Article Guideline is a good starting point, and this blog post may also be helpful. We apologize for the inconvenience this may cause in the meantime.

Song pages lacking proper backgrounds are automatically sorted into this category.
!

Warning:

This song contains questionable lyrics and themes (

Sexual themes

); it may be inappropriate for younger audiences.

The Vocaloid Wiki does not have a policy on lyrical content or theme; however, it attempts to follow the Wikia TOU.
For further discussion see Thread:68883. Questionable songs are automatically sorted into this category.

!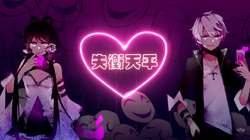 Song title
"失衡天平"
Pinyin: Shīhéng Tiānpíng
Uploaded May 18, 2016, with 160,000+ views
Singer(s)
Luo Tianyi, YANHE
Producer(s)
Heibai-P (compose, arrange, tuning, video editor)
Pare (lyrics)
Lai Lei, pelokio, Troy Yang Shu (illustrators)
Links
YouTube Broadcast (reprint)
bilibili Broadcast

Background
Edit
"Shīhéng Tiānpíng" is an original song mostly featuring Luo Tianyi and a little of YANHE.
This song has exceeded 100,000 views on bilibili.
Singer + Color
Tianyi
YANHE
Chinese (中文歌词)
Pinyin (拼音)
发沿 指尖 缠绕扩散的雾烟
fa yan zhi jian chanrao kuosan de wu yan
覆上 重叠 柔软温暖的触觉
fu shang chongdie rouruan wennuan de chujue
灯火 摇曳 再次跨越这界限
denghuo yaoye zaici kuayue zhe jiexian
一点 一点 逐渐褪去的假面
yi dian yi dian zhujian tuiqu de jia mian


接近 疏远 琢磨不透的笑颜
jiejin shuyuan zhuo mo bu tou de xiaoyan
给予 承接 简单苍白的世界
jiyu chengjie jiandan cangbai de shijie



零碎的片段 只因自我的论断

lingsui de pianduan zhi yin ziwo di lunduan

草率做下的判断与决断

caoshuai zuo xia de panduan yu jueduan

崩塌的感情 却因物质而联系

bengta de ganqing que yin wuzhi er lianxi

臣服于价值实际

chenfu yu jiazhi shiji

心甘情愿献上身心

xinganqingyuan xianshang shenxin



从何时开始竟已习惯沉默无言
cong he shi kaishi jing yi xiguan chenmo wu yan
仅是放纵地 重复沉湎
jin shi fangzong de chongfu chenmian
稍稍猜测便知 下一刻怎样转变
shaoshao caice bian zhi xia yike zenyang zhuanbian
总有着 不同色彩热度的眼
zong youzhe butong secai redu de yan


微温的叹息 早成为熟知的语言
weiwen de tanxi zao chengwei shuzhi de yuyan
才不轻易地 给予完全
cai bu qingyi di jiyu wanquan
恍惚间黑暗中 闪烁着无法分别
huanghu jian hei'an zhong shanshuozhe wufa fenbie
究竟存在过 爱这个字眼
jiujing cunzaiguo ai zhege ziyan


黑夜 白天 窗外覆起的冰雪
heiye baitian chuangwai fu qi de bingxue
模糊 确切 从未消失的厌倦
mohu queqie cong wei xiaoshi de yanjuan
接近 疏远 琢磨不透的笑颜
jiejin shuyuan zhuo mo bu tou de xiaoyan
给予 承接 简单苍白的世界
jiyu chengjie jiandan cangbai de shijie


轻易地吐出 然后被轻易地置念
qingyi di tuchu ranhou bei qingyi di zhi nian
可笑发腻的蜜语甜言
kexiao fa ni de mi yu tian yan
因黑暗而分外强烈敏感的触觉
yin hei'an er fen wai qianglie mingan de chujue
麻 痹般的甘甜自腰间蔓延
mabi ban de gantian zi yao jian manyan
既然无论如何都无法信任理解
jiran wulun ruhe dou wufa xinren lijie
不如只在快乐中沉湎
buru zhi zai kuaile zhong chenmian
追寻等价交换在失衡 的 天平 间
zhuixun deng jia jiaohuan zai shiheng de tianping jian
停止吧 爱那种虚伪冰冷的字眼
tingzhi ba ai na zhong xuwei bingleng de ziyan