Ad blocker interference detected!
Wikia is a free-to-use site that makes money from advertising. We have a modified experience for viewers using ad blockers

Wikia is not accessible if you've made further modifications. Remove the custom ad blocker rule(s) and the page will load as expected.
This song article is lacking a proper background. You can help by adding one! The relevant section in the Song Article Guideline is a good starting point, and this blog post may also be helpful. We apologize for the inconvenience this may cause in the meantime.

Song pages lacking proper backgrounds are automatically sorted into this category.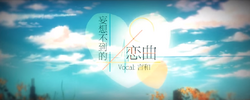 Song title
"妄想不到的恋曲"
Traditional Chinese: 妄想不到的戀曲
Pinyin: Wàngxiǎng Bù Dào de Liàn Qū
Uploaded December 12, 2014, with 110,000+ views
Singer(s)
YANHE
Luo Tianyi (harmony)
Producer(s)
Badtozz (compose, arrange)
3120 (lyrics)
Langlang (Guitar)
Feng Youzi (illustrator)
ActDeco (video editor)
Links
YouTube Broadcast (reprint)
bilibili Broadcast

Background
Edit
"Wàngxiǎng Bù Dào de Liàn Qū" is an original song featuring YANHE and Luo Tianyi. It is the sequel to 妄想恋曲 (Wàngxiǎng Liàn Qū).
This song has exceeded 100,000 views on bilibili.
Chinese (中文歌词)
Pinyin (拼音)
一个人弹一首简单的歌
yige ren dan yi shou jiandan de ge
即使 被世界遗忘了
jishi bei shijie yiwangle
轻轻哼著就已经满足了
qing qing hengzhe jiu yijing manzule
沉浸 在静谧的时刻
chenjin zai jingmi de shike


跳动的音符 随风飘舞一步一步
tiaodong de yinfu sui feng piaowu yibu yibu
将故事铺述 虽然我也记不清楚
jiang gushi pu shu suiran wo ye ji bu qingchu
残缺的领悟 缓缓唱出的倾诉
canque de lingwu huan huan chang chu de qingsu
感觉有些恍惚 有些幸福
ganjue youxie huanghu youxie xingfu


在那一天 被关注的视线
zai na yitian bei guanzhu de shixian
穿过次元眷恋 刻在我的心田
chuanguo ciyuan juanlian ke zai wo de xintian
妄想空间 唯一不动的点
wangxiang kongjian weiyi bu dong de dian
固定住回忆变迁 电波的连线
guding zhu huiyi bianqian dianbo de lian xian


木讷语言 她不会听的见
mune yuyan ta bu hui ting de jian
笨拙表演 再弹一遍到永远
benzhuo biaoyan zai dan yi bian dao yongyuan
直到时间 到达缘分的终点
zhidao shijian daoda yuanfen de zhongdian
却还向苍天祈愿 温暖的遇见
que hai xiang cangtian qi yuan wennuan de yujian


孤单的弹一首孤单的歌
gudan de dan yi shou gudan de ge
梦境 被世界遗忘了
mengjing bei shijie yiwangle
梦醒之后 再也不会记得
meng xing zhihou zai ye bu hui jide
什么 又关系着什么
shenme you guanxizhe shenme


孤单的弹一首孤单的歌
gudan de dan yi shou gudan de ge
为何 我唱着这首歌
weihe wo changzhe zhe shou ge
就连名字也不能够记得
jiu lian mingzi ye bu nenggou jide
快乐 也已经不记得
kuaile ye yijing bu jide


孤单的弹一首孤单的歌
gudan de dan yi shou gudan de ge
这是为谁而唱的歌
zhe shi wei shui er chang de ge
指尖残留谁掌心的温热
zhi jian canliu shui zhangxin de wen re
终于 又该说再见了
zhongyu you gai shuo zaijianle
External links
Edit
| | |
| --- | --- |
| | Lyrics |