家に帰ると知らない人死んだふりをしています。 (Ie ni Kaeru to Shiranai Hito Shinda Furi wo Shiteimasu.)
Comment

1
Share
Ad blocker interference detected!
Wikia is a free-to-use site that makes money from advertising. We have a modified experience for viewers using ad blockers

Wikia is not accessible if you've made further modifications. Remove the custom ad blocker rule(s) and the page will load as expected.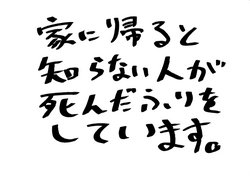 Song title
"家に帰ると知らない人死んだふりをしています。"
Romaji: Ie ni Kaeru to Shiranai Hito Shinda Furi wo Shiteimasu.
English: When I Get Home a Stranger is Playing Dead.
Uploaded August 3, 2010, with 9,000+ views
Singer(s)
Hatsune Miku
Producer(s)
Hobonichi-P (music, lyrics)
Links
Niconico Broadcast
Background
Edit
A song that pairs with Ie ni Kaeru to Tsuma ga Kanarazu Shinda Furi wo Shiteimasu.
| Japanese (日本語歌詞) | Romaji (ローマ字) |
| --- | --- |
| 家に帰ると知らない人が死んだふりをしています。 | ie ni kaeru to shiranaihito ga shinda furi wo shiteimasu. |
External links
Edit