Ad blocker interference detected!
Wikia is a free-to-use site that makes money from advertising. We have a modified experience for viewers using ad blockers

Wikia is not accessible if you've made further modifications. Remove the custom ad blocker rule(s) and the page will load as expected.
This song article is lacking a proper background. You can help by adding one! The relevant section in the Song Article Guideline is a good starting point, and this blog post may also be helpful. We apologize for the inconvenience this may cause in the meantime.

Song pages lacking proper backgrounds are automatically sorted into this category.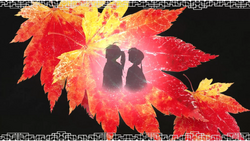 Song title
"寒叶霜"
Traditional Chinese: 寒葉霜
Pinyin: Hán Yè Shuāng
English: Cold Leaf Frost
Uploaded November 8, 2015, with 210,000+ (BB) & 300+ (YT) views
Singer(s)
Luo Tianyi, Yuezheng Ling
Producer(s)
Zhuan Chang Langren (compose, arrange, lyrics, mixing)
Tian zZ (tuning)
Sheng Yu Xi Meng, M Jun (illustrators)
AA (video editor)
hisakagami (illustrator, video editor)
Links
YouTube Broadcast
bilibili Broadcast
Background
Edit
"Hán Yè Shuāng" is an original Luo Tianyi and Yuezheng Ling duet song.
This song has exceeded 100,000 views on bilibili.
Singer + Color
Tianyi
Both
Ling
Chinese (中文歌词)
Pinyin (拼音)

西窗起風了 楓葉也隨風而飄

xi chuang qi fengle fengye ye sui feng er piao

起舞慢轉換不到君顏笑

qiwu man zhuanhuan bu dao jun yan xiao

明知寒葉霜 秋色微涼

mingzhi han ye shuang qiuse wei liang

卻把紅妝畫 一曲斷腸

que ba hongzhuang hua yi qu duanchang

燈火蕭蕭 為君獨亮

denghuo xiaoxiao wei jun du liang




曾何時年少 你也在我的身旁

ceng heshi nianshao ni ye zai wo de shen pang

如今輾轉望不到你臉龐

rujin zhanzhuan wang bu dao ni lianpang

為何寒葉霜 濕了新裳

weihe han ye shuang shile xin shang

才把紅羅放 心兒惆悵

cai ba hong luo fang xin er chouchang

月色茫茫 君在何方

yue se mangmang jun zai hefang




空餘下 整夜寒風入夢鄉

kong yuxia zheng ye hanfeng ru mengxiang

窗台上 一盞燭台孤影盪

chuangtai shang yi zhan zhutai guying dang

共游畫廊下 漫步石橋上

gong you hualang xia manbu shiqiao shang

那是過往的思涼

na shi guowang de si liang

思忖君在遠方 是否也無恙

sicun jun zai yuanfang shifou ye wuyang




塞外起風霜 雁門關朔雪飛揚

saiwai qi fengshuang yanmenguan shuo xue feiyang

任憑簫聲纏綿而悠長

renping xiao sheng chanmian er youchang

看那寒葉霜 透着鋒芒

kan na han ye shuang touzhe fengmang

奈何心彷徨 模糊了眼光

naihe xin fanghuang mohule yanguang

殘月茫茫 伊人何方

canyue mangmang yiren hefang




凌風笑我狂 戰戟折芒

ling feng xiao wo kuang zhan ji zhe mang

往下一個戰場

wang xia yige zhanchang

莫笑我痴狂 醉臥沙場

mo xiao wo chikuang zui wo shachang

橫刀向月愁斷腸

heng dao xiang yue chou duanchang

共聚西窗下 對飲白月光

gongju xi chuang xia dui yin bai yueguang

那是塵封的過往

na shi chenfeng de guowang

讓摧心的眼淚淋濕了眼眶

rang cui xin de yanlei lin shile yankuang




是否寒葉霜 冰冷若月光

shifou han ye shuang bingleng ruo yueguang

暈開在身上 凍結了心傷

yun kai zai shenshang dongjiele xin shang

為何這秋夜 如此漫長
weihe zhe qiu ye ruci manchang



你可知 整夜孤影沒(mo)人陪

ni kezhi zheng ye guying mei (mo) ren pei

馬蹄聲 聲聲催人心欲碎

mati sheng sheng sheng cui renxin yu sui

如果將這思念 化成霜 掛在那寒葉上
ruguo jiang zhe sinian huacheng shuang gua zai na han ye shang
是否你也能看到 我對君(伊)的念想
shifou ni ye neng kan dao wo dui jun (yi) de nian xiang
External links
Edit
| | |
| --- | --- |
| | Lyrics |