Ad blocker interference detected!
Wikia is a free-to-use site that makes money from advertising. We have a modified experience for viewers using ad blockers

Wikia is not accessible if you've made further modifications. Remove the custom ad blocker rule(s) and the page will load as expected.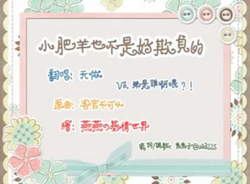 Song title
"小肥羊也不是好欺负的"
Traditional Chinese: 小肥羊也不是好欺負的
Pinyin: Xiǎoféiyáng Yě Bùshì Hǎo Qīfù De
English: Little Lamb is Not Easy to be Bullied
Uploaded September 14, 2012, with 110,000+ views
Singer(s)
Luo Tianyi and Luo Tianer
Producer(s)
Usa225
Links
YouTube Broadcast (reprint)
bilibili Broadcast

Background
Edit
"Xiǎoféiyáng Yě Bùshì Hǎo Qī De" is an original song featuring Luo Tianyi and her fanmade genderbend, Luo Tianer (洛天二).  
It is a story about Tianer gambling with Tianyi, thinking she was harmless like a little lamb and assumes that she is a beginner at gambling. However, she wins and takes all of his money.
This song has exceeded 100,000 views on bilibili.
Chinese (中文歌词)
Pinyin (拼音)
午后艳阳天
wuhou yanyang tian
我哼着小曲儿逛街
wo hengzhe xiaoqu er guangjie
在到目的地之前
zai dao mudi de zhiqian
发现荷包里没钱
faxian hebao li mei qian


无奈转一圈
wunai zhuan yi quan
看见牌馆在面前
kanjian pai guan zai mianqian
临时决定去消遣
linshi jueding qu xiaoqian
说不定能赢到钱
shuo bu ding neng ying dao qian


馆里进来了一个冬瓜
guan li jinlaile yige donggua
外表看上去就很好刮
waibiao kan shangqu jiu hen hao gua
呆头呆脑一副天然样
daitoudainao yi fu tianran yang
衣着华丽像只肥羊
yizhuo huali xiang zhi fei yang


客官你好想要玩什么
ke guan ni hao xiang yao wan shenme
麻将牌九还是三国杀
majiang paijiu haishi sanguosha
殷勤款款搭讪小肥羊
yinqin kuan kuan dashan xiaofeiyang
不知能刮多少干粮
buzhi neng gua duoshao ganliang


小哥很热情
xiao ge hen reqing
我不太会玩游戏
wo bu tai hui wan youxi
不如你教我前戏
buru ni jiao wo qian xi
再慢慢纠结详细
zai man man jiujie xiangxi
麻将三缺一
majiang san que yi
牌九点数太难记
paijiu dianshu tai nan ji
三国故事还熟悉
sanguo gushi hai shuxi
不如试试一对一
buru shi shi yi dui yi


小哥派牌手势 有点帅
xiao ge pai pai shoushi youdian shuai
小哥怎么偷偷的 藏了牌
xiao ge zenme toutou de cangle pai
小哥小哥 不能作弊啊
xiao ge xiao ge buneng zuobi a


客官这叫 花式洗牌法
ke guan zhe jiao hua shi xi pai fa
客官仿佛没有 那么呆
ke guan fangfu meiyou name dai
客官客官 是你错觉啦
ke guan ke guan shi ni cuojue la


选将发牌折腾了半天
xuan jiang fa pai zhetengle bantian
华佗曹操再加上孙权
hua tuo caocao zai jia shang sunquan
不信你能够逃出升天
buxin ni nenggou tao chu shengtian
虽说手段有点阴险
suishuo shouduan youdian yinxian
客官月英连顺又带拆
ke guan yue ying lian shun you dai chai
五谷无懈万箭和南蛮
wugu wu xie wan jian he nanman
无中乐不思蜀贴上来
wu zhong lebusishu tie shanglai
锦囊连锁暴力简单
jin nang liansuo baoli jiandan


小哥你耍赖
xiao ge ni shualai
居然用这种手段
juran yong zhe zhong shouduan
一对一虽不常玩
yi dui yi sui bu chang wan
四禁我还是明白
si jin wo haishi mingbai
小哥不可以
xiao ge bu keyi
谦虚说不会游戏
qianxu shuo bu hui youxi
不代表我很好欺
bu daibiao wo hen hao qi
小心我真的生气
xiaoxin wo zhen de shengqi


没无懈可击
mo wuxiekeji
那我就继续攻击
na wo jiu jixu gongji
八卦连弩装备起
bagua lian nu zhuangbei qi
开始新一轮奇袭
kaishi xin yi lun qixi
一手杀握起
yishou sha wo qi
看我强推秒掉你
kan wo qiang tui miao diao ni
敢打我荷包主意
gan da wo hebao zhuyi
要准备好被血祭
yao zhunbei hao bei xueji


小哥要谨记
xiao ge yao jin ji
并不是每个萝莉
bing bushi mei ge luo li
她们就一定弱气
tamen jiu yiding ruo qi
也会有危险气息
ye hui you weixian qixi
小哥结帐了
xiao ge jie zhangle
这把牌算二百八
zhe ba pai suan erbai ba
多余的不算也罢
duoyu de bu suan yeba
下次再还给我吧
xia ci zai hai gei wo ba