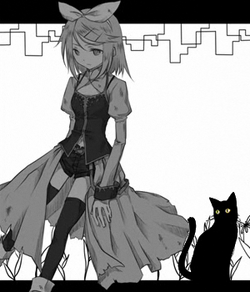 Song title
"少女と黒い猫"
Romaji: Shoujo to Kuroi Neko
English: Girl and the Black Cat
Uploaded January 1, 2011, with 74,790 views
Singer(s)
Kagamine Rin
Producer(s)
sigotositeP (music, lyrics, illust)
Links
Niconico Broadcast
Background
Edit
"Girl and the Black Cat" is a song composed by sigotositeP first uploaded on January 1, 2011. It's sigotositeP's first original work with Kagamine Rin as the main vocals. sigotositeP addresses Rin and "Rin-chan-san" (リンちゃんさん), and said in her video description that the theme on the song is "The Late Princess' Return".
sigotositeP's previous work "Aqua" was technically her first work to feature Kagamine Rin (not as the main vocals, in Aqua, the Kagamines sang the chorus part whilst Meiko sing the main; and Rin also sang chorus in Fantasies of the Foam), however sigotositeP stated the song "Aqua" was just a "test" to try the Kagamines; and have stated they were somewhat difficult to begin with.
The song tells a story of "a princess' return to a once lost country". Rin reminiscence the past where she used to spend in her country; and once she came back to her country, everyone greeted the princess. The song was remastered with Rin's Appends in sigotositeP's album SS -Tobira no Mukou no Sono saki he, and a long black haired girl with purple eyes, wearing a similar attire to Rin is shown in the booklet; presumably sigotositeP's OC to the song.
Japanese (日本語歌詞)
Romaji (ローマ字)
薄汚れた猫が 震えている
usuyogoreta neko ga furuete iru
鳴いて 泣いて 雨を降らせて
naite naite ame wo fura sete
凍てつく雫が 大地を叩く
itetsuku shizuku ga daichi wo tataku
涙 涸れ果てるまで
namida kare hateru made


行き場もなく 立ち尽くした
ikiba mo naku tachi tsukushita
少女の手を 彩る
shoujo no te wo irodoru
季節外れ 色づく花
kisetsu hazure irozuku hana
手折られてゆく
taora rete yuku


金の光 黒い影
kin no hikari kuroi kage
少女に 花を渡す
shoujo ni hana wo watasu
色が 香りが
iro ga kaori ga
故郷の花と 似ていた
furusato no hana to nite ita


時は廻り いつしか
toki wa mawari itsushika
ひとつの噂 口を揃えて
hitotsu no uwasa kuchi wo soroete
人々は語る…
hitobito wa kataru…


亡国の姫君は 生きている
boukoku no himegimi wa ikite iru
強く 気高い 誇りを胸に
tsuyoku kedakai hokori wo mune ni
黒の使い魔を 従えている
kuro no tsukai ma wo shitagaete iru
故郷を 取り戻すため
furusato wo torimodosu tame


幾年の時が 流れても
ikutose no toki ga nagarete mo
諦めはしない
akirame wa shinai
この手に あの花を
kono te ni ano hana wo
抱くまでは
daku made wa


幼い日の 記憶には
osanai hi no kioku ni wa
とても程遠い故郷よ 今
totemo hodotoui furusato yo ima
私は帰った…!
watashi wa kaetta…!


誰ひとり 出迎える者はない
dare hitori demu kaeru mono wa nai
何もかもが 壊れた庭に
nanimo kamo ga kowareta niwa ni
黒い猫だけが 私の腕に
kuroi neko dake ga watashi no ude ni
抱かれて 眠るだけ
idakarete nemuru dake


薄汚れた少女(ねこ)が 震えている
usuyogoreta neko ga furuete iru
青い 青い 青空の下
aoi aoi aozora no shita
凍てつく雫が 大地を叩く
itetsuku shizuku ga daichi wo tataku
涙 涸れ果てるまで
namida kare hateru made
Derivatives
Edit
Fanmade Project Diva PV

| | |
| --- | --- |
| Featuring | Kagamine Rin |
| Author(s) | Fuji |
| Category | Project Diva PV |
External links
Edit
Ad blocker interference detected!
Wikia is a free-to-use site that makes money from advertising. We have a modified experience for viewers using ad blockers

Wikia is not accessible if you've made further modifications. Remove the custom ad blocker rule(s) and the page will load as expected.