Ad blocker interference detected!
Wikia is a free-to-use site that makes money from advertising. We have a modified experience for viewers using ad blockers

Wikia is not accessible if you've made further modifications. Remove the custom ad blocker rule(s) and the page will load as expected.
This song article is lacking a proper background. You can help by adding one! The relevant section in the Song Article Guideline is a good starting point, and this blog post may also be helpful. We apologize for the inconvenience this may cause in the meantime.

Song pages lacking proper backgrounds are automatically sorted into this category.
!

Warning:

This song contains questionable lyrics and themes; it may be inappropriate for younger audiences.

The Vocaloid Wiki does not have a policy on lyrical content or theme; however, it attempts to follow the Wikia TOU.
For further discussion see Thread:68883. Questionable songs are automatically sorted into this category.

!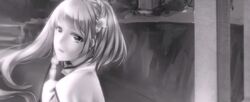 Song title
"少女武神"
Pinyin: Shàonǚ Wǔshén
Uploaded January 7, 2016, with 150,000+ views
Singer(s)
Luo Tianyi
Producer(s)
Mo Yu Ren Bian (compose)
Shou Huan Jun Snoi (arrange)
Yu Li (lyrics)
ilem (tuning)
Ayuan Adam (mixing)
Misaki (illustrator)
Links
YouTube Broadcast (reprint)
bilibili Broadcast

Background
Edit
"Shàonǚ Wǔshén" is an original Chinese VOCALOID song featuring Luo Tianyi.
The song has reached over 100,000 views on bilibili.
Chinese (中文歌词)
Pinyin (拼音)
冷若冰霜 封印透明的脸庞
lengruobingshuang fengyin touming de lianpang
为了飞翔 人们将彼此埋葬
weile feixiang renmen jiang bici maizang
殿堂崇尚 无上的荣光
diantang chongshang wu shang de rongguang
是谁喉咙里笑得酣畅
shi shei houlong li xiao de hanchang


千年的石碑 叩裂生死的喜悲
qiannian de shibei kou lie shengsi de xi bei
纯洁齿贝 一抹鲜血来点缀
chunjie chi bei yimo xianxie lai dianzhui
柳叶的箭尾 将原野撕碎
liu ye de jian wei jiang yuanye si sui
魍魉魑魅 捶胸顿足不必理会
wang liang chimei chuixiongdunzu bubi lihui


泪水 早已忘记了滋味
leishui zaoyi wangjile ziwei
月光多么地明媚
yueguang duome de mingmei
醒来又何必要沉睡
xing lai you hebi yao chenshui


污秽 梦中深入了骨髓
wuhui meng zhong shenrule gusui
全部交给我摧毁
quanbu jiao gei wo cuihui
已经不能反悔
yijing buneng fanhui


勿要与我说虚伪的爱
wu yao yu wo shuo xuwei de ai
否则剑锋会让你明白
fouze jian feng hui rang ni mingbai
少女武神的 心留不下忏悔存在
shaonü wushen de xin liu buxia chanhui cunzai


我应该
wo yinggai
以汝之血祀月桂盛开
yi ru zhi xue si yuegui shengkai
引只猛虎痴嗅我裙摆
yin zhi menghu chi xiu wo qun bai
我的脚尖 只许强者跪拜
wo de jiaojian zhi xu qiang zhe guibai


战意芬芳 贪婪却恐慌
zhan yi fenfang tanlan que konghuang
横冲直撞 不拘赤裸的胸膛
hengchongzhizhuang buju chiluo de xiongtang
短兵相接 无力地抵挡
duanbingxiangjie wuli de didang
未愈的旧伤 昭示着真相
wei yu de jiu shang zhaoshizhe zhenxiang


弯月一杯 盛满了眼泪
wan yue yibei sheng manle yanlei
酒如血水 夜夜笙歌谁不醉
jiu ru xueshui ye ye shengge shei bu zui
衣袂纷飞 指不染尘灰
yi mei fenfei zhi bu ran chen hui
征战着 她放肆地笑了
zhengzhanzhe ta fangsi de xiaole


低微 凡人自负的愚昧
diwei fanren zifu de yumei
还想要臣服谁
hai xiang yao chenfu shei
借口逃千年的宴会
jiekou tao qiannian de yanhui


恭维 假装深藏得隐晦
gongwei jiazhuang shen cang de yinhui
还想要去欺骗谁
hai xiang yao qu qipian shei
世故是你的罪
shigu shi ni de zui


我的红心住万马千军
wo de hongxin zhu wan maqianjun
我的疯病只狂能来医
wo de feng bing zhi kuang neng lai yi
唯一场胜利 才够格做一次药引
weiyi chang shengli cai gouge zuo yici yao yin


谁让你
shei rang ni
分明卑鄙无缚鸡之力
fenming beibi wu fu ji zhi li
却妄驾凌纯粹的美丽
que wang jia ling chuncui di meili
你只配去 我的坟里 哭泣
ni zhi pei qu wo de fen li kuqi


勿要与我说虚伪的爱
buyao he wo shuo xuwei de ai
否则剑锋会让你明白
fouze jian feng hui rang ni mingbai
少女武神的 心留不下忏悔存在
shaonü wushen de xin liu buxia chanhui cunzai


我应该
wo yinggai
以汝之血祀月桂盛开
yi ru zhi xue si yuegui sheng kai
引只猛虎痴嗅我裙摆
yin zhi menghu chi xiu wo qun bai
美的光辉 将会把世界主宰
meide guanghui jiang hui ba shijie zhuzai
External links
Edit
| | |
| --- | --- |
| | Articles |