Ad blocker interference detected!
Wikia is a free-to-use site that makes money from advertising. We have a modified experience for viewers using ad blockers

Wikia is not accessible if you've made further modifications. Remove the custom ad blocker rule(s) and the page will load as expected.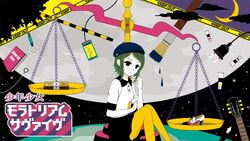 Song title
"少年少女モラトリアムサヴァイヴ"
Romaji: Shounen Shoujo Moratorium Survive
English: Boys, Girls, Moratorium Survive
Uploaded June 20, 2013, with 163,005+ (NND) & 30,000+ (YT) views
Singer(s)
GUMI
Producer(s)
TOKOTOKO (NishizawasanP)
Bete (illustration)
Tomodachi Boshuu (mix, mastering)
7@ (encode)
Links
Niconico Broadcast • YouTube Broadcast (uploaded by the author)

Background
Edit
TOKOTOKO's 35th published work.
This song was originally written for FARM RECORDS' compilation album EX:P3 ~Ex:Producers3~ where it appeared under a different title (Honjitsu Tori Hitoriaruki). The song was later remade and published on niconico, renamed as Shounen Shoujo Moratorium Survive.
This song has entered the Hall of Fame.
It's featured on EXIT TUNES compilation album GUMity.
Succeding version
Edit
Natsushiro Takaaki's Cover
Japanese (日本語歌詞)
Romaji (ローマ字)
私の将来は芸術家 それなりに良かったんだけど
watashi no shourai wa geijutsu ka sorenari ni yokattan dakedo
近現代じゃ収入が 伴わないといけないらしい
kingendai ja shuunyuu ga tomonawa nai to ikenai rashii
なんだかんだ言ったって 金で回るチャチな世界だ
nandakanda ittatte kane de mawaru chachi na sekai da
傾いていた天秤も フラフラしちゃうわ
katamuite ita tenbin mo furafura shichau wa


妄想じゃないそんな筈がない だってまだ生きているんだし
mousou janai sonna hazu ga nai datte mada ikite irundashi
私きっとこんなもんじゃない 思い込ませてよ
watashi kitto konna mon janai omoikomasete yo


ずっと隠しておいたこの想いは 何処にやろっか
zutto kakushite oita kono omoi wa doko ni yarokka
代償もないまま 君に伝え切れないよ
daishou mo nai mama kimi ni tsutae kirenai yo
一人ぼっちで愛想なしの 私の手を引いてよ
hitoribocchi de aiso nashi no watashi no te o hiite yo
「大丈夫なんだ」 って笑って
「daijoubu nanda」 tte waratte


私の将来は現実家 それなりに賢いんだけど
watashi no shourai wa genjitsu ka sorenari ni kashikoin dakedo
勘違いの結末が 見たい知りたい触っちゃったもんな
kanchigai no ketsumatsu ga mitai shiritai sawacchatta mon na
そんなこと言っちゃってマニュアル 歩きの毎日なんだ
sonna koto icchatte manyuaru aruki no mainichi nanda
繰り返した問答に 意味なんてないわ
kurikaeshita mondou ni imi nante nai wa


感情が理性に傾いた頃でも 御好きな方が揺れる
kanjou ga risei ni katamuita koro demo o suki na kata ga yureru


ずっと期待していた こんな出逢いが運命でもいっか
zutto kitai shite ita konna deai ga unmei demo ikka
「甲斐性がないな」って 君に叱られちゃうな
「kaishou ga nai na」 tte kimi ni shikararechau na
解りきった言葉で また心揺らしてよ
wakari kitta kotoba de mata kokoro yurashite yo
そうしたら手を取って 笑って
soushitara te o totte waratte


全身全霊でほら君を抱きしめるよ
zenshinzenrei de hora kimi o dakishimeru yo
油断した頃に終わる
yudan shita koro ni owaru


ずっと嫌いだった こんな自分はもうやめよっか
zutto kirai datta konna jibun wa mou yame yokka
「寂しくない?」なんて君に優しくしてるんだ
「sabishikunai?」 nante kimi ni yasashiku shiterunda
意気地無し&構ってちゃんの私殺してよ
ikujinashi & kamattechan no watashi goroshite yo
どうしようもないよな
doushiyou mo nai yo na


ずっと隠しておいたこの想いは 何処にやろっか
zutto kakushite oita kono omoi wa doko ni yarokka
代償もないまま 君に伝え切れないよ
daishou mo nai mama kimi ni tsutae kirenai yo
一人ぼっちで愛想なしの 私の手を引いてよ
hitori bocchi de aiso nashi no watashi no te o hiite yo
「大丈夫なんだ」 って笑って
「daijoubu nanda」 tte waratte
Derivatives
Edit
96Neko's Cover
External links
Edit
| | |
| --- | --- |
| | Official |
| | |
| --- | --- |
| | Articles |
| | |
| --- | --- |
| | Downloads |