Ad blocker interference detected!
Wikia is a free-to-use site that makes money from advertising. We have a modified experience for viewers using ad blockers

Wikia is not accessible if you've made further modifications. Remove the custom ad blocker rule(s) and the page will load as expected.
This song article is lacking a proper background. You can help by adding one! The relevant section in the Song Article Guideline is a good starting point, and this blog post may also be helpful. We apologize for the inconvenience this may cause in the meantime.

Song pages lacking proper backgrounds are automatically sorted into this category.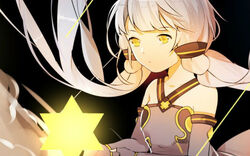 Song title
"尘降"
Traditional Chinese: 塵降
Pinyin: Chén Jiàng
Uploaded April 18, 2016, with 166,000+ (BB) and 5,000+ (YT) views
Singer(s)
Stardust
Producer(s)
COP (compose, arrange, mixing, tuning)
Guozhi Liangcai (lyrics)
Wei Tu (illustrator, video editor)
Links
YouTube Broadcast (authorized reprint)
bilibili Broadcast

Background
Edit
"Chén Jiàng" is an original song featuring Stardust.
This song has exceeded 100,000 views on bilibili.
Chinese (中文歌词)
Pinyin (拼音)
虚无中
xuwu zhong
我的尘埃盲目漂泊摇晃
wo de chen'ai mangmu piaobo yaohuang


空旷的 襁褓中
kongkuang de qiangbao zhong
于衰亡之前 试一次流浪试一次探险
yu shuaiwang zhiqian shi yici liulang shi yici tanxian
寂静的 胎衣中
jijing de taiyi zhong
于陨灭之前 再一次探险再一次流浪
yu yun mie zhiqian zai yici tanxian zai yici liulang
极力眺望
jili tiaowang


那一边 目力之外传来的讯号
na yibian muli zhi waizhuan lai de xunhao
那一刻以太的海洋 发烫
na yike yitai de haiyang fa tang


曙神星的尘埃 镶嵌漆黑缎带
shu shen xing de chen'ai xiangqian qihei duan dai
它们各自旋转 轨迹精密切开
tamen gezi xuanzhuan guiji jingmi qie kai
吞着冰的火山 灼热镀过极寒
tunzhe bing de huoshan zhuore duguo ji han
再单薄的漩涡 也会觊觎浩瀚
zai danbo de xuanwo ye hui jiyu haohan


只能够独自通过的桥
zhi nenggou duzi tongguo de qiao
错探也不被允许折返
cuo tan ye bu bei yunxu zhefan
若能舍弃一切离开
ruo neng sheqi yiqie likai
就像银河舍弃所有星屑
jiu xiang yinhe sheqi suoyou xingxie
会否黯淡
hui fou andan


偌大的 母体中
ruoda de muti zhong
于变迁之前 试一次流浪试一次探险
yu bianqian zhiqian shi yici liulang shi yici tanxian
无垠的 浮尘中
wuyin de fuchen zhong
于同化之前 再一次探险再一次流浪
yu tonghua zhiqian zai yici tanxian zai yici liulang
到你出现
dao ni chuxian


那一边 隐隐约约未知的预兆
na yibian yinyin yue yue weizhi de yuzhao
那一刻以太的海洋 发烫
na yike yitai de haiyang fa tang


若你能命中我 自宇宙的中央
ruo ni neng mingzhong wo zi yuzhou de zhongyang
镜片里能不能 留下我的模样
jingpian li neng buneng liu xia wo de muyang
我不会捉迷藏 我会乖巧等待
wo bu hui zhuomicang wo hui guaiqiao dengdai
等待你的拥抱 将我轻巧安放
dengdai ni de yongbao jiang wo qingqiao anfang


这颗尚未成形的心脏
zhe ke shangwei chengxing de xinzang
有些微不足道的动摇
youxie wei bu zu dao de dongyao
捧起星的冠冕戴上
peng qi xing de guanmian dai shang
或许可以被你称作骄傲
huoxu keyi bei ni cheng zuo jiao'ao
我会记好
wo hui ji hao


尽管声响 微茫
jinguan shengxiang weimang
却尖锐地 扎进了胸腔
que jianrui de zha jinle xiongqiang


停泊的处女地 记忆体的珍藏
tingbo de chunüdi jiyi ti de zhencang
会不会被释放 又回归于冰凉
hui bu hui bei shifang you huigui yu bingliang
我因什么存活 将在何时消亡
wo yin shenme cunhuo jiang zai he shi xiaowang
该不该从现在 探索下个行方
gai bu gai cong xianzai tansuo xia ge xingfang


明知会有一天 一切打散形状
mingzhi hui you yitian yiqie da san xingzhuang
并没有不一样 为何感到悲伤
bing meiyou bu yiyang weihe gandao beishang
万物注定消散 奔赴最终展览
wanwu zhuding xiaosan benfu zuizhong zhanlan
因为那里曾有 我停留的目光
yinwei nali ceng you wo tingliu de muguang


这颗尚未成形的心脏
zhe ke shangwei chengxing de xinzang
有些微不足道的动摇
youxie wei bu zu dao de dongyao
捧起星的冠冕戴上
peng qi xing de guanmian dai shang
向着泛出琉璃蓝的异乡
xiangzhe fan chu liuli lan de yixiang
终于尘降
zhongyu chen jiang


漂泊星尘 终于尘降
piaobo xing chen zhongyu chen jiang
External links
Edit
| | |
| --- | --- |
| | Lyrics |