Ad blocker interference detected!
Wikia is a free-to-use site that makes money from advertising. We have a modified experience for viewers using ad blockers

Wikia is not accessible if you've made further modifications. Remove the custom ad blocker rule(s) and the page will load as expected.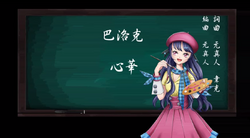 Song title
"巴洛克"
Pinyin: Bāluòkè
English: Baroque
Uploaded 03.31.15 (YT) & 04.01.15 (NN) & 04.21.15 (BB), with 6,000+ (YT) & 700+ (NN) & 900+ (BB) views
Singer(s)
Xin Hua
Producer(s)
Yuan Zhenren (lyrics, arrange, compose, video editor)
Wei Ke (lyrics)
H+ (tuning)
Duo Ying (illustrator)
Links
Niconico Broadcast • YouTube Broadcast
bilibili Broadcast

Background
Edit
"Bāluòkè" is an original Xin Hua song. It is a graduation song for the producer and his classmates who were all art students, hence the title.
Chinese (中文歌词)
Pinyin (拼音)
金黄色的蕾丝边
Jin huangse de leisi bian
带着我们走到这个夏天
Daizhe women zou dao zhege xiatian
豪华的服装盛宴
Haohua de fuzhuang shengyan
可是我们即将珍重再见
Keshi women jijiang zhenzhong zaijian
歌都唱到这里
Ge dou chang dao zheli
有没有想起
You meiyou xiangqi
第一天走进校门口
Di yi tian zou jin xiao menkou
好奇的心情
Haoqi de xinqing
吉他弹到这里
Jita dan dao zheli
我不会忘记和你们
Wo bu hui wangji he nimen
走在一起又即将
Zou zai yiqi you jijiang
分离的两年
Fenli de liang nian
巴洛克艺术的美
Baluoke yishu di mei
闪耀了我们这一天
Shanyaole women zhe yitian
闪耀了我们多少梦想
Shanyaole women duoshao mengxiang
多少时间
Duoshao shijian
争执多少遍
Zhengzhi duoshao bian
变得珍惜和体会
Bian de zhenxi he tihui
或许有一天想起今天
Huoxu you yitian xiangqi jintian
比什么可贵
Bi shenme kegui
巴洛克尊贵的脸
Baluoke zungui de lian
等待的就是今天
Dengdai de jiushi jintian
等待的就是眼前
Dengdai de jiushi yanqian
当它的光芒出现
Dang ta de guangmang chuxian
走出舞台这一天
Zouchu wutai zhe yitian
表现每秒的时间
Biaoxian mei miao de shijian
当我们举起了双手
Dang women ju qile shuangshou
巴洛克再见
Baluoke zaijian


金黄色的蕾丝边
Jin huangse de leisi bian
带着我们走到这个夏天
Daizhe women zou dao zhege xiatian
豪华的服装盛宴
Haohua de fuzhuang shengyan
可是我们即将珍重再见
Keshi women jijiang zhenzhong zaijian
歌都唱到这里
Ge dou chang dao zheli
有没有想起
You meiyou xiangqi
第一天走进校门口
Di yi tian zou jin xiao menkou
好奇的心情
Haoqi de xinqing
吉他弹到这里
Jita dan dao zheli
我不会忘记和你们
Wo bu hui wangji he nimen
走在一起又即将
Zou zai yiqi you jijiang
分离的两年
Fenli de liang nian
巴洛克艺术的美
Baluoke yishu di mei
闪耀了我们这一天
Shanyaole women zhe yitian
闪耀了我们多少梦想
Shanyaole women duoshao mengxiang
多少时间
Duoshao shijian
争执多少遍
Zhengzhi duoshao bian
变得珍惜和体会
Bian de zhenxi he tihui
或许有一天想起今天
Huoxu you yitian xiangqi jintian
比什么可贵
Bi shenme kegui
巴洛克尊贵的脸
Baluoke zungui de lian
等待的就是今天
Dengdai de jiushi jintian
等待的就是眼前
Dengdai de jiushi yanqian
当它的光芒出现
Dang ta de guangmang chuxian
走出舞台这一天
Zouchu wutai zhe yitian
表现每秒的时间
Biaoxian mei miao de shijian
当我们举起了双手
Dang women ju qile shuangshou
巴洛克再见
Baluoke zaijian


巴洛克艺术的美
Baluoke yishu di mei
闪耀了我们这一天
Shanyaole women zhe yitian
闪耀了我们多少梦想
Shanyaole women duoshao mengxiang
多少时间
Duoshao shijian
争执多少遍
Zhengzhi duoshao bian
变得珍惜和体会
Bian de zhenxi he tihui
或许有一天想起今天
Huoxu you yitian xiangqi jintian
比什么可贵
Bi shenme kegui
巴洛克尊贵的脸
Baluoke zungui de lian
等待的就是今天
Dengdai de jiushi jintian
等待的就是眼前
Dengdai de jiushi yanqian
当它的光芒出现
Dang ta de guangmang chuxian
走出舞台这一天
Zouchu wutai zhe yitian
表现每秒的时间
Biaoxian mei miao de shijian
当我们举起了双手
Dang women ju qile shuangshou
巴洛克再见
Baluoke zaijian