This song article is lacking a proper background. You can help by adding one! The relevant section in the Song Article Guideline is a good starting point, and this blog post may also be helpful. We apologize for the inconvenience this may cause in the meantime.

Song pages lacking proper backgrounds are automatically sorted into this category.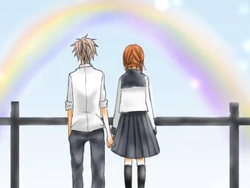 Song title
"希望の歌"
Romaji: Kibou no Uta
English: Song of Hope
Uploaded November 3, 2012, with 1,590+ views
Singer(s)
galaco
Producer(s)
Hatty
Links
Niconico Broadcast
Background
Edit
"Kibou no Uta" is an original song by Hatty featuring galaco.
Japanese (日本語歌詞)
Romaji (ローマ字)
雨上がりに虹が架かったなら、すーっと外へ出ておいでよ
ameagari ni niji ga kakatta nara, suutto soto e de te oide yo
君に全ての色の光を見せたいんだ
kimi ni subete no iro no hikari o misetainda


子供の頃から内気な君は
kodomo no koro kara uchiki na kimi wa
部屋に篭もりがちだから
heya ni komori gachi dakara
君の心の扉を今開けたいんだ
kimi no kokoro no tobira o ima aketainda


僕は僕で、君は君で それぞれ生き方は違うけれど
boku wa boku de, kimi wa kimi de sorezore ikikata wa chigau keredo
こんな素晴らしい世界だから 君に見せたくて歌うんだ
konna subarashii sekai dakara kimi ni misetaku te utaunda


今日もまたどこかに幸せは訪れて たくさん笑顔が生まれたなら
kyou mo mata doko ka ni shiawase wa otozurete takusan egao ga umareta nara
生まれた笑顔を その他の誰かに 繋いでいくことができたらいいなぁ
umare ta egao o sonota no dareka ni tsunaide iku koto ga dekitaraiinaa


子供の頃からいつも陽気で元気いっぱいの僕だけど
kodomo no koro kara itsumo youki de genki ippai no boku dakedo
だからこそ君といる時は落ち着くんだ
dakarakoso kimi to iru toki wa ochitsukunda


マイナスとプラスの極は引き付け合う力があるけれど
mainasu to purasu no kyoku wa hikitsukeau chikara ga aru keredo
そんな風に君と僕も引き付け合ったらいいなぁ
sonna furi ni kimi to boku mo hikitsukeattara ii naa


そして君もまた明朗で前向きに 笑顔で過ごせる日が続いて
soshite kimi mo mata meirou de maemuki ni egao de sugoseru hi ga tsuzuite
電池のようにマイナスと繋ぎ合って 笑顔の電流を流せたらなぁ
denchi no you ni mainasu to tsunagiatte egao no denryuu o nagasetara naa


今日もまたどこかで争いは起こるけど 争う理由のほとんどがエゴ
kyou mo mata doko ka de arasoi wa okoru kedo arasou riyuu no hotondo ga ego


そんな争いのプライドは皆捨てて 愛情をもって共に接すればいい
sonna arasoi no puraido wa mina sutete aijou o motte tomoni sessure ba ii
そして世界中に愛情が飽和して 争い事も無くなればいいなぁ
soshite sekaijuu ni aijou ga houwa shite arasoi goto mo nakunareba ii naa


人は愛を受けたその分だけ 優しくなると思うんだ
hito wa ito o uketa sono bun dake yasashiku naru to omounda
だから愛で満ちた世界を望むんだ
dakara ai de michita sekai o nozomunda
External links
Edit
| | |
| --- | --- |
| | Articles |
| | |
| --- | --- |
| | Lyrics |
Ad blocker interference detected!
Wikia is a free-to-use site that makes money from advertising. We have a modified experience for viewers using ad blockers

Wikia is not accessible if you've made further modifications. Remove the custom ad blocker rule(s) and the page will load as expected.