Ad blocker interference detected!
Wikia is a free-to-use site that makes money from advertising. We have a modified experience for viewers using ad blockers

Wikia is not accessible if you've made further modifications. Remove the custom ad blocker rule(s) and the page will load as expected.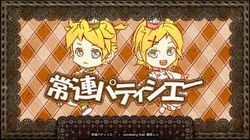 Song title
"常連パティシエー"
Romaji: Jouren Patishiee
English: Common Companion Patissier
Uploaded February 14, 2012, with 132,000+ (NND)/34,000+ (YT) views
Singer(s)
Kagamine Len
Producer(s)
Halyosy (music, lyrics, arrangements, mix, illust, video, encode)
Osamuraisan (acoustic guitar)
sobomen (illust assistant)
Links
Niconico Broadcast • YouTube Broadcast (published by author)

Background
Edit
"
This is the unrequited love music of St Valentine's Day.
"
 

— Author's comment
"Jouren Patissier" is an original Kagamine Len song composed by Halyosy. This song is featured in the album Job I and has entered the Hall of Fame.
Japanese (日本語歌詞)
Romaji (ローマ字)
やっぱりここで泣いてたんだね
yappari koko de naitetan da ne
悲しい事があると決まって
kanashii koto ga aru to kimatte
公園の砦によじ登り
kouen no toride ni yojinobori
ボクが助けに来るの待ってる
boku ga tasuke ni kuru no matteru


ふやけたアイツ宛の手紙
fuyaketa aitsu ate no tegami
届く事はない想いだとボクは知ってた
todoku koto wa nai omoi da to boku wa shitteta
「代わりに食べてよ」って無理して
"kawari ni tabete yo" tte muri shite
笑いながら差し出すキミの手が震えてる
warainagara sashidasu kimi no te ga furueteru


甘くて苦くて不思議なチョコレート
amakute nigakute fushigi na chokoreeto
ごめんねホントはあんまり好きじゃない
gomen ne honto wa anmari suki janai
だけどねキミのね喜ぶ顔がね
dakedo ne kimi no ne yorokobu kao ga ne
嬉しくて何度も噛み締めて溶けた
ureshikute nando mo kamishimete toketa


カラフルな文字のデコレーションが
karafuru na moji no dekoreeshon ga
まるでココロのように砕けて
maru de kokoro no you ni kudakete
元通りには戻らないのに
motodoori ni wa modoranai no ni
大事そうに眺めてるラッピング
daijisou ni nagameteru rappingu


次から味見役で呼べよ
tsugi kara ajimiyaku de yobe yo
ダマになってるし
dama ni natteru shi
ハート型は狙いすぎじゃない?
haato gata wa neraisugi janai?
「文句があるなら返してよ!」
"monku ga aru nara kaeshite yo!"
やだね
yada ne
二人分の失恋ごと食べてやる
futaribun no shitsurengoto tabeteyaru


近くて遠くて微妙なボクらを
chikakute tookute bimyou na bokura wo
繋げて離して揺さぶるバレンタインデー
tsunagete hanashite yusaburu barentain dee
渡して返して贈り合うキモチ
watashite kaeshite okuriau kimochi
暖かな手の平で包んで溶けた
atataka na te no hira de tsutsunde toketa


「どうしてアンタがアイツじゃないんだろう」
"doushite anta ga aitsu janai ndarou"
そんなのこっちが聞きたい位だよ
son'na no kocchi ga kikitai kurai da yo
いい加減毎年慰める役も
iikagen maitoshi nagusameru yaku mo
板に付き過ぎて言い出せないけど
ita ni tsukisugite iidasenai kedo


いつでもどこでも胸が苦しいんだよ
itsudemo dokodemo mune ga kurushii nda yo
キミがねアイツを気にしだす前から
kimi ga ne aitsu wo ki ni shidasu mae kara
誰より何よりキミが好きなんだよ
dare yori nani yori kimi ga suki nan da yo
おかしいなドコからか塩味が止まらない
okashii na doko kara ka shioaji ga tomaranai


甘くて苦くて不思議なチョコレート
amakute nigakute fushigi na chokoreeto
ごめんねホントはあんまり好きじゃない
gomen ne honto wa anmari suki janai
だけどねキミのね喜ぶ顔がね
dakedo ne kimi no ne yorokobu kao ga ne
嬉しくて何度も噛み締めて溶けた
ureshikute nando mo kamishimete toketa
External links
Edit
| | |
| --- | --- |
| | Articles |
| | |
| --- | --- |
| | Lyrics |